Halloween is full of timeless traditions, whether it's pumpkin carving, apple bobbing, or dressing up in creepy costumes. It's also the holiday where sneaker brands come together to drop some of the season's spookiest shoes! Taking inspiration from horror flicks or mythical creatures, companies like adidas, Nike, and Vans go all out in October to drop some killer kicks.
With Halloween arriving just around the corner, we're taking a look back at some of the creepiest creps of all time. Have you got any of these frightening footwear options in your hair-raising rotation? Let us know, and be sure to keep your eyes peeled at The Soul Supplier for the latest and greatest sneakers and streetwear!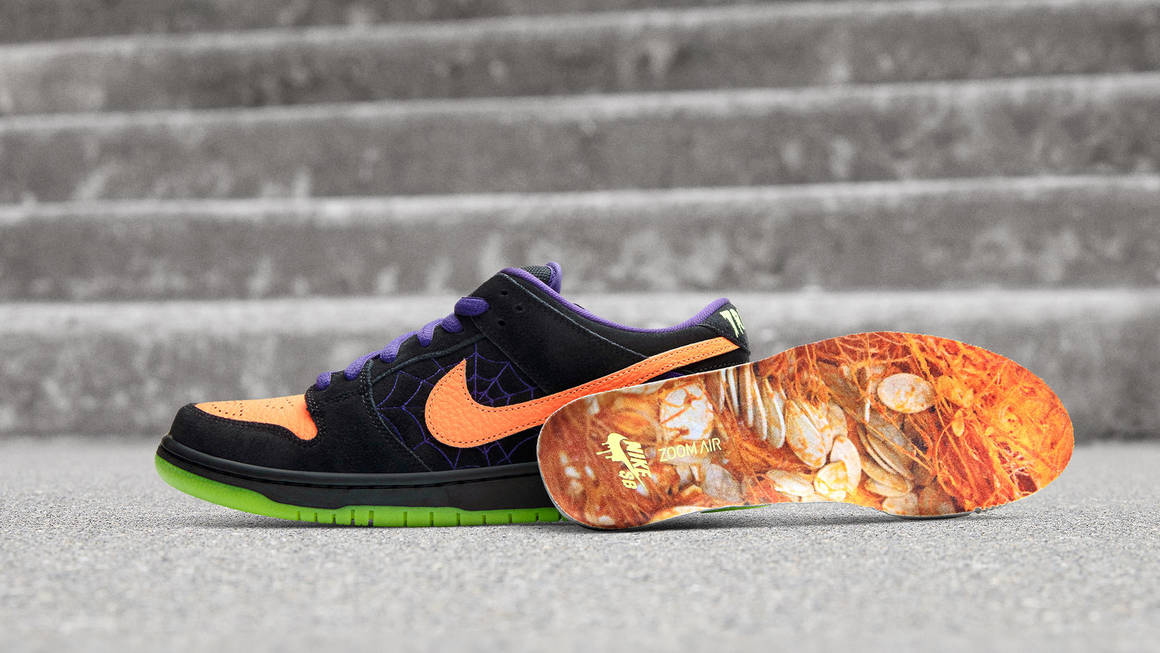 Nike SB Dunk Low "Night Of Mischief" (2019)
As far as Halloween footwear goes, the Nike SB Dunk Low "Night Of Mischief" ticks about every single box! The design is chock full of ghoulish references from the "TRICK" and "TREAT" emblem printed across the heel to the jack-o-lantern grinning face which gets etched into the toebox. It's all finished off with the classic colours of Halloween, not to mention a slime-coloured outsole underfoot.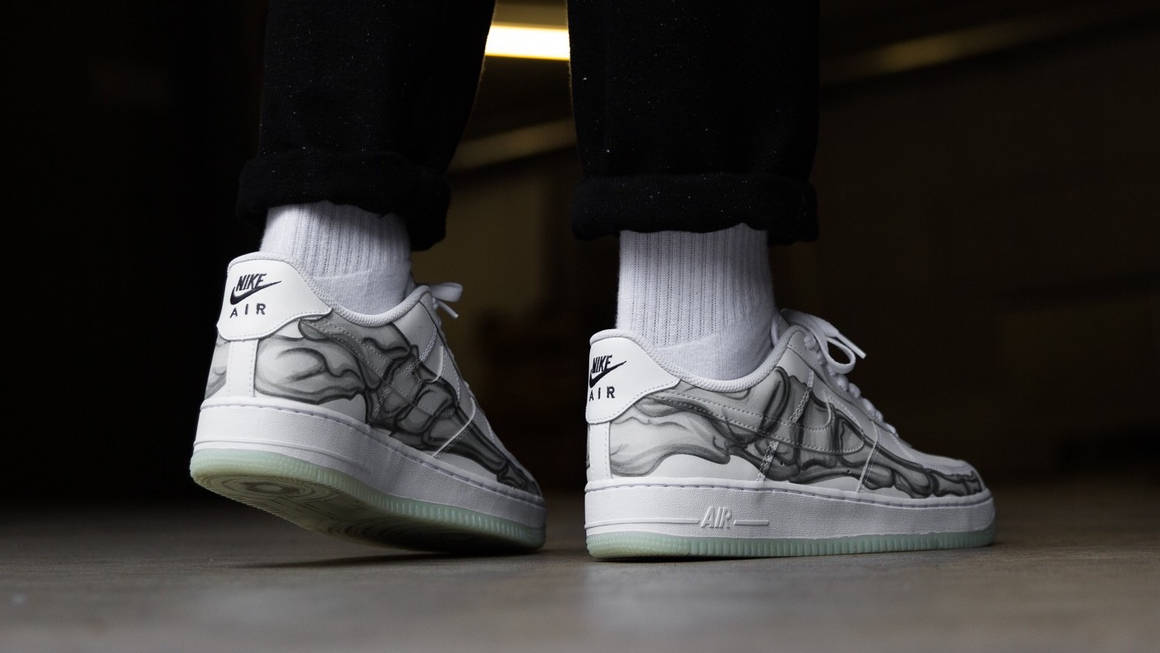 Nike Air Force 1 "Skeleton" (2018)
With all that said, the best pair has got to be the OG "White". It was the first time we'd seen a full skeleton print etched along the AF1's sidewall. But that wasn't the best part - these sat on a full glow-in-the-dark outsole underfoot. These are definitely amongst the best Halloween-inspired sneakers released by the Swoosh brand.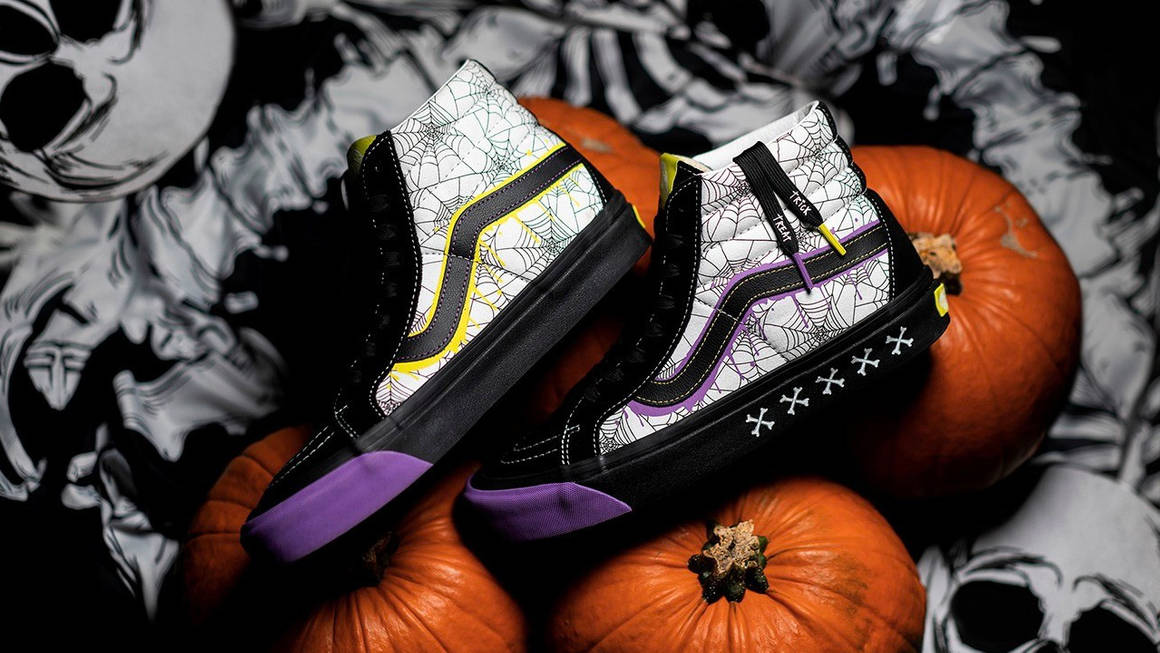 size? x Vans Sk8-Hi "Halloween" (2019)
Vans never disappoints when it comes to collabs, and the size? x Vans Sk8-Hi "Halloween" certainly takes the cake as one of their scariest. Stuffed with creepy little details like spider webs and crossbones, even the Jazz Stripe on the lateral and medial sides have been highlighted with a purple and lime green finish. To round it all off, "Trick" and "Treat" text is printed on the laces, nodding to the Halloween tradition that we all used to do as kids.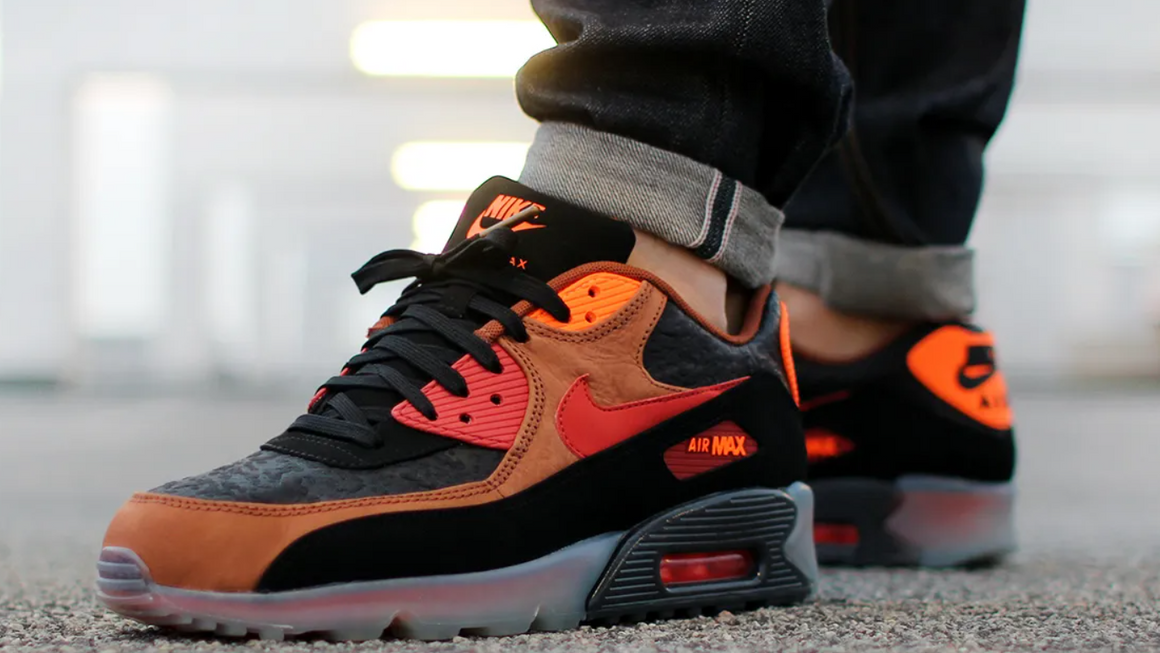 Nike Air Max 90 "Halloween" (2014)
2014 was the year that brought you a seasonal pack of Air Max as a homage to pumpkins, mummies and all things terrifying. The Nike Air Max 90 "Halloween" is seen here with textured uppers alongside layers of premium suede. It's those translucent outsoles which made these even more sought-after.
If you're looking for a wearable pair of Halloween sneakers, look no further. The Autumnal hues on this AM90 make it the perfect pair for the Fall season.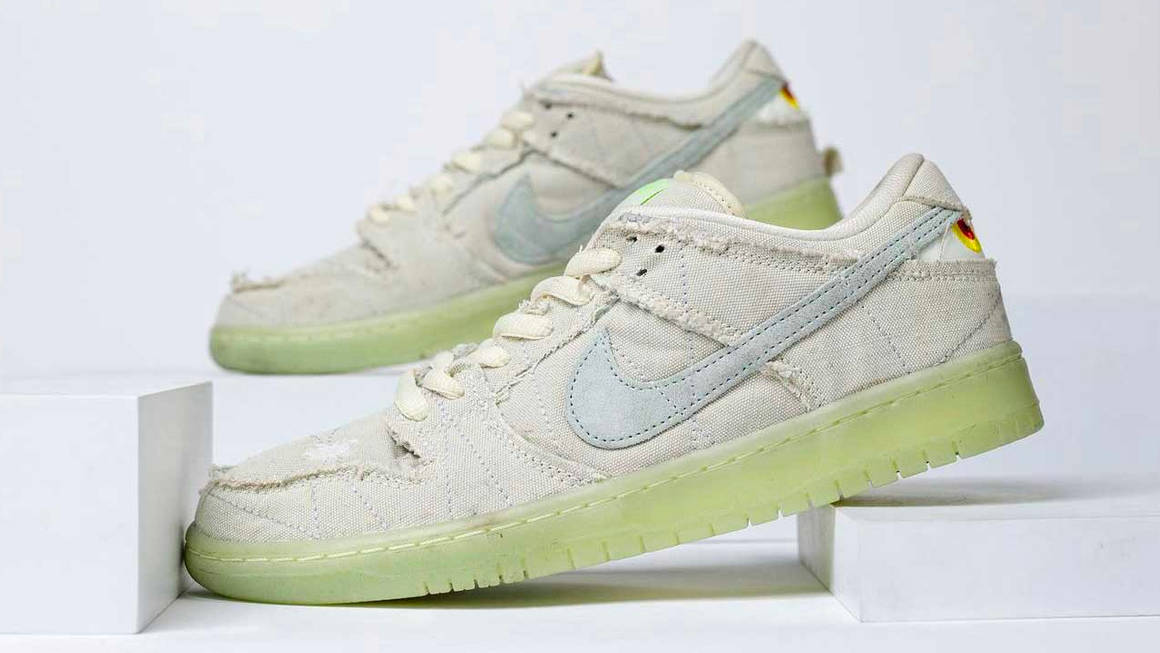 Nike SB Dunk Low "Mummy" (2021)
If you're a fan of the undead then the Nike SB Dunk Low "Mummy" is right up your street. Wrapped in light grey bandages to mimic the ancient Egyptian mummification process, a pair of sinister eyes replace the usual Nike heel badge around the back.
While it may look quite simple from the outset, when you turn the lights off you'll find that the midsole actually gives off a ghoulish green glow that is sure to turn heads this spooky season.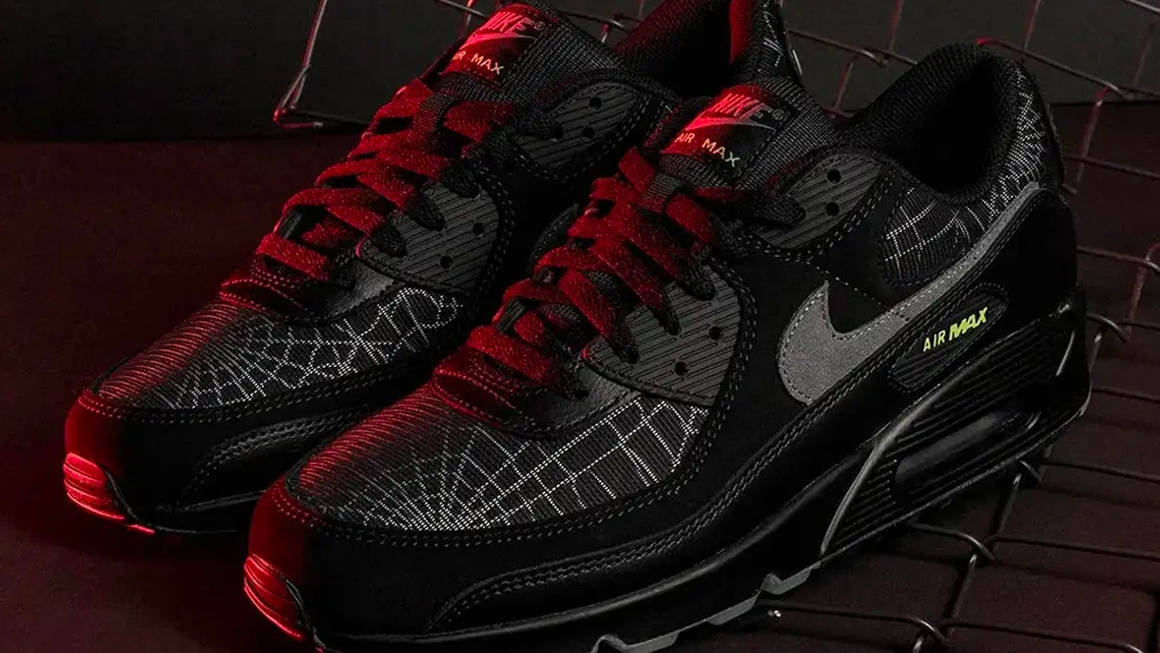 Nike Air Max 90 "Spider Web" (2020)
Last year saw the release of the creepy "Spider Web" Pack, while we'd love to talk about both sneakers the Nike Air Max 90 "Spider Web" is definitely the better of the two. Done up in all-black leather, this AM90 is covered in 3M detailing which gives it a spider web-inspired look. These are the arachnophobe's worst nightmare.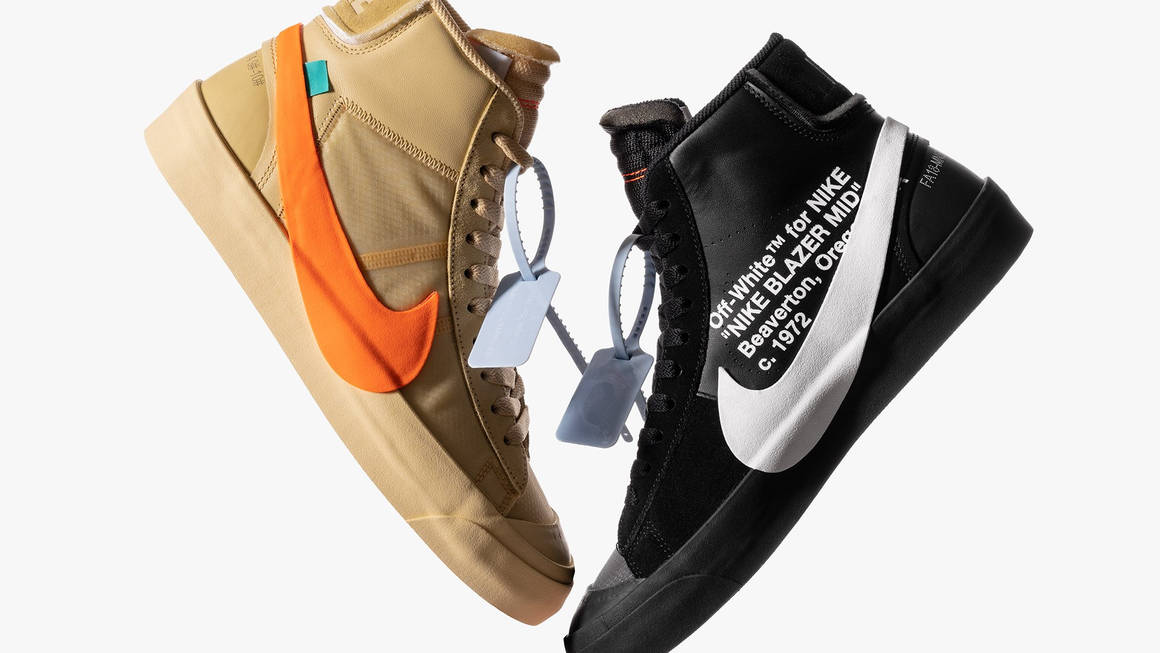 Off-White x Nike Blazer "Spooky" Pack (2018)
We can't talk about the best Halloween sneakers of all time without mentioning Virgil Abloh's Off-White x Nike Blazer "Spooky" Pack from 2018. Featuring the legendary Blazer Mid model, one colourway nods to pumpkins while the other one takes influence from the grim reaper. These continue to sell for over £1,000 even three years later, so if you see a DS pair for any less than that then cop straight away because you've pretty much just hit the jackpot.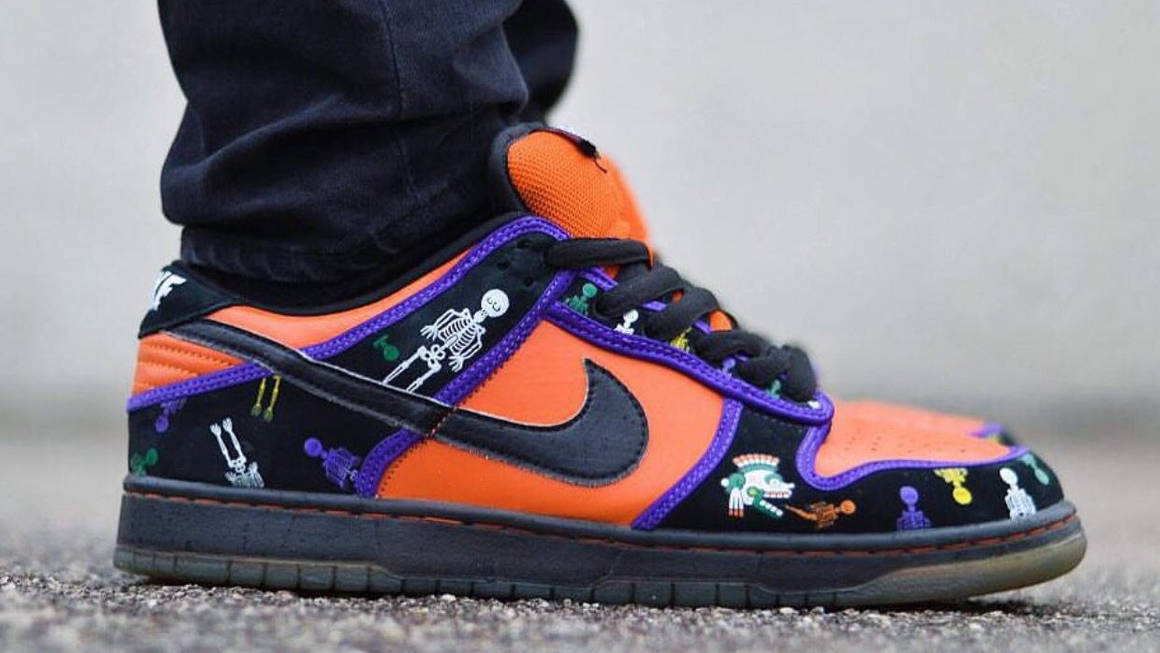 Nike SB Dunk Low "Day Of The Dead" (2006)
Halloween isn't considered a frightful occasion in all cultures. Just take Mexico where a similar holiday happens in October, called Day of the Day, or Dia de Muertos in Spanish. This is a more of a party than anything else, a time to celebrate life and death. The vibrant festivals that happen across Central and Southern regions are the inspiration behind this 2006 release. Borrowing from the costumes worn by the festival goers, skeleton motifs are printed along the suede of the limited edition Nike SB Dunk Low "Day Of The Dead".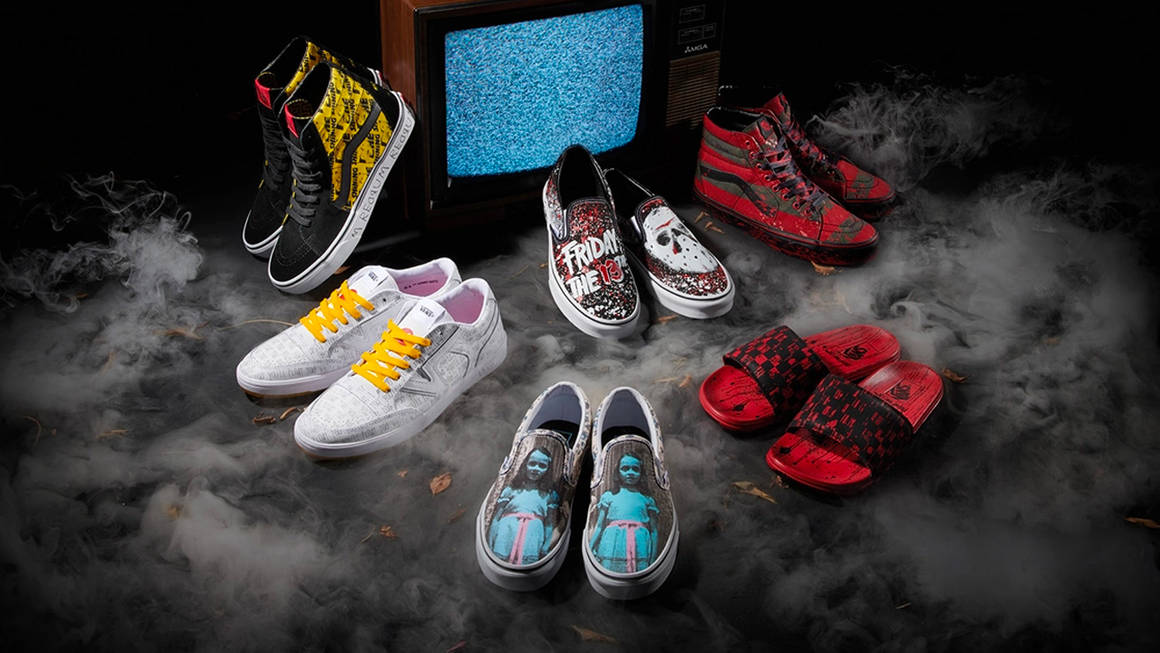 Vans "Horror" Pack (2021)
For 2021, Vans took their Halloween-inspired shoe game to an entirely new dimension with the Vans "Horror" Pack. Featuring six skate-ready sneakers, each one pays homage to a different horror movie including "IT", "The Shining", "Friday the 13th", and "The Lost Boys", to name a few.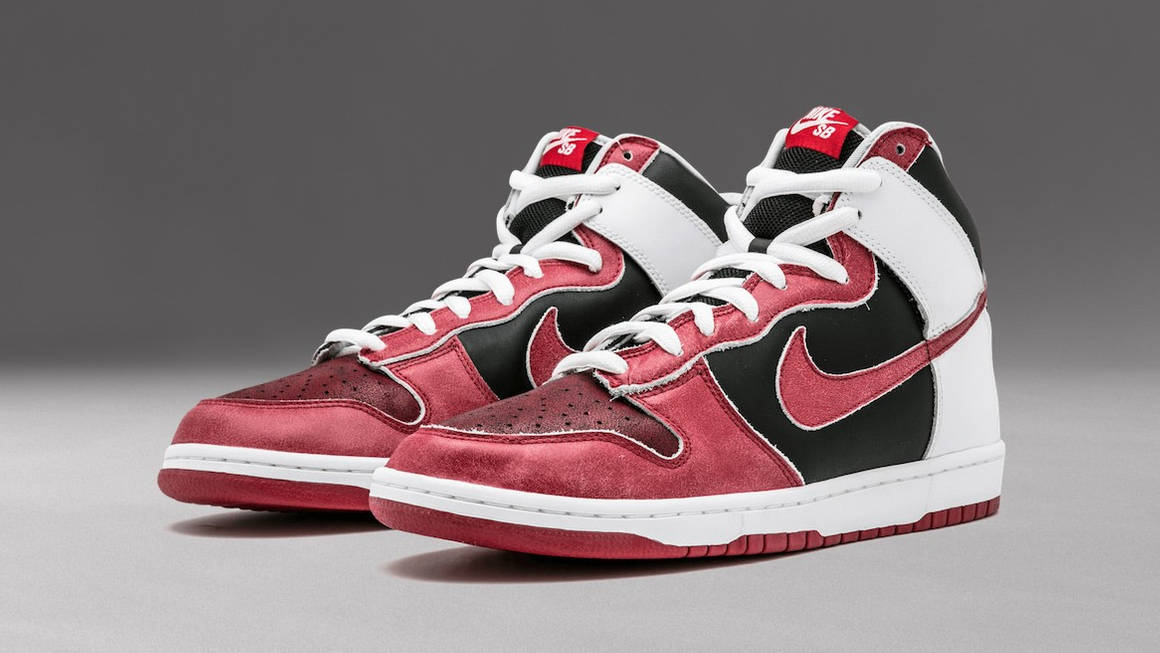 Nike SB Dunk High "Jason Voorhees" (2007)
Nike looked to another Hollywood blockbuster back in 2007 for their latest Halloween-inspired sneaker, the result was the Nike SB Dunk High "Jason Voorhees". Unmistakable in those red, white and black uppers, this Dunk perfectly embodies the creepiness of that blood splattered hockey mask worn by Jason in "Friday the 13th". Thanks to its rarity these will still set you back over £1,500 on the resell market so they're definitely one of the most expensive on this list.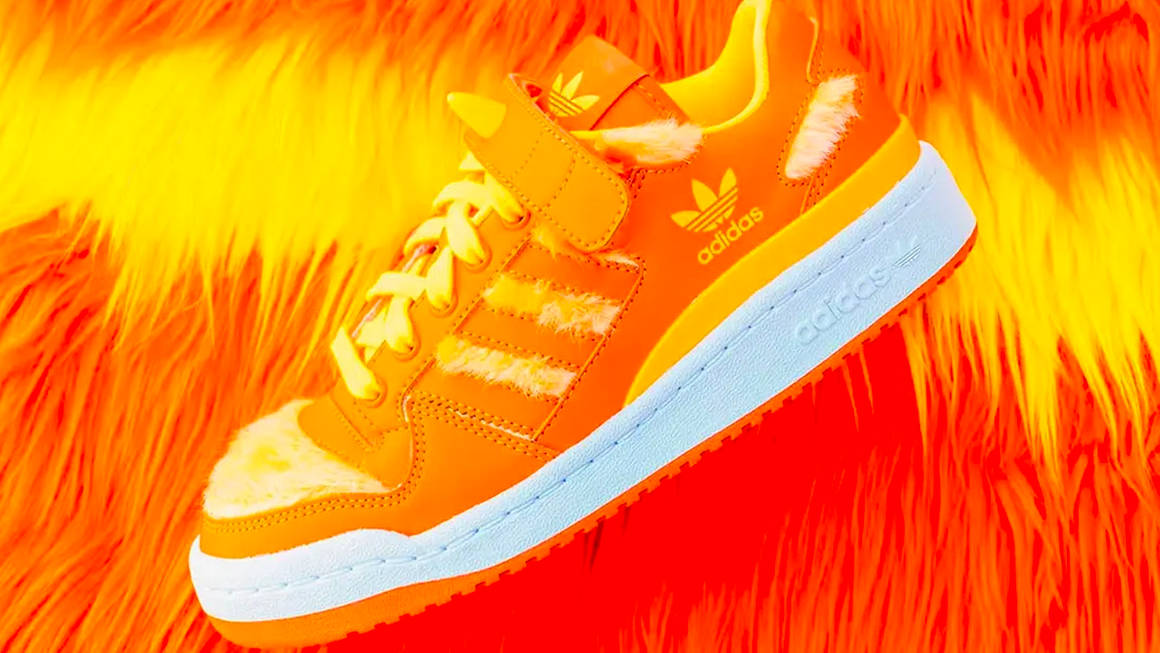 Monsters Inc x adidas Forum Low "George Sanderson" (2021)
While certainly not as creepy or scary as the rest of the sneakers here, the Monsters Inc x adidas Forum Low "George Sanderson" shoes draw inspiration from some of our favourite monsters and prove that not all Halloween pairs need to be dark and grungy.
Inspired by the clumsy George Sanderson who plays a part throughout the Monsters Inc franchise, his bold orange colour scheme is represented perfectly on this shoe.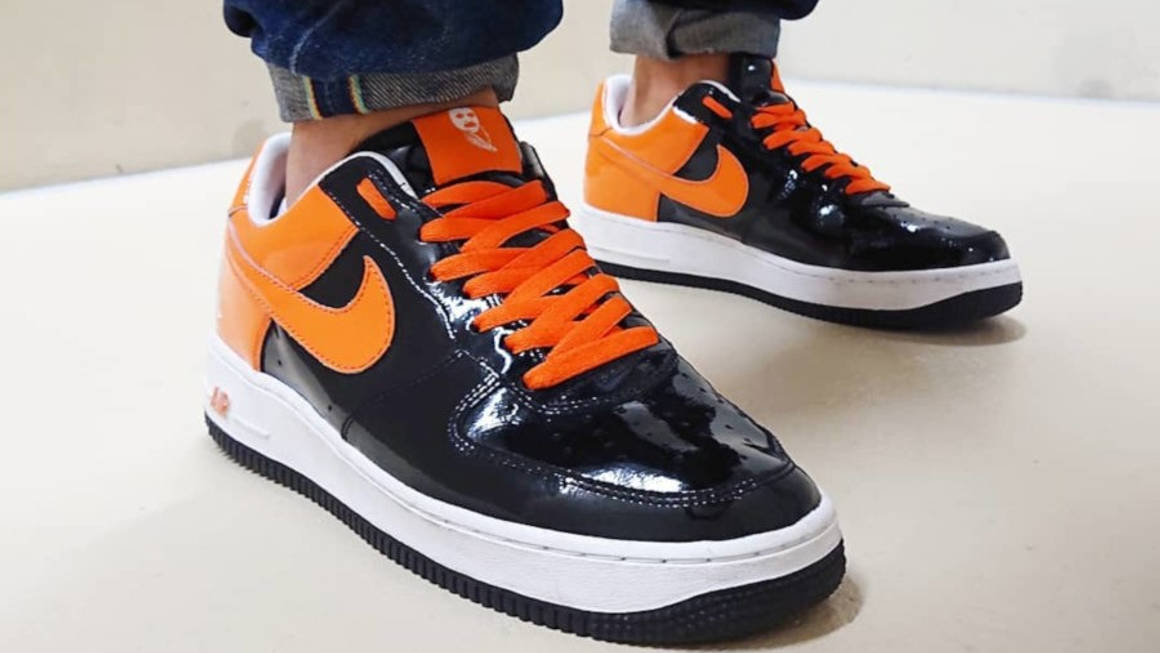 Nike Air Force 1 "Halloween" (2005)
There's no shortage of patent-crafted Air Force 1s but few are as eye-popping as the Nike Air Force 1 "Halloween" from 2005. A split colour scheme sees that classic shade of orange contrasted against dark black for a Jack O'Lantern inspired release. The shoe was followed up in 2006 with an even stealthier rendition; both pairs featuring a masked villain motif along the heel.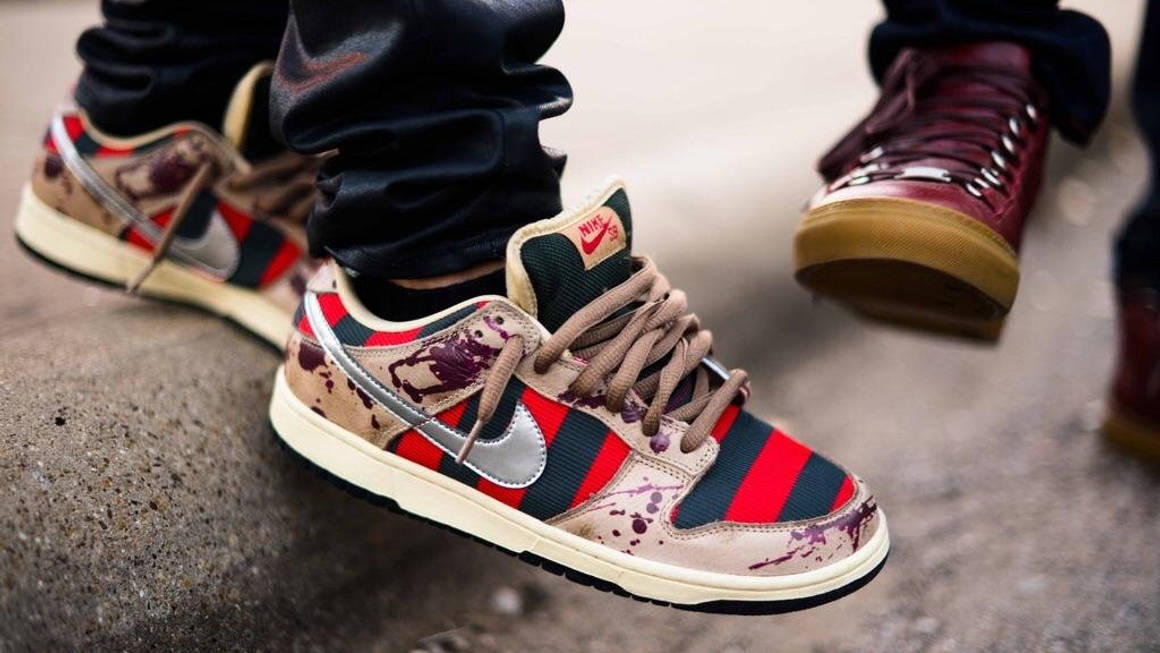 Nike SB Dunk Low "Freddy Krueger" (2006)
To round it all off, we one of the most iconic Nike SB releases, the Dunk Low "Freddy Krueger" from 2006. As of writing, if you want to buy a pair of the Halloween inspired sneakers on the secondary market that will set you back around $50,000 USD. It's not only one of Nike's rarest SBs but these are regarded as the pinnacle of Halloween-themed footwear.
The execution is brilliant with Nike even going so far as to add blood splattering across the upper. Everything else borrows from Freddy Krueger's outfit, most notably that red and black striped sweater. For a shoe inspired by a murderous serial killer, these are about as striking as it gets.