Even if you're only a little bit into sneakers, chances are you've heard people refer to certain Jordans and other Nike shoes as 'UNC sneakers'. Inspired by the University of North Carolina, Michael Jordan's alma mater, UNC-inspired sneakers, or trainers affectionately nicknamed as being 'UNC', take on "Powder Blue" and "White" hues after the university's kit colours.
The University of North Carolina's men's basketball team is one of the best intercollegiate teams in the country. Jordan played college basketball for the Tar Heels under coach Dean Smith, and notably made the winning shot against Georgetown in a 1982 NCAA Championship game. Only three years later the 'UNC' colourway made its debut on a pair of Air Jordan 1s, and has since been retroed and reconfigured on other silhouettes many, many times.
Jordan has Chapel Hill to thank for his fantastic and legendary basketball career, so it's no wonder UNC have made their mark in the Jordan lineage ever since. At the time, the thought of making sneakers in college colours for anyone other than the actual players and students themselves seemed mad, but nowadays it is a reality. Michael Jordan secured his college's signature shoe in '85, after signing with Nike the year before. The sneaker released for $65 at the time and now sells for well over $20K. The sneaker retroed in 2015 as an exact replica of the 1985 release. Were you lucky enough to get your hands on a pair?
UNC shoes are especially popular thanks to their bright and easily wearable colourway. For both die-hard basketball and sneaker fans, the hues represent the beginning of Jordan's incredible career paths both on and off the court. After the "Chicago" and "Bred" colourways, UNC iterations are definitely the most iconic. Although many other Nike silhouettes and even other brands have adopted the pleasing colourway, you'll most often find the "University Blue" tones on Jordans, as there's an obvious history between MJ and the University of North Carolina. This is definitely where the colourway feels most at home.
You'll definitely be familiar with the "Bred" and "Chicago" colourways, but let's take a deep dive into some of our favourite "UNC" sneakers of all time, Jordans or otherwise.
The Best UNC Colourway Sneakers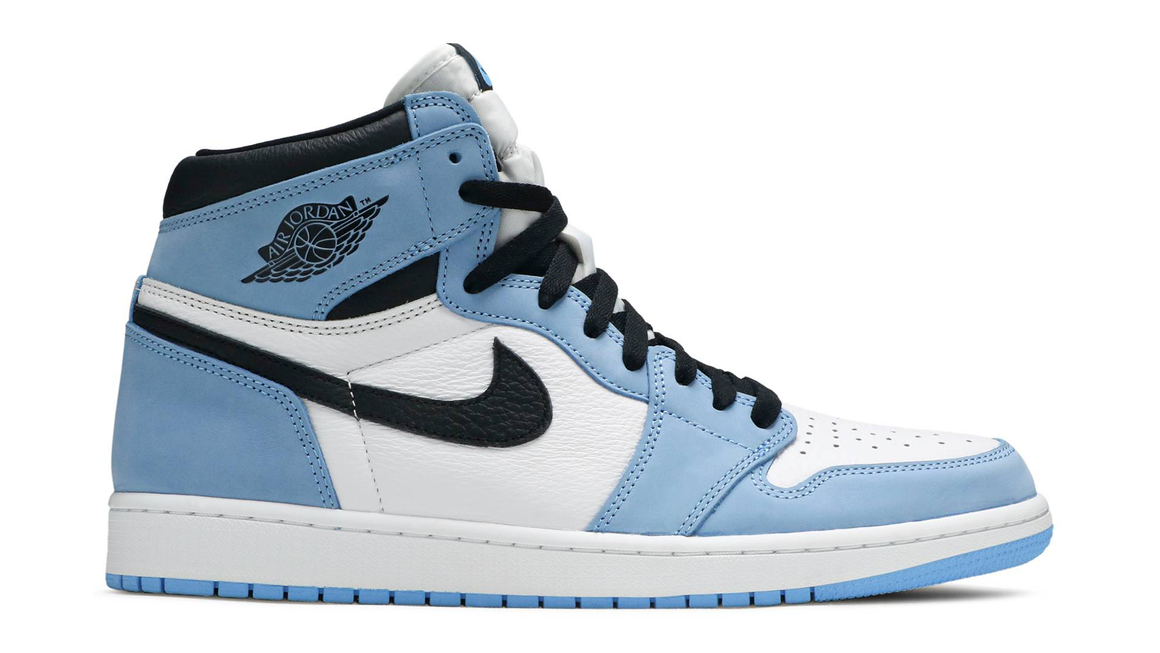 Jordan 1 High OG UNC Blue (2021)
Released alongside an Air Jordan 4 in the same colourway (hold your horses, we'll get there), the Jordan 1 High UNC was one of the top-trending sneakers of 2021 and made its way onto 'top sneakers of 2021' lists everywhere. Crafted from premium suede and high-quality leather, the titular UNC colouring took over the rubber outsole and traditional colour blocking on the overlays.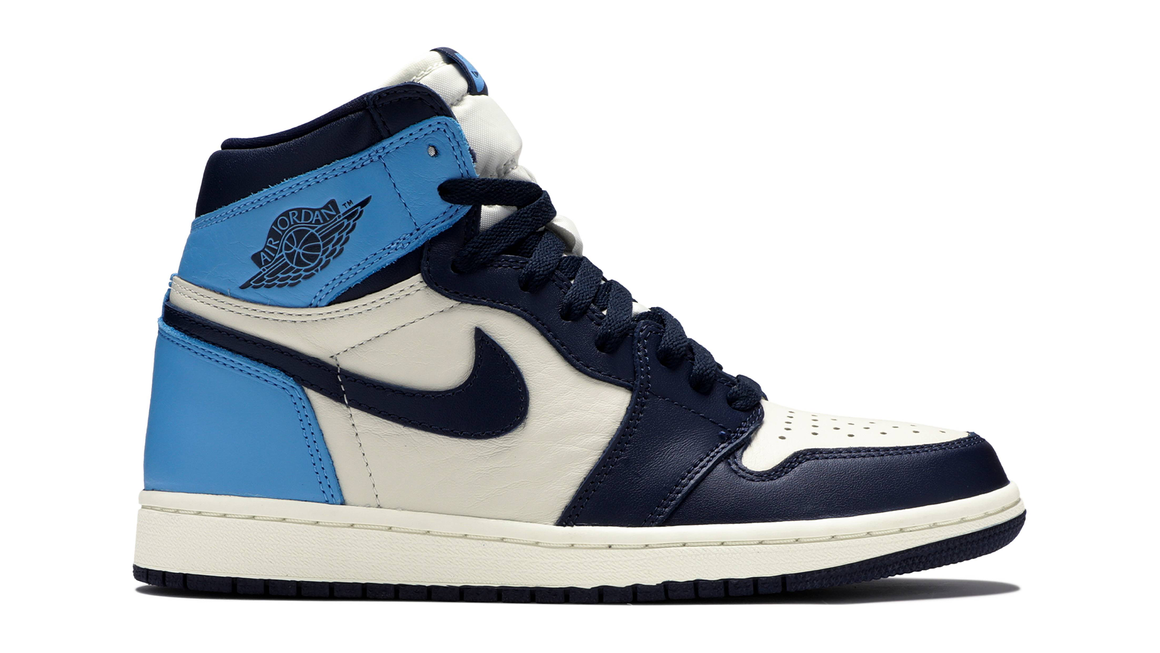 Jordan 1 Retro High OG Obsidian (2019)
Combining the UNC "Powder Blue" with a darker navy-blue tone, the Jordan 1 High Obsidian combines all we love about old-school Jordan and everything the Swoosh brand is doing to update the classics. Underneath, vintage-style off-white colouring makes the perfect base for the blue tones, making this one of the most popular, sought-after Js of recent years.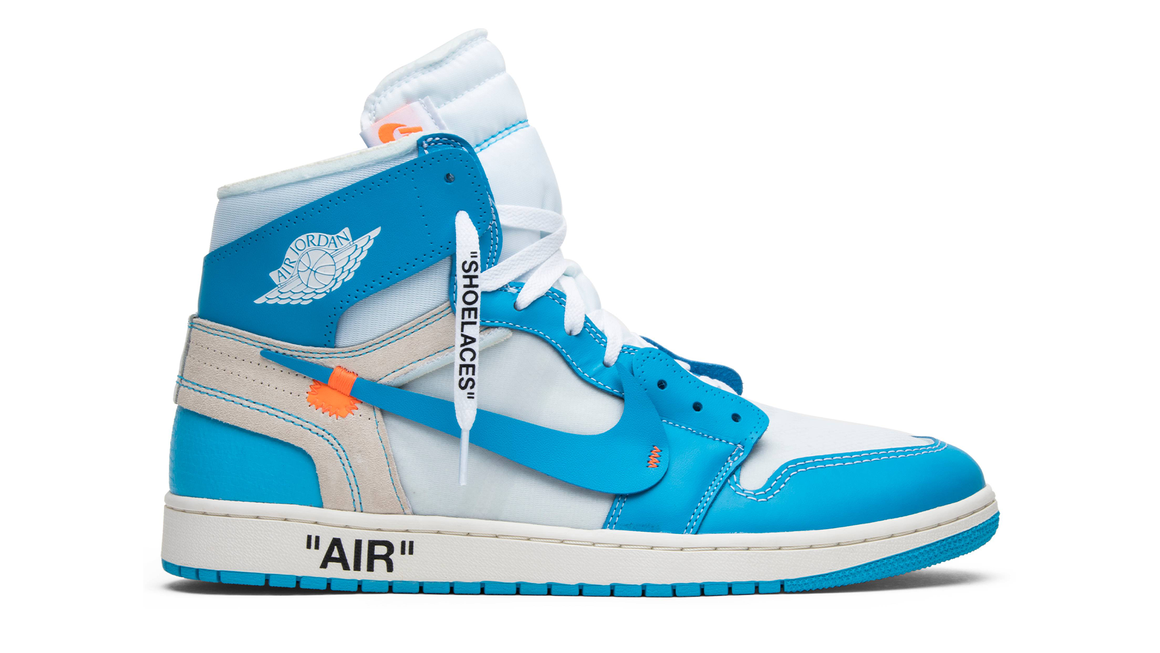 Off-White x Jordan 1 UNC Blue (2018)
If you needed convincing that the UNC-inspired colourway is one of the best of all time, then the fact that Virgil Abloh chose to use "Carolina Blue" on one of his Jordan 1s should make it clear to you. Off-White x Jordan arguably put 1s on the map the year before, and may be to blame for the difficulty in copping Air Jordan 1s now. This iteration was easier to get your hands on than the "Chicago" colourway from 'The Ten', which may also have something to do with this sneaker's popularity. Of course Abloh couldn't create a direct copy of the former sneaker; he brightened the iteration up with fluorescent orange detailing.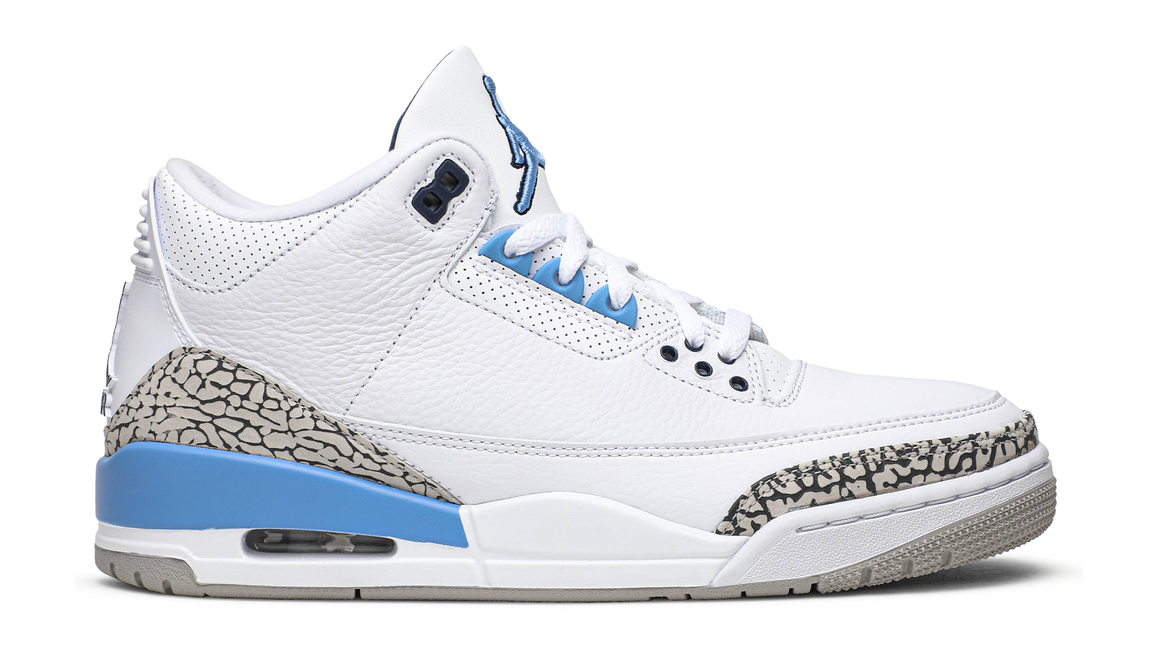 Air Jordan 3 Retro UNC (2020)
One of the cleanest AJ3s of all time, the UNC version of this silhouette was released in 2020 as a general release after only previously being a PE. In 2018, Jordan gifted current UoNC students with exclusive pairs of this Air Jordan 3 in their school's colours. Combined with the classic elephant print, this makes one incredible pair that sneakerheads across the world were lusting over.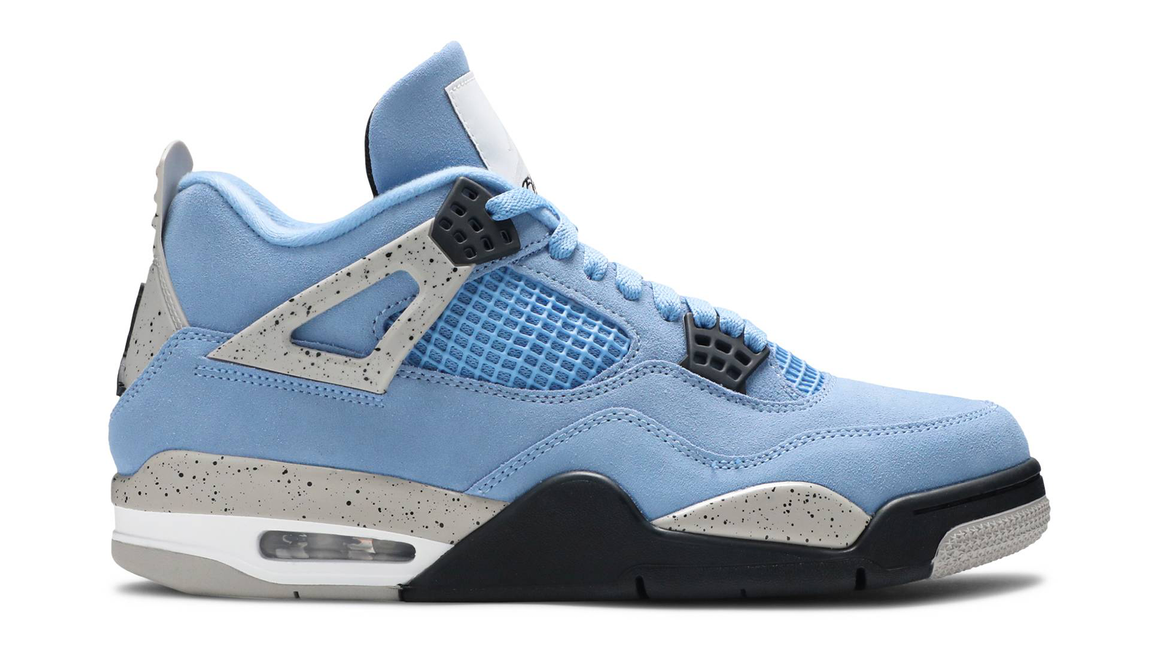 Jordan 4 University Blue UNC (2021)
Believe it or not, this was the first time UNC colours adorned the Air Jordan 4 silhouette. Taking the shoe's legendary "Cement" foundation and overlaying it with "University Blue" suede, this was a different take to the Air Jordan 4 that adorned players' feet in March Madness 2019. Although not directly associated, it was clear what Nike were going for with this Tar Heels-inspired take on the AJ4.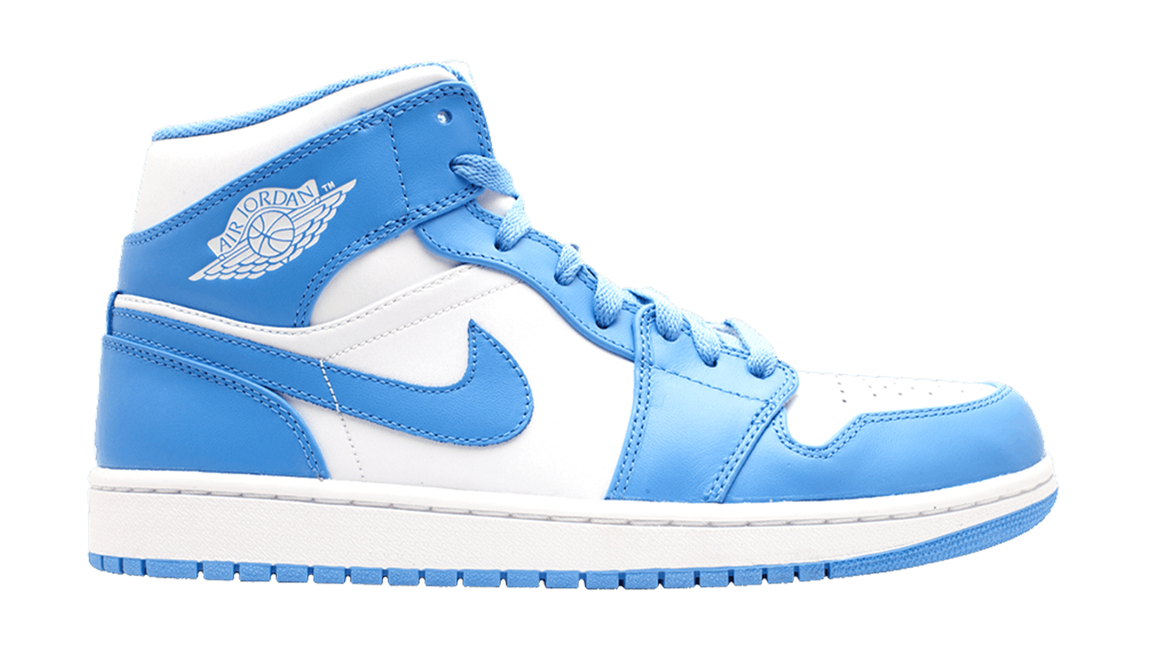 Jordan 1 Mid UNC (2013)
Whilst Mids are often frowned upon now, there was a time when the differences between Highs and this shorter counterpart were overlooked. In 2013, Nike released a UNC version of the Jordan 1 Mid, and in true Mid fashion, the iteration had Jumpman logos adorning the top of the tongue paying homage to MJ's alma mater. Smooth leather panelling took over the entirety of the shoe, making for one extremely clean Air Jordan 1 - undeniable whether you're a Mids fan or not.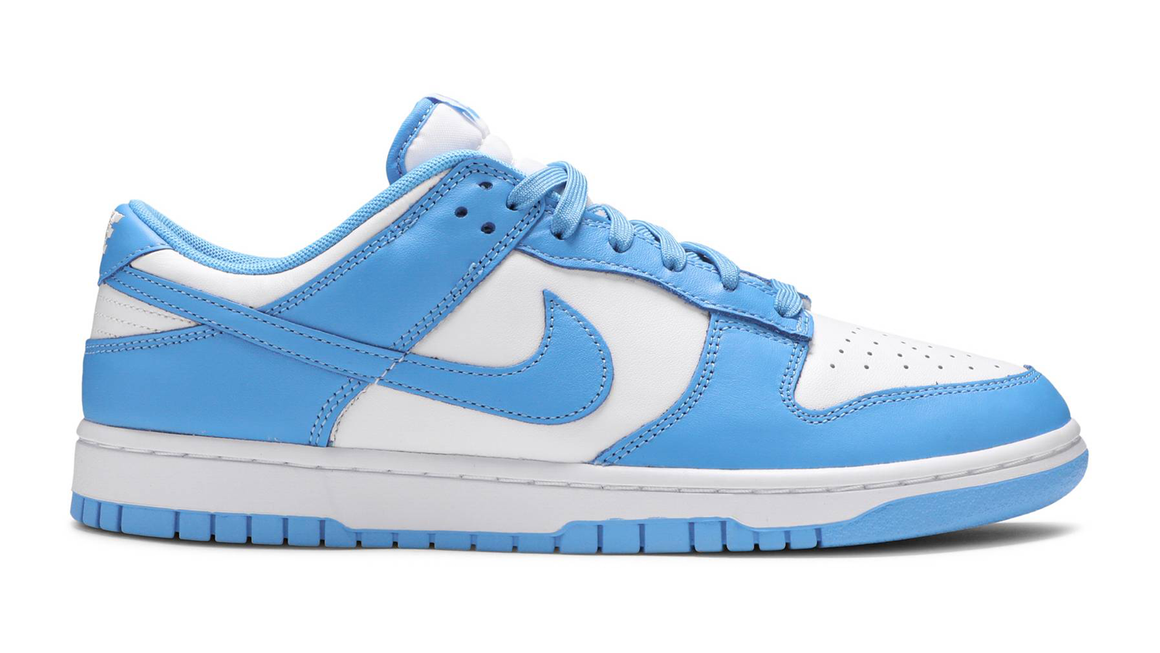 Nike Dunk Low University Blue UNC (2021)
We've said it before, but 2021 was the year of the Dunk. Following on from the Nike Dunk Low "Coast", the Swoosh brand dropped the UCLA vibes and resorted back to their roots with the "UNC" iteration. The first Jordan to not make the list, we couldn't resist including this version of the 1985 basketball silhouette.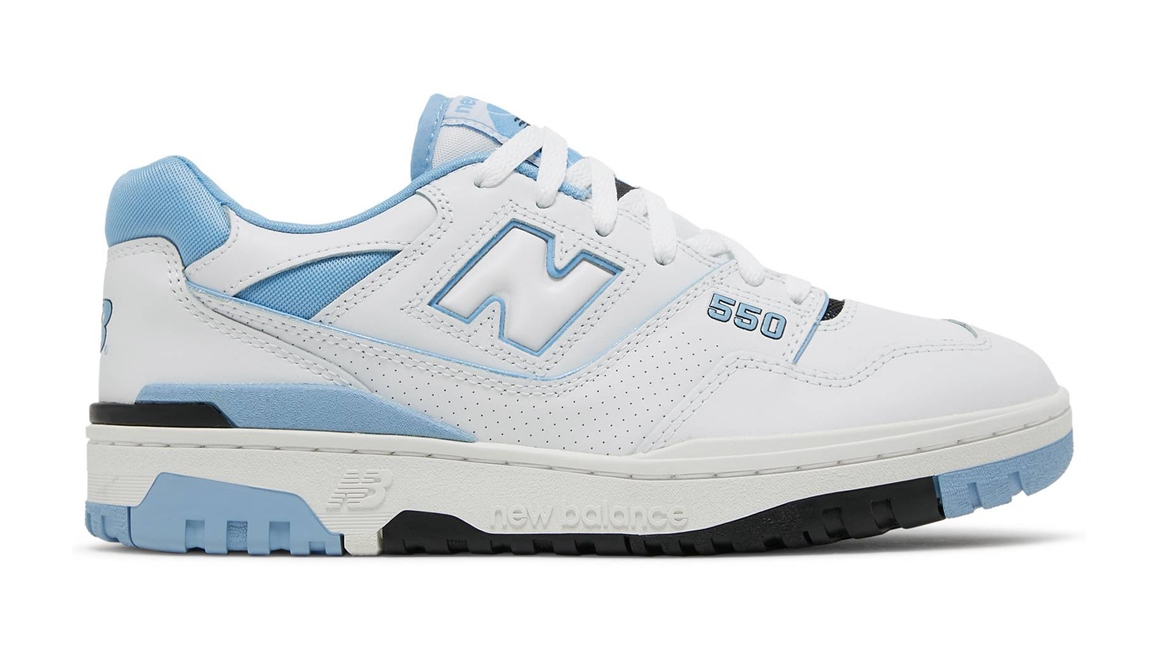 New Balance 550 Light Blue (2022)
Not a Nike UNC sneaker, but the New Balance 550 is having a moment right now. One of the most sought-after iterations to date is the "Carolina Blue" colourway. Once considered an easy-to-cop general release silhouette, this NB 550 is now selling for around £260 on StockX having sold out instantly for retail. We're expecting big things from New Balance this year, and have already caught a glimpse at some upcoming collaborations. Keep locked in to find out more.
Forgetting the history and nostalgia that comes with the UNC colourway, the blue and white colours are by far some of the most easy to style, and will elevate any outfit regardless of what's going on above. It's no wonder that with all these factors combined "University Blue" sneakers fly off the shelves time and time again. UNC Jordans in particular strike a chord with sneakerheads and basketball fans alike, and we're so happy to have seen the colourway brandish other Nike shoes "UNC" in more recent years. There are so many more UNC sneakers we could have added to the list. Did your favourite make it?
Check out more relevant articles here: