We talk a lot about trend cycles in fashion, but it's not often that a year manages to define somewhat of a cultural shift as well as 2016 did. Whilst streetwear and sneaker culture had been bubbling away beneath the surface for quite some time already, 2016 was the year that it really seemed to burst into the mainstream. Backed by an incredible year for rap music, with artists such as Migos, Lil Uzi Vert and Drake grandiosely dropping designer names left, right and centre, and validated by the biggest sportswear giants in the form of collaborations, the streetwear scene had never been more mainstream, and it was about to change the way we dressed and shopped forever.
It was a year full of defining moments, from Ye's The Life Of Pablo album, tour and merch, to Bad and Bougie topping the charts, Kim K's Paris robbery, to dabbing and "damn Daniel" and his white Vans, and whilst in some ways the world was starting to fall apart around us (cough cough, MAGA) our ability to enjoy the simple things kept us going.
You might be thinking, okay, but why are we talking about 2016 now, six years later? Put simply, as much as we meme it now, we owe so much of what we see today, to that year. 2016 was one of those years where it felt like we all collectively got to experience and enjoy the same things, before TikTok came along and every small riff on an aesthetic became its own subculture. As corny as the fashion, the music and the shoes all were, it's an era that pretty much streetwear fan still seems to look back on fondly, or at least be able to laugh about.
So, after two years spent indoors, and a pretty bleak start to 2022, let's take a look back at modern streetwear's glory days, and how they shaped the world we know today.
Boost Ruled the Roost
Clearly white Vans weren't actually in for 2016, but there were a few other silhouettes that saw real success.The back end of 2015 saw adidas launch the NMD, a newcomer to the sneaker scene. Continuing from the success of the Ultra Boost the year prior, the NMD releases saw crazy scenes as sneakerheads queued up for something that wasn't a Yeezy, and the pairs sold out faster than you could say "Pharrell Williams." The lifestyle shoe became a heavily sought-after style, the perfect accompaniment for the skinny jean and long-line tee 'fits at the time. Considered adidas' own take on Nike's Roshe Run, the NMD was a bit of an oddball compared to the rest of the market, but the impact went beyond measure. The shoe definitely dominated the 2016 scene, and led to collaborations with the likes of Pharrell and Chanel, which later paved the way for designer collabs to come.
Of course, we can't talk about 2016 without mentioning some of Ye's defining shoes of the year. The Yeezy 350 "Pirate Black" restocked this year, before the rest of the year became all about the Yeezy Boost 350 V2. This means that the V2 was still a hard cop at this point, and some killer colourways dominated the market. Amongst them was the Black Friday pack, as well as the fan-favourite "Oreo" colourway. Whilst these days it can be said that the silhouette has started to lose its charm, the Yeezy team knows just how well those colourways went down, and the "Oreo" and "Black/Red" pairs are due to see restocks in 2022.
Too Much Sauce
Although most would consider 2017 as Virgil's breakout year, thanks to the launch of his Nike "THE TEN" collaboration, Off-White had a huge year in 2016. Virgil's bold graphics and signature elements made his designs instantly recognisable, and it was only a matter of time before a giant like Nike would snap him up. Of course, Virgil had been running Off-White since 2013 (with PYREX VISION prior), and already had extensive experience designing with (and for) the best. Virgil's incredible impact never went unnoticed again. After collaborating with giants like Nike and IKEA, he was named Artistic Director of Louis Vuitton menswear in 2018, and continued at the helm of both Off-White and LV until his death in 2021.
But whilst one brand saw enormous success way past 2016, the same couldn't be said for other graphic-based brands of the same era. DJ ESCO, Lil Uzi Vert and Future proclaimed that "rocking Vlone while I'm rocking Off White" was "too much sauce," and indeed, at the time, they could have had a point. Vlone's bright orange was a firm feature of 2016's streetwear scene, and the hue pretty much became the colour of the year. A$AP Bari's brand further cemented its status when it teamed up with Nike for a limited-edition Air Force 1, but any further collaborative efforts were dropped a year later when allegations of sexual abuse came out against Bari.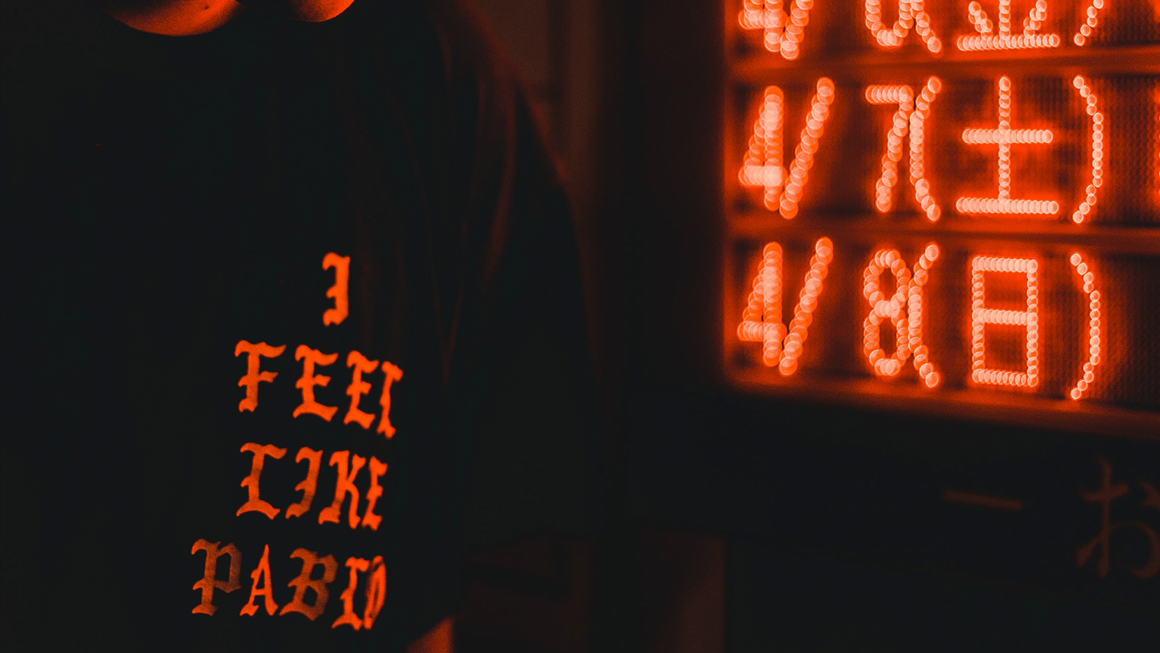 Merch Business
At the same time graphic tees ruled the roost, merch was having a big moment. Whilst vintage band tees have always been in vogue, Ye's TLOP tour did wonders for the new merch movement. When the listening party ran alongside the Yeezy Season 3 show, fans who weren't prepared to drop $300 on an unbranded sweater soon had the option to pledge their allegiance through heavily branded Gildan merchandise – which mostly featured huge lyrical prints in a gothic typeface and spurred a flurry of terrible copies and fast fashion knockoffs.
Ye wasn't the only one who took merch super seriously that year, and it wasn't long before modern-day merch seeped into mainstream fashion, too. After teaming up with Fear of God's Jerry Lorenzo for his Purpose Tour merch, Justin Bieber launched a capsule collection of styles with H&M, paving the way for the high street staple to later launch collections with Young Thug and Billie Eilish. Now, both designer merch drops, and store stocked versions are all the rage; Travis Scott teamed up with Virgil Abloh in 2017 and debuted a (now cancelled) Dior collection in 2021, Ye joined forces with Balenciaga's Demna in 2022, and rappers are hot property in the streetwear collab game.
But tees and hoodies weren't the only hot merch items that year. In fact, they barely scratched the surface. Travis was just one artist that took the merch game to new levels, following in the footsteps of Supreme and basically putting his name on every novelty accessory under the sun. There was a dressing gown, ashtray, toothbrush, and even condoms. Of course, in recent years, the lines between merch and collaborations are more blurred than ever – from Abloh approved Evian water to branded McDonalds collabs.
Please Don't Touch My Raf
Okay, we know - "Please Don't Touch My Raf" didn't drop 'til 2017, but our point still stands – and being the Fashion Killa that he is, A$AP Rocky had been name-dropping Simons since at least 2011. Not only did we see that archive camo bomber just about everywhere, but the man's collaborations with adidas were absolutely huge too. The Belgian designer's hugely influential FW16 show was full of oversized silhouettes inspired by America's youth – exactly the kind of people who were coming up wearing it. Amongst the styles, the iconic black and yellow oversize puffer that was spotted on Rihanna (who dropped ANTI the same year and hasn't given us an album since – what gives, Rih?)
Alongside his take on the court sneaker of the moment, the adidas Stan Smith, Raf had also dropped his own take on the adidas Ozweego. Although his shoe first hit the shelves in 2013, the pair really found their feet in 2016/17, and were a sought-after, luxury option at a considerable price point. At that point, most of the scene hadn't really warmed to the chunky, dad shoe aesthetic, but it's highly likely that Raf's Ozweego's new-found favouritism amongst tastemakers paved the way for Ye's Yeezy Boost 700 "Wave Runner," a year later.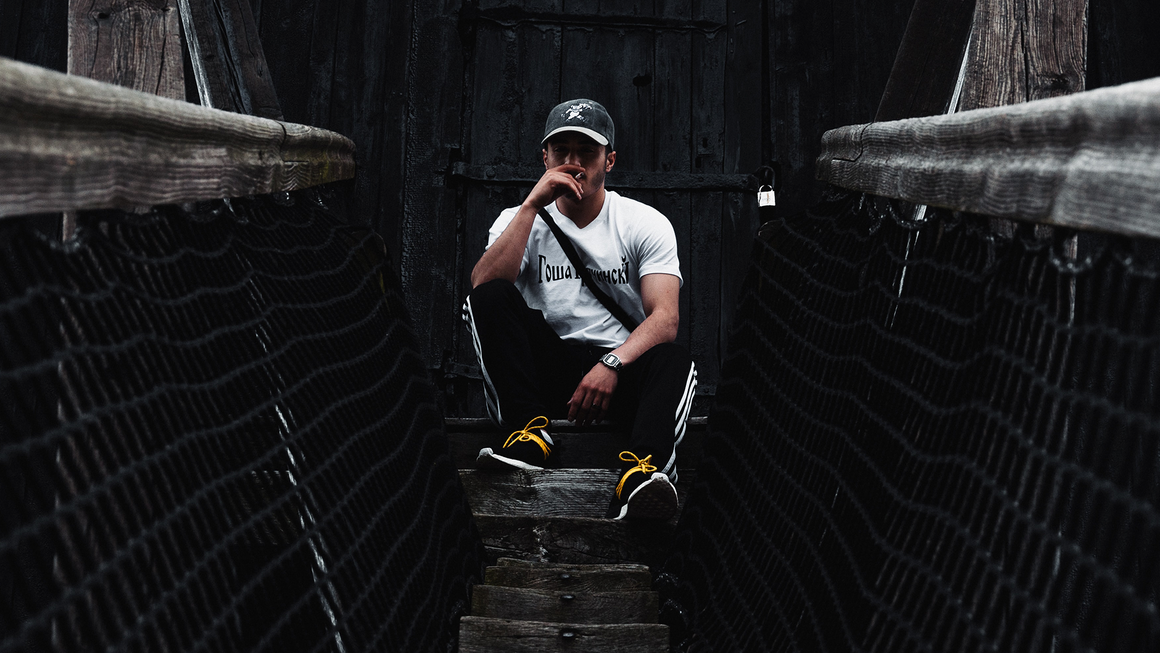 This is Gosha
We haven't really talked about Gosha Rubchinskiy for a few years now (for good reason – like Bari, he was accused of sexual assault a couple of years back) but there's no doubt he ruled the roost in 2016, with his namesake line becoming one of the breakout brands of the year. Whilst labels like Off White and Vlone were too expensive for those of us that didn't have access to the bank of mum and dad, Gosha tees came in at a reasonable £50 a shirt, or £120 for a sweater. In fact, many of us built our entire wardrobes around Gosha pieces, which was great, until it wasn't.
Despite the designer's obvious flaws, and the fact that he heavily contributed to the entire E-boy aesthetic that still manages to plague our TikTok FYP, we do still have to credit the guy for pushing the fashion world to look further than just British and American designers for inspiration. Gosha's cult following earned him a couple of collaborations with adidas and Fila; a Dover Street Market co-sign, and a couple of shoutouts in some rap songs.
Demna's Come Up
Luckily, the Post-Soviet-fashion boom didn't end with Gosha, and the movement helped to further drive careers for designers such as Demna Gvasalia too. Although considerably more expensive than Rubchinskiy's brand, Demna's Vetements had gained traction, albeit for its ridiculous price points, edgy slogans (you definitely came across the infamous "may the bridges I burn light the way" hoodie) and incredibly oversized proportions. This approach earned him a place at the helm of Balenciaga a year prior, and in 2016 the designer was named BoF's Person of the Year, an award which goes to those said to have the most global impact on the fashion industry.
Demna, who's now known just by his first name, continues to explore cultural commentary and irony at Balenciaga, just on a much bigger scale. Now one of the most famous names in fashion, the designer has helped to secure Balenciaga's place as the Hottest Brand in the World, according to Lyst, and appears to be best friends with Ye. A full-circle moment? We think so.
Up next, why not check out: