In a long-scrapped version of his track 'Hurricane,' the artist formerly known as Kanye West penned the bar 'dropped the Wave Runner, now we run the wave.' Arguably one of the most iconic Yeezys of all time, at the point of launch the Yeezy Boost 700 was a major disruptor in the sneaker market, an industry that was overrun with slimline, sporty knit silhouettes like the Yeezy 350 and Ultra Boost.
In true Kanye fashion, Yeezy moved ahead with the release, and after a somewhat shaky start, the Yeezy 700 ushered in the beginnings of the chunky dad shoe wave. Until now, much of the story behind the Yeezy Boost 700 has stayed a well-kept secret, but we were lucky enough to be able to speak to the legendary designer, Steven Smith, about how the shoe came to life, working with Ye and what goes into making an iconic sneaker.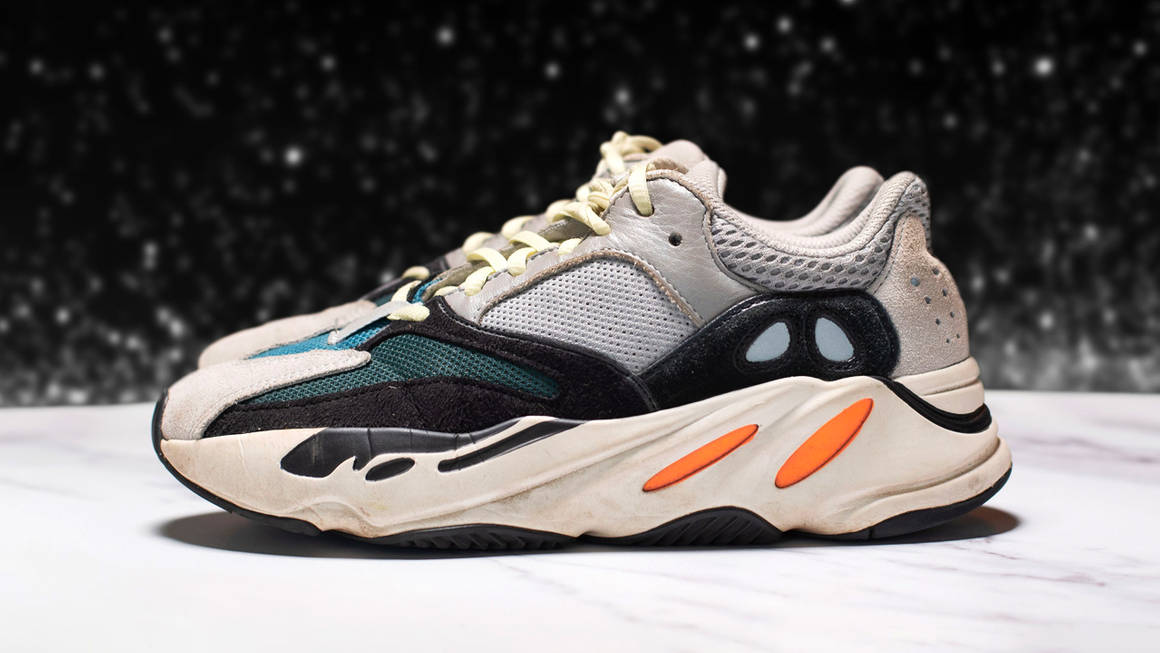 Steven, you are known as the Godfather of Dad shoes, but the Yeezy 700 arguably paved the way for the mainstream dad shoe revival. What was the inspiration behind it?
It was really interesting working on that with Ye, because it was one of the first projects that he had me start working on when I joined him. There were a lot of different elements that went into it. It's how we work - things are very visual, lots of references. There were a few styles that we selected from archival images on the direction of what the Yeezy 700 should be.
I started creating, and it was funny because at the time the market was very much like the 350 - all knit, the Roshe Run - everything was going this oversimplified route. And Ye's got me sketching this thing with all these bits and pieces. I'm like, 'What are we doing?' and he's like 'Don't worry, don't worry. Just draw this.'
We did about five or six different concepts, and because that was down in California face-to-face, we continued to work back and forth through emails when I came home. Every 10 minutes Ye would send a suggestion and then I would redraw it and send it back to him. He had a young designer Photoshop it, and it would come back to me with two of the other sketches combined and blended, photoshopped and stretched and pulled, and I'd redraw it. We'd work like that for 48 hours straight, and I finally told him 'I got to go to bed,' but at the end of the 48 hours we'd come up with it.
The 700 was this weird hybrid of the past, blended to create what we called 'an alternate future from the past.' When you look at that shoe, it's very hard to pick when it's from. Is it from the eighties? Is it from the nineties? Is it from yesterday? That's one of the things that makes it a timeless design. The other thing that was really neat was that as we hashed it out back and forth, we had some good, crazy colours in there. The way the thing takes colours is magical. It just shows how versatile it is and how right the design was.
The shoe was criticised on first look at the Yeezy Season 5 show, and sporty, slimline styles were dominating the scene at the time when the 700 released. What made the 700 release so necessary?
Part of the way we create things is that we create accessible art, and each of the styles is an individual art piece. To be the first to do something, you have to set a new direction. Everybody else was on that bandwagon of simplicity and clean. At other places you have to pinch pennies, but we just designed it without limits, without a price point in mind. We just designed the best product. And then we set the price when we were done. It was a completely different way of approaching it versus the corporate world. Every aspect of how we presented it was a disruption, a different way of doing it. I mean, that's what being a disruptor, or an agent provocateur is all about, and that's why Ye and I get along really well together. We're both of the same mindset.
I think that all things that take you to a new place make people uncomfortable. I mean, that's been the story of my career - the designs that I do make people uncomfortable. That's how I know I'm on the right track.
In the Netflix documentary Jeen-Yuhs, there's a quote that says, 'That's what makes the Wave Runner so scary.' Can you tell us what you guys were talking about in that moment?
You know, it was a $300 shoe. It was traditional materials. It was that complete departure from where things were at. It made people nervous. There's nervous bad, but then there's nervous like: 'I don't know,' and that's when I know I'm on the right track. All those shoes I've designed that have become these timeless classics; they were different at the time – like the New Balance 574. At the time, it was a problem to solve and out of it came this solution. That was the right thing at that moment in time, but it also turns out it's the right thing for a continuum.
It was the same with the Wave Runners. Everything else was so simple and clean and out of it came this thing where people are like, 'What are we doing that thing for?' And I think that's part of it. You have to drag people along with you. Much like with Ye and the music - people have to get dragged along and all of a sudden they're like, 'Wow, that that's an amazing album.' He and I tend to mentally live in the future and we wait for everybody else to catch up to us.
Given the immediate reaction to the Wave Runner, were you surprised to see the prices it hit on the resale market?
I was blown away. I had some friends who were at Under Armour, and they were working on the Steph Curry shoe and I said, 'How's that new Curry doing?' And they're like, 'Sell through's 18% after like a month.' And I'm like, 'Sell through? We sell out 30 minutes.' It's wild, it's a completely different model.
For me, that was such an eye-opener of the power that we could have with this product and the marketplace. It drives me and motivates me to do even better so that I give Ye my best. That's one of the things that he brings out in you - that you do your best for him. You know his lyric: 'I met Kanye West I'm never going to fail?' As a designer it's a magical place to be.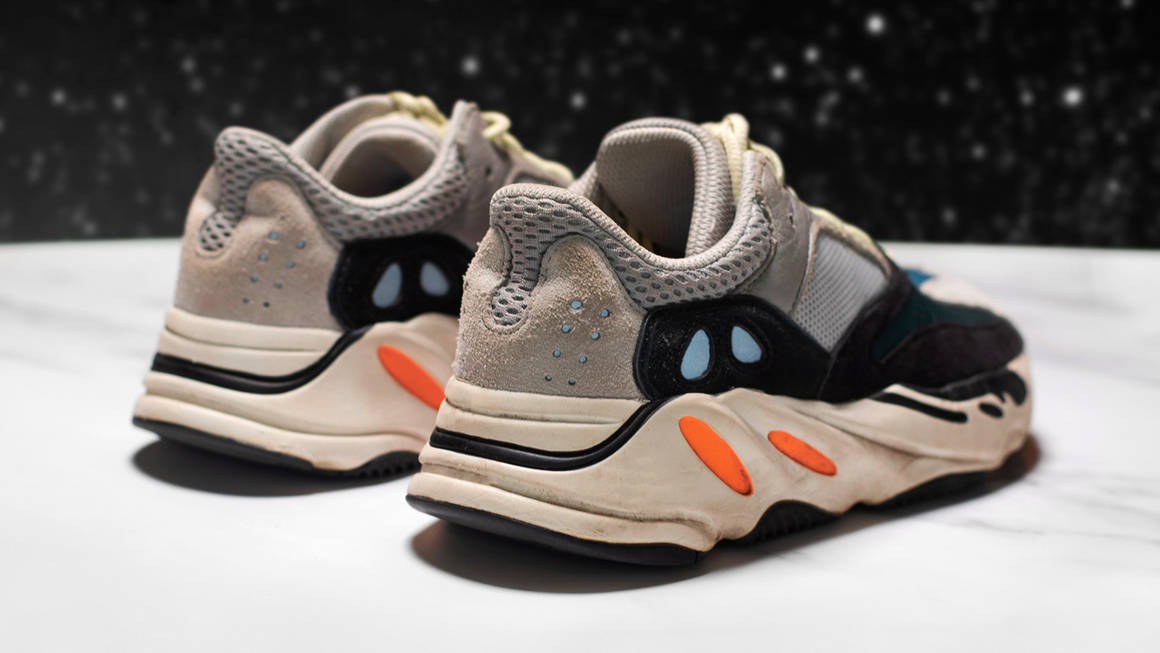 So, we touched on colourways briefly earlier. We're used to seeing earth-toned colourways from Yeezy. What inspired the colour palette for the original Wave Runner?
It was very sport, very running, but classic. There were definitely some surfing and wetsuit vibes to the colours, but if you look at the OG Wave Runner colourway, it goes with anything. That's what's wild. Kids tag me and share all their style-ups with me on Instagram and it's mind-blowing to see all the variations of outfits and colours.
It's pretty interesting because of those colours. The 'not-quite-white,' the silvers, the blues, the teal, the black. It hooks up with just about anything from jeans to sweats and anything in between. Again, Ye forces you to do magical things.
There aren't many pairs that I still have from 2017 that I would still wear with anything today, the same amount as I do with my Wave Runners. They get a lot of wear still. Like you say, just timeless.
Yeah. And they're so comfortable. You know, when it came out, my kiddo was in a dance competition down at Disneyland. When they're off dancing, as the guardian, you could go off and go ride the rides and stand in the lines. I was on my feet all day with them. They were still comfortable and because of the quality materials we use it really kind of molds to your foot. It's just turned out to be a great shoe.
For sure! So, the original 700 was fresh and new, and is still regarded as iconic. Why was it essential to develop the V2, V3 and MNVN?
They just became explorations of it, variations on a theme. The tooling pretty much stayed the same and the uppers just became a slightly different language. Some of the V2 started as Yeezy 500 options, and then that melded into what became the 700 V2 styling and language. Ye was in the first phase of Wyoming for the album releases, and he was very inspired because there were lots of music coming out. That then trickles into the product creation of multiple variations and spins, it overlays with music quite nicely.
When "The Life of Pablo" came out, Ye was pulling it back and remixing it, putting it back out and taking a track off, adding a track back in, remixing it again, changing vocals. So those shoe variations are kind of like the equivalent to changing the tracks.
The creative process just seems so fascinating because it just seems to change all the time. How does it compare to other companies?
It's like nothing else I've ever done. As an older designer, it's refreshing. It can be frustrating for people who are set in their ways and used to doing something like 'That's not the way we do it!' And it's like 'No, that's not the way YOU used to do it. This is the way WE do things.'
Some people really cramp up, but you have to be very fluid and very willing to explore. As a curious designer, that's the beauty of it: there is no one solution. There's a moment in time where you have to deliver something but other than that, there's a lot of times where you just want to keep exploring. We have the luxury of doing that because we don't have real timelines and we don't have seasonal drops and all the things that are in a normal corporate creation process. We're not beholding to anybody or anything other than Ye, and if he wants to do a new one, we do a new one. It's that's simple.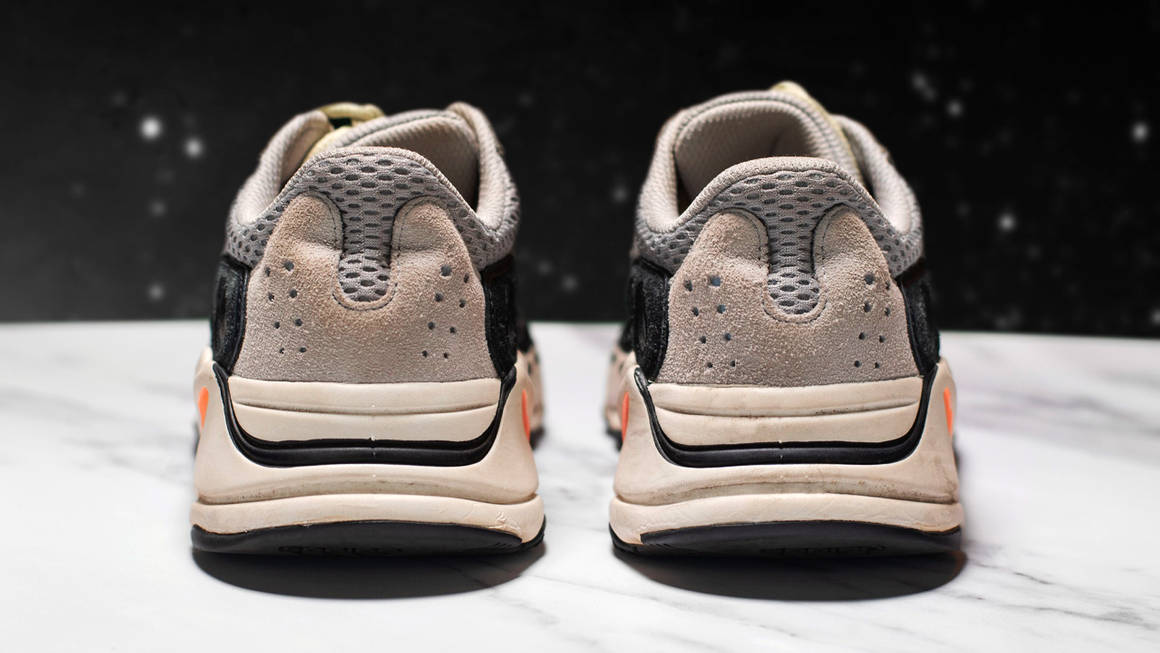 So, he actually has quite a lot of creative control then. Sometimes you just think, 'Oh, he must be so busy.'
Yeah. I mean, he's right there. We send sketches back and forth all day long.
Do you have any personal favourite Yeezy 700 colourways?
I do like the original Wave Runner. I beat the living crap out of mine because I've been wearing them since I got the first prototypes and my prototypes are even falling apart, but I like them so much I keep wearing them. I think that the more beat up they get, the better they look because now they've got character to them. I visited the adidas headquarters just after the recent reissue of them, and a lot of people had on shiny new ones. I just wanted to go over and scuff up the toes and stuff. Same with the Yeezy 500s - the 500 looks better the more you wear it.
Why is innovation so important within the sneaker scene?
You know, it's kind of my background. All the different products I've worked on, the different departments I've worked in, but it's just the way Ye's brain and my brain work. We're in sync on that. We want to make things better for people's lives. We want to make products that are better than what's out there. We want to make it comfortable. One of the things he always said when I first started working with him was 'Yeezy makes life easy.' And I think that's fun. I kind of wanted to hide it in the tongue somewhere so that when you flip it up there's a little hidden gem. I think it's very funny.
To me, innovation should really be defined as 'new and better.' When I work on new designs, Ye just knows that it's in my creative DNA that it's going to work, that I'm going to try and solve it and make it more comfortable and better every time. I think it's just in our nature to evolve and improve, and as Yeezy grows I think you'll see a lot more things in the orbit beyond just apparel and footwear that will go to new places.
Can you spill more any details on working with Ye?
When Ye talks about my work he says, 'You were already in the future, and it just took people this long to catch up.' He admired the Instapump Fury, and it still looks like it's from the future, even though technically it's from like 30 years ago now. We both have those visions of 'Let's create the future we've always wanted, but we're let down that other people didn't do.' So, I think that sums up the whole philosophy of working with him in general. It's been the most magical time of my career.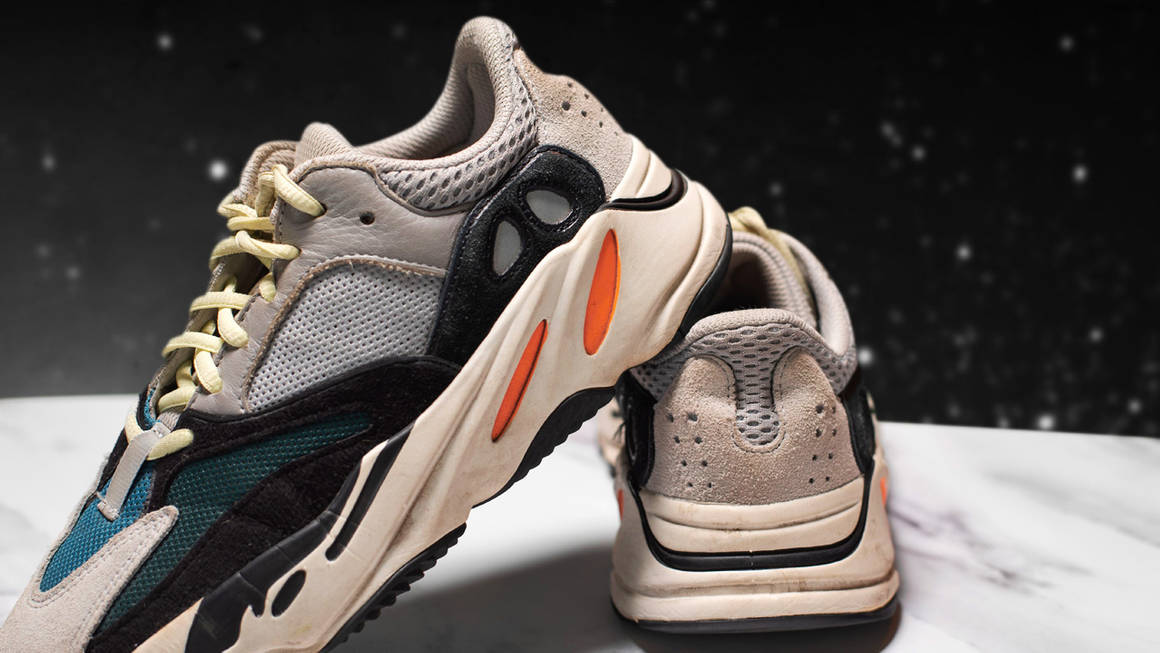 For more of our Discover series, check out our suggestions below!