Whilst Dr. Martens boots are suitable all-year round (what else are we going to wear to all those muddy festivals?), we are grateful that there are other options that still embody Dr. Martens' famous grunge aesthetic - which is arguably more popular than ever before. Often used to make an outfit that little bit more edgy than it would have looked otherwise, Dr. Martens sandals lean into the chunky shoe trend and our love for a reliable, long-lasting product. However, there are a few things you have to know before wandering into the world of Docs. How do Dr. Martens sandals fit? What's the secret to breaking-in Docs sandals? How do you get them to stop rubbing? We'll reveal all of this and more, in this comprehensive guide to Dr. Martens sandals. So, if it's your first venture into Docs, make sure to take these tips on board to guarantee you'll never take your DM sandals off, from April to September!
How Do Dr. Martens Sandals Fit? Are They True to Size?
When purchasing Dr. Martens sandals, we recommend taking your true size. Unfortunately, the brand doesn't offer half sizes, which can make it a little difficult for those of us who are between sizes. However, if this is you and you have narrow feet, we'd recommend sizing down rather than up. Generally, the style of the sandals come quite long and wide, but be warned that there's not much depth and most straps aren't adjustable. For those with a high instep, you might find it a struggle to get your ideal size, despite the length being okay. As a rule though, if you own Dr. Martens boots or shoes, know that you should take the same size you wear for these for your sandals.
Top Tip: The 'Clarissa' Dr. Martens are especially wide, so for example, if you're normally a 7.5, we'd recommend getting a 7. However, the super-comfortable 'Blaire' style does come a lot bigger, meaning you might even find a 6 more preferable if your feet are on the super-narrow side. Why not head to a local retailer to find the best ones for you?
"I wear my true size in my Dr. Martens Voss II sandals"
Should You Size Down in Dr. Martens Sandals?
So, I normally wear a UK 4 in my sneakers, and this is the same size I bought my Dr. Martens in. I have to admit they're a little longer than other shoes I own, but I tried a UK 3 and this was way too small for my wide feet. I think if you have extremely narrow feet this would be a good option, but for me it wasn't possible. I opted for the Voss II sandals over the Voss as I found the cross straps allowed for more room at the front compared to the one thick strap. I also preferred the heel on this style compared to the Clarissa, which looked a lot sturdier, but more likely to cause a blister. All things to take into consideration when thinking about which style is the correct one for you.
How Do You Break In Dr. Martens Sandals?
Breaking in your new sandals can be quite a process, though rest assured once you're over the hump the reward of being able to wear your DM sandals everyday is so worth it. Here are our top tips for helping that process…
Wear your sandals around the house with thick socks.
Take short, frequent walks to soften the leather but lower the risk of blisters.
Wear blister plasters with the sandals before the blisters have started.
Use Dr. Martens' Wonder Balm to help soften the leather so it's less likely to hurt your feet.
If you're still having trouble, try rubbing Vaseline into the leather to help soften the panels.
Add Vaseline to any rubbing points before wear to avoid blisters.
The Clarissa sandals are particularly hard on the heel, you might want to consider soaking them in water overnight to stretch and soften, or even bashing them with a hammer.
Which Style of Dr. Martens Sandal is The Most Comfortable?
When it comes to deciding which Doc Martens sandals to buy, definitely go for the style you like the most. However, if you're team comfort and practicality over style, and want the quickest breaking-in process possible, then listen up as we reveal which Docs sandals we think are the most comfortable.
It's worth remembering that the heel is the main component that causes rubbing, so whatever Dr. Martens put on the back of the sandal will make a massive difference to the comfort. For example, the Clarissa sandal has a similar heel to that which you find in the Dr. Marten Jadon boots (notoriously difficult to break in), meaning that persistence is key to making these comfortable. On the complete other end of the spectrum, the Myles sandal takes on a slide-like silhouette, with no heel strap whatsoever, meaning the chance of rubbing is non-existent.
If you're searching for something that's particularly comfortable underfoot, then the foam-like cushioning in the Voss sandal is extremely lightweight, even on the "Quad" platform silhouettes. Similarly, the Blaire sandal features a moulded footbed that suits the shape of your foot perfectly, making for one comfortable sandal. Other comfortable silhouettes include the Kimber and Nartilla. The Kimber comes with adjustable straps over the front of your foot, unlike most of the other Dr. Martens sandals, whilst the laces on the Nartilla allow for the sandal to be adjusted to your foot and tied up accordingly.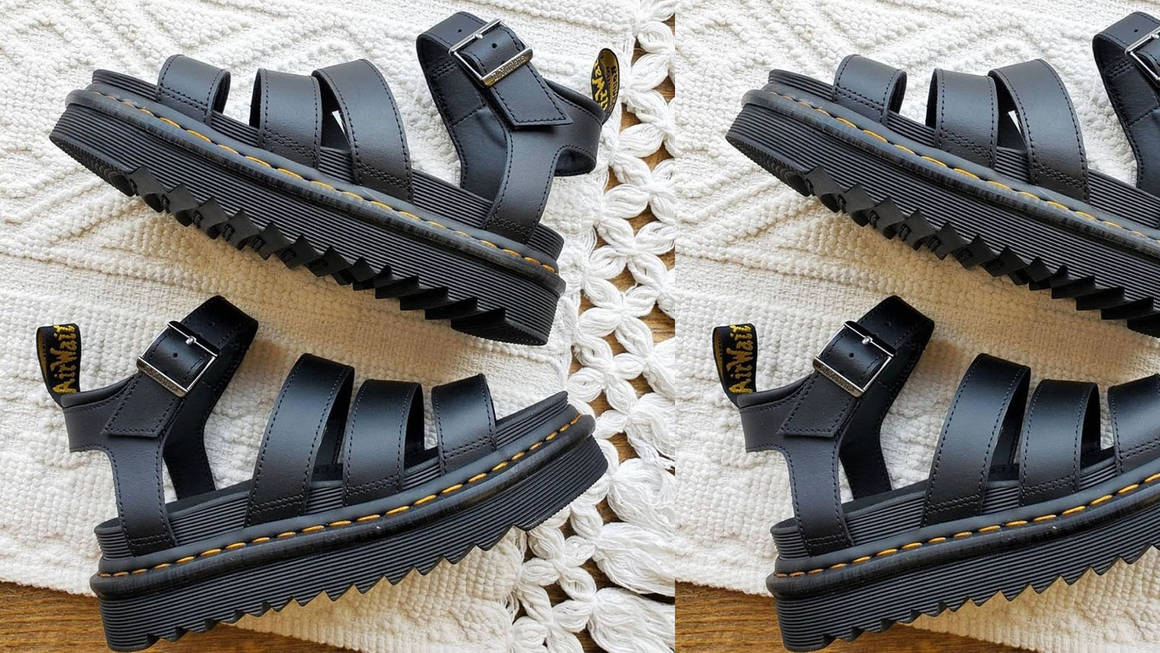 How to Style Dr. Martens Sandals
There's a number of different ways you can style your DM sandals. We like to pair ours with a colourful, cute outfit in order to balance the line between girly and grungy, though it's different for everyone! For some inspiration, Lib pairs her Ricki 3-Strap Lightweight Platform sandals with a colourful boilersuit from Monki. What we love about Docs sandals is that as well as wearing them on the hottest of days, you can use them as a great transitional piece. We reach for them to go with our jeans and sweatshirts as well as our skirts and dresses!
If you're looking for some smart-casual inspiration, then @theba_sics pairs her Clarissa sandals with creamy-coloured jeans, a smart blazer and summery YSL bag. However, for the ultimate summer look, just know that you absolutely can wear your stompy Doc Martens sandals with delicate summer dresses, like Amy.
Where to Buy Dr. Martens Sandals
Lots of footwear retailers stock Dr. Martens sandals, but we've listed out favourites below to make your sandal shopping experience as smooth as possible. If you're looking for more information and styling advice, make sure to check out the below articles, too.