If you take a second to look at some of 2021's most valuable sneakers on secondary marketplaces such as StockX, you'll find the usual Air Jordan 1 and Dunk releases right at the very start. This should come as no surprise to anyone considering these pairs have always been pretty hyped, especially with the latter silhouette which gained tremendous momentum over the past two or three years. With that said, there's one collaboration that dropped this year that has very quietly made its way to the top as well, and that's none other than the Bad Bunny x adidas Forum Low "The First Café".
While on first glance this may seem like a bit of an anomaly, upon further inspection you'll find that this is actually part of a very carefully executed plan that worked wonders for the power duo - and we're here to explore how it successfully infiltrated the ranks and became 2021's hottest sneaker collaboration!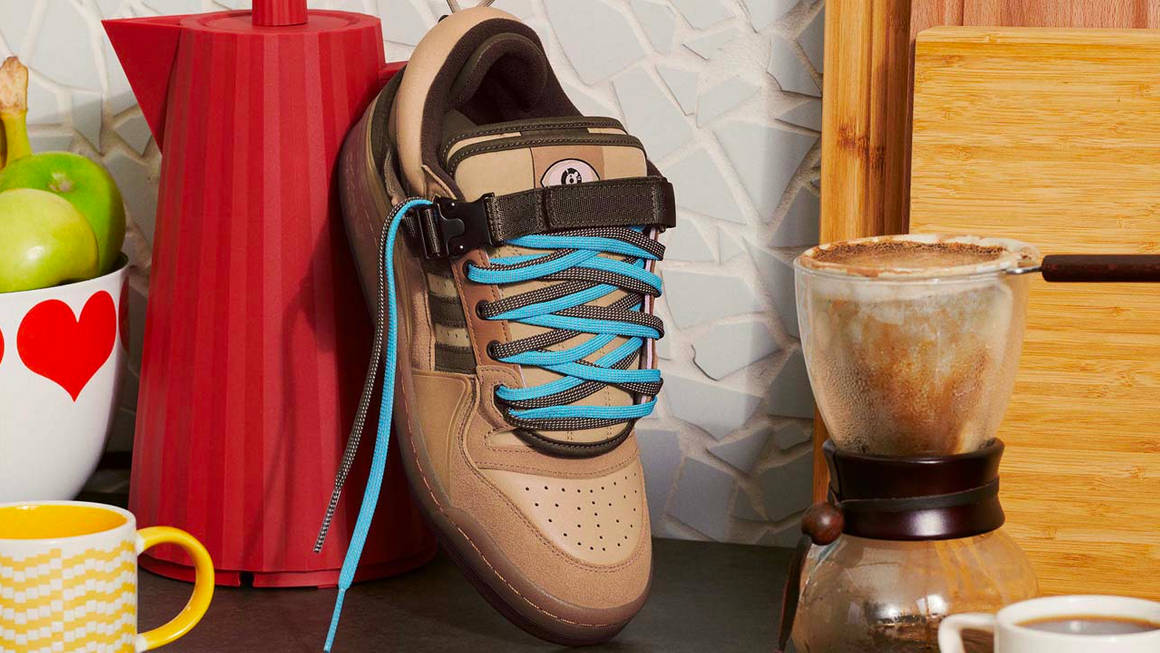 To kick things off, we need to look into the actual silhouette itself. While many new sneakerheads tend to believe that the Forum is adidas' take on the Dunk, it's actually the other way around. You see, when the Forum first dropped back in 1984, it very quickly became one of basketball's most popular models. With high top and low top profiles to choose from and an insanely premium construction and minimalist design, it was pretty close to perfect when it came to on-court shoes. The Beaverton brand saw this and took it as an opportunity to make their own version one whole year later, and while it didn't work quite as well, the fact that Michael Jordan unleashed his Air Jordan 1 at around the same time didn't help the Dunk's case whatsoever.
Over the next few years, demand for both models slowly but surely began to decline, with many colourways that we now see as "ultra hyped" hitting outlets. For example, the Nike SB Dunk Low "Newcastle Brown Ale" was being sold for £40 back in 2008. Now that exact colourway will now set you back a minimum of £1000 which is over 1,300% its original retail price. This was all part of Nike's plan to elevate the Dunk to a status of hype that was unlike anything we had seen before. Recruiting some of the industry's biggest names such as Travis Scott and Virgil Abloh, the Dunk was suddenly the decade's must-cop silhouette. And just like how Nike want to replicate the success of the Forum over four decades ago, adidas now wanted to do the same.
So, what's first? I guess you could re-introduce the Forum with a few colourways to begin with and slowly introduce hundreds and hundreds over the next few months. While this strategy kind of worked for the NMD and the Ultra Boost at the start, popularity surrounding these models dropped massively after a year or two, and the Herzogenaurach company didn't want to go through this again. Instead, they decided to take a more calculated approach.
While they had previously unleashed a partnership with Beyoncé's Ivy Park a few years ago, for their next major Forum collab they were going to place a much bigger emphasis on luxurious materials, a revamped design, and a memorable story. Recruiting Puerto Rican rapper Bad Bunny, this shoe was marketed towards a millennial and Gen Z crowd which vibed with his music a lot more. Older artists such as Kanye West and Pharrell Williams would've done wonders for the basketball shoe, but this particular release needed a fresh pair of eyes which had never worked on a collab of this magnitude before. While the reggaeton star did team up with Crocs for some Classic Clogs back in 2020, this was a whole different ball game - pun intended.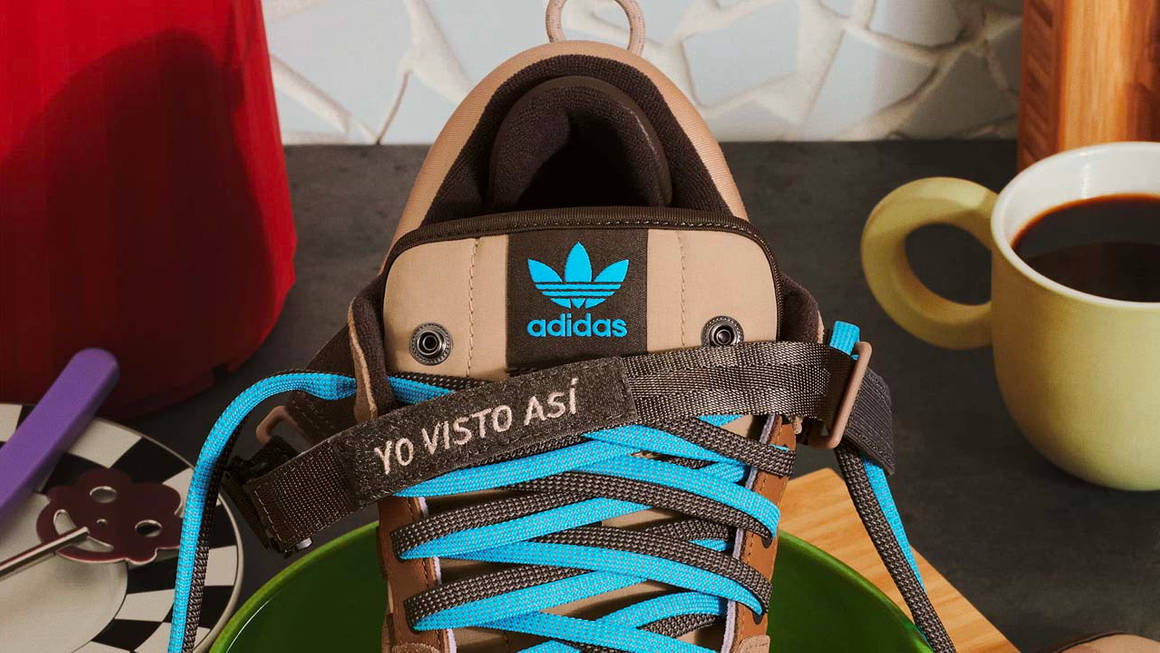 Infused with elements that represent his culture, music, and personal style, "The First Café" didn't have a massive launch party or a major fanfare-filled release, instead, it was quietly teased in his music video for YO VISTO ASÍ which is off his 2020 album EL ÚLTIMO TOUR DEL MUNDO. This was all the way back in November of last year, and it would be the last time we'd even see the shoe until its official unveiling five months later. There was no press conference, no lookbook, and no countdown video, there was just the power of social media.
The thing that gets me every time about "The First Café" is its inspiration. While other collaborators pay homage to the most pretentious things in the world, Bad Bunny looked to very thing that keeps his creative energy flowing in the morning: that essential first cup of coffee. Painted in a selection of caffeine brown hues, his Forum is crafted from some of softest suede known to man. Extra comfortable puffed-up ankles pay homage to the model's basketball roots, but the rollercoaster buckle and replaceable tongue shows that this is also a fashion piece. Speaking of which, the classic adidas branding has been replaced with the crooner's signature eye motif, while the straps are finely embroidered with "YO VISTO ASÍ" - referencing the song where we first saw this shoe.
When "The First Café" finally dropped one week later it was pure carnage. Sold out literally in seconds on the adidas CONFIRMED app, hype was at an all-time high for this collab. Those who wanted a pair couldn't even add the size they wanted to cart, and before you knew it, they were being flogged off at marketplaces like StockX for crazy amounts of money. We hadn't seen an collab from the Three Stripes sell out like this in years. In fact, the last time something like this happened would probably be the Yeezy Boost 350 V2 "Black Friday" Pack that landed all the way in 2016.
With the drop of the "Easter Egg" and a "Triple Black" pair coming just around the corner, prices are continuing to rise for the Bad Bunny x adidas collab. Could this be the start of something great? Is he the next big name to look out for? While we certainly don't have answers for any of these questions, one thing is definitely for sure:
The adidas Forum is back, baby, and it's not going anywhere, anytime soon.