Outdoor clothing brands are playing a significant role in the fashion industry today, with renowned brands such as The North Face, Arc'teryx, and Patagonia—to quote a few, now appearing on the feed of social media influencers more than they ever have before.
Now putting the spotlight on a French sports equipment company is Salomon. Established in 1974 by ski-enthusiast François Salomon, the family-owned brand nestled in the French Alps specialised in manufacturing ski edges in a small workshop. In the present day, the Salomon Group not only excels in numerous sports sectors, such as hiking and climbing, and winter sports like snowboarding, but is also part of the rapidly-growing trends in the fashion and footwear market.
Sneakers like the Salomon XT-6, XT-4, and Speedcross are currently the French imprint's forefront line-up. Luckily, these performance footwear options have became lifestyle staples and are now available to cop across various retailers online and in-store, so if you're planning on grabbing a pair today, don't hesitate!
On that note, you must know how do Salomon shoes fit. To find your perfect size, the product experts here at The Sole Supplier curated the complete Salomon size guide here for you to use.
Do Salomon shoes fit small? Does Salomon run true to size? How do I know what size Salomon shoes to buy? You will find all the answers here in our Salomon footwear sizing guide.
Salomon Trainer Size Guide: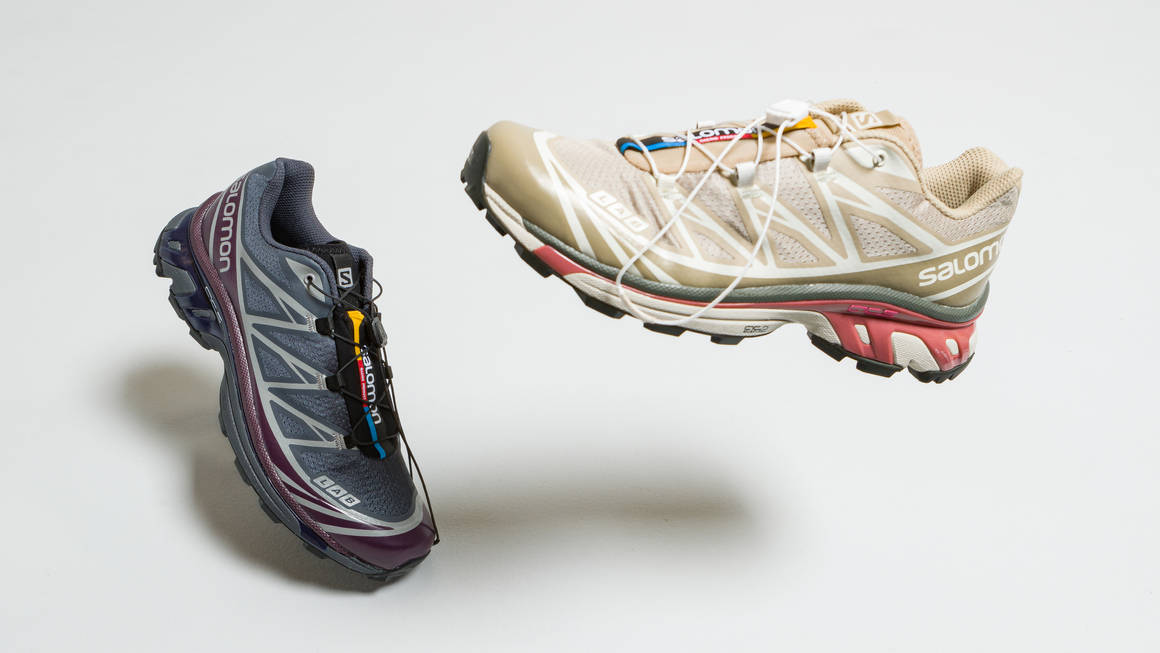 The Salomon XT-6 is a low-top trail-running shoe introduced in 2013. Generally, it is a go-to option for long-distance runners who run under harsh weather conditions. That being said, it's also loved massively by technical outerwear lovers. It has a lightweight profile that consists of durable materials and EVA cushioning that ensures a soft and comfortable shock response.
Salomon XT-6 Size Guide:
Is the Salomon XT-6 true to size?
It is recommended that you take half a size up in the Salomon XT-6. Unless you have narrow feet, you might find that they feel a bit tight due to the form-fitting upper and arch support. They have a similar feel to the adidas Ultra Boost—quite snug unless you go 0.5 up from your normal size.
Is the Salomon XT-6 comfortable?
When it comes to comfort, the Salomon S/Lab XT-6 is extremely reliable, most especially if you're looking to wear them casually as they're originally made to endure tough usage, hence the chassis system that allows the foot to hold over rugged terrain.
How do you style the XT-6?
Styling the Salomon XT-6 is not as difficult as you think it is. With outerwear clothing still on the rise, they'll go easy with almost anything in your wardrobe. Though they'd look better with relaxed trousers such as cargos pants or a pair of wide fit jeans. If you're looking for outfit inspiration, check out outfits from brands such as Maharishi and Nike ACG.
How do you clean them?
Unlike your pair of crisp white Nike Air Force 1s, Salomon shoes are made for outdoor purposes so they'll pick up dirt naturally. To clean them, rinsing with water should be the first step, then followed by using a soft brush or a sponge to remove any remaining mud and dirt. It is also important that you allow your Salomon shoes to dry in a well-ventilated area.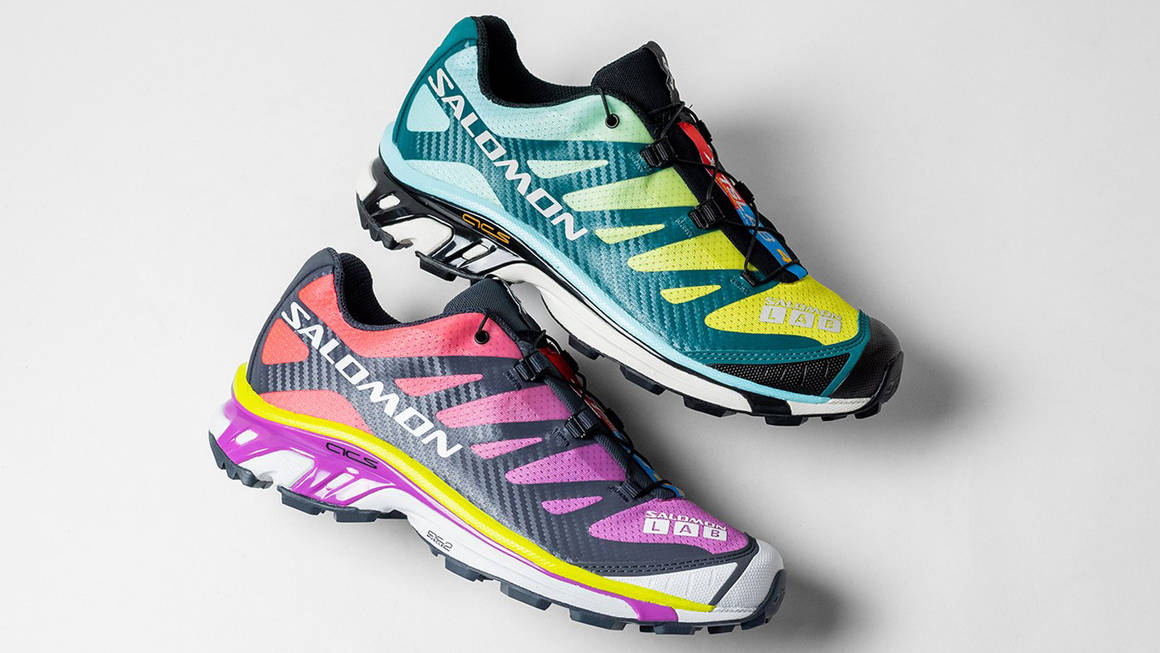 The Salomon XT-4 is not much different to the XT-6, with only minor variations being a predecessor. This trail running model is still light and durable, with enhanced grip and stability ready for any terrain, however it is slightly chunkier than the sleek XT-6 silhouette.
Salomon XT-4 Size Guide:
Is it true to size?
The Salomon S/LAB XT-4 has a slightly wider fit than the XT-6, meaning that going true to size is definitely a better option since the upper is not as tight. However, if you have wider feet or prefer more room in your shoes, you can go a half size up without any issues.
Is the Salomon XT4 comfortable?
The XT-4 offers a comfortable ride all day long, thanks to the model's Agile Chassis System—ACS for short. So whether you plan on wearing them for casual or outdoor use, do not stress as Salomon shoes are extremely reliable when it comes to comfort.
How do you style it?
Since Salomon has stumbled into the fashion world despite originally being a sports brand, the styling opportunities it offers are limitless. Salomon shoes are often styled with technical wear—brands such as ACRONYM and Stone Island Shadow Project. If you want to carry on the technical aesthetic of the shoe check these brands out, but we even like to wear them with some track pants and a hoodie.
How do you clean it?
The golden rule of washing shoes is to not put them in the washing machine. It is recommended that you use a soft, wet brush and clean water to remove all mud and dirt. Allow your Salomon shoes to dry naturally in a room with adequate ventilation.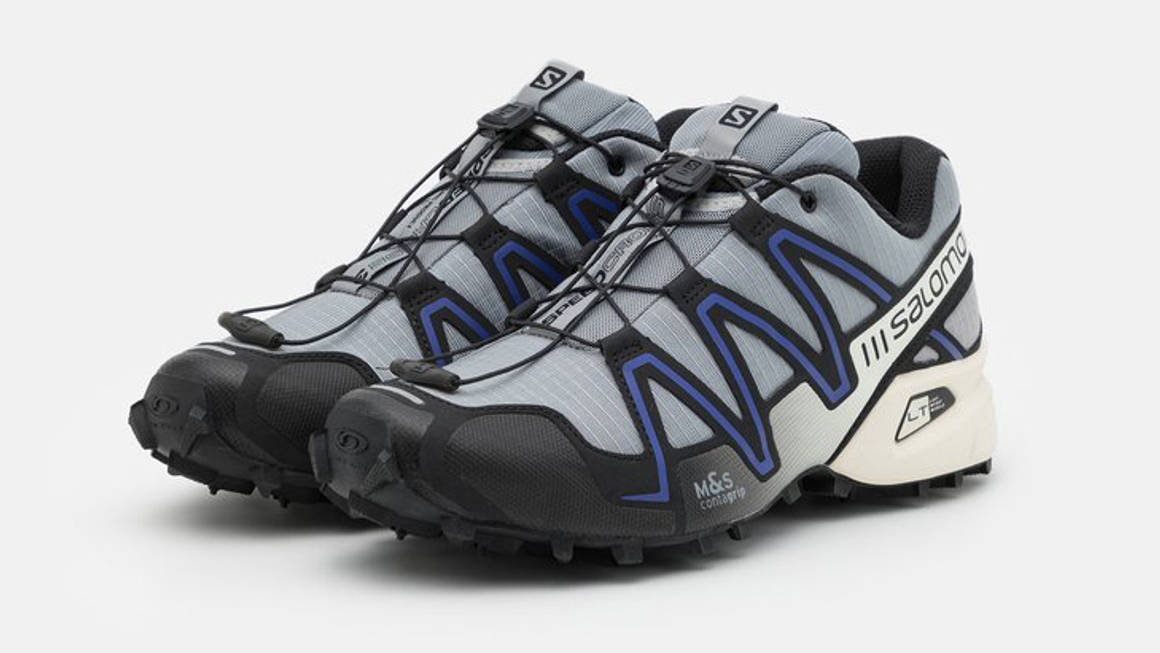 The Salomon Speedcross shoe features a more aggressive look in comparison to the XT series, but that doesn't make it less popular. This silhouette has been the basis for many collaborations, including a collab with Palace Skateboards! The best way to describe the Speedcross is that it's a premium offroad shoe with top-grade abilities, thanks to the EnergyCell+ midsole, reinforced mesh tooling, and much more.
Salomon Speedcross Size Guide:
Do Salomon Speedcross run small?
The Salomon Speedcross has a slightly smaller fit, it fits snug as soon as you put it on so so we highly advise that you wear half a size up from your true size to prevent discomfort around the toe box area.
Is it comfortable?
Long-distance running shoes are made to serve your strides with maximum comfort and durability. The welded upper of the Salomon Speedcross move naturally with the foot, and the EnergyCell+ midsole returns your strides with generous cushioning on all terrain.
How do you style it?
The Salomon Speedcross complements outdoor/tech style amply. Look into brands such as The North Face Black Series, White Mountaineering, and C.P. Company. However, don't limit yourself to those brands and wear your shoes with what you're comfortable with. They're such a versatile shoe they can go with so many different styles.
How do you clean it?
Depending on how dirty your trail running shoes are, giving them a rinse outside with a garden hose should be the first step. If the insoles are wet, remove them, wash them, and leave them to dry. Loosen the shoelaces and use a soft brush to remove any stones or debris inside the shoes. Lastly, leave them to air dry.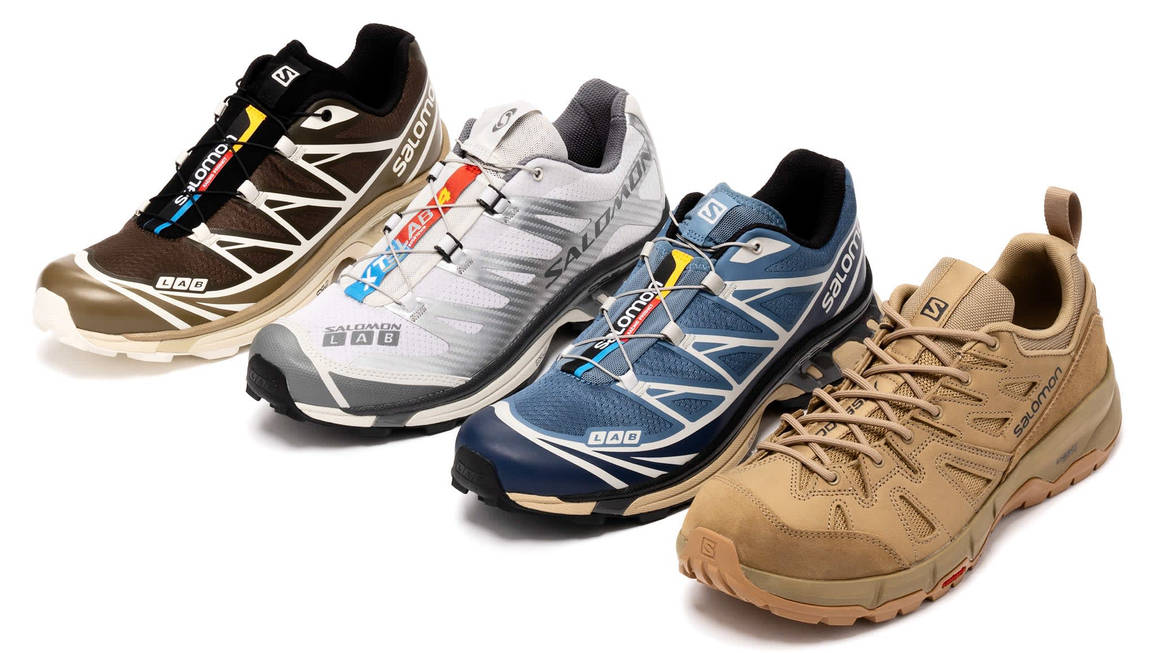 SALOMON SHOES - WHAT YOU NEED TO KNOW
Salomon shoes are quickly garnering a significant level of attention today, predominantly from fans of outdoor techwear clothing. As mentioned above, both the Salomon XT range and Speedcross series are exceptional. We recommend that you read this guide thoroughly to get the best results, and choose a pair today from the wide selection of Salomon trainers we have right here at The Sole Supplier.
Be sure to keep it locked in right here for all the latest sneaker news, teasers, news, and most importantly, high-heat collaborations that you cannot afford to miss!
Check out all our other size guides below: