You might recognise Vinnie Tao from Nike's 50th anniversary celebration campaign, but real ones know that he's been serving the sneaker industry for years. Having set up his shop, Sneaker Pharm*, in June 2019, Vinnie has become the industry's go-to guy for sneaker cleaning, restorations, and all things sustainability. We caught up with him to get his two cents on how the sneaker industry is shaping up to be more sustainable, why you shouldn't be scared of suede, and the importance of rocking (and not stocking) your grail pairs.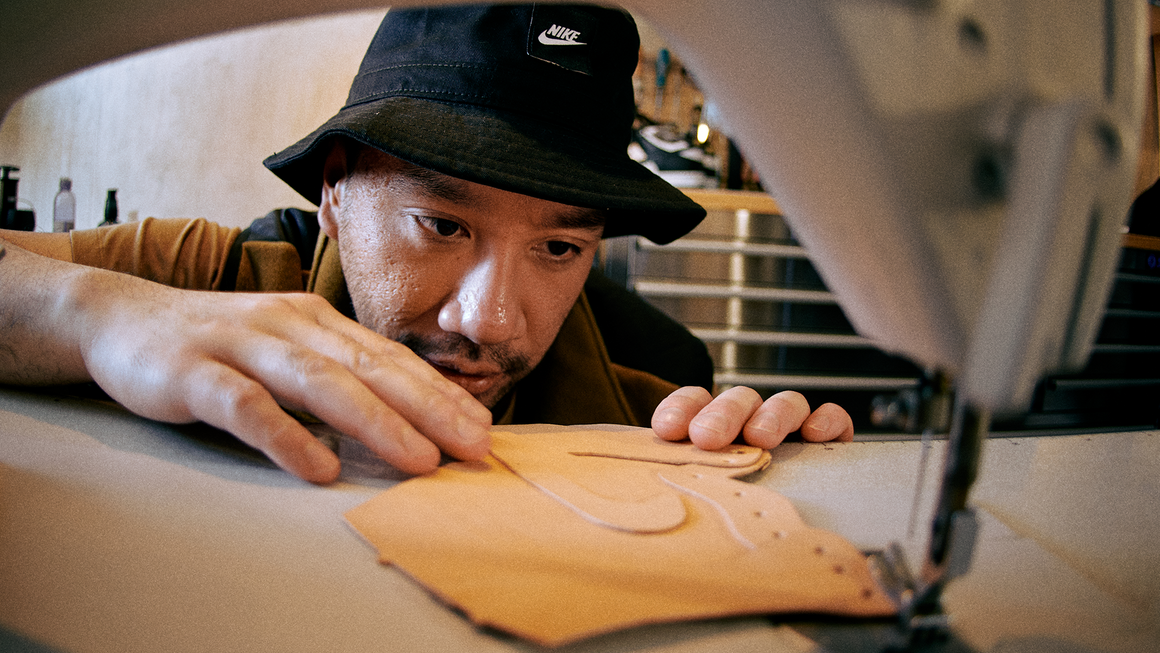 Okay Vinnie. Let's start by getting into how you got into sneakers in the first place. Could you give us a little bit of an idea about how you got into the industry?
Sneakers have always been in my mind from a young age because my granddad used to take me shoe shopping. This was before the time of size? and all the other retailers, it was kind of just more like big stores, like JJB Sports and other big sports stores. When you went to those places, they had loads of cool stuff, like outdoor stuff and skateboards, basketballs, just stuff lying around that you could play with, but I was meant to be focusing on just the shoes. My granddad was like, "no, no, just look at the shoes and nothing else." He was always pushing Nike because it was big around his era and he just associated it with quality. So I just picked up an old dad shoe-looking thing. It was kind of just like here's a sport shoe, enjoy it. So that's what I got.
Fast forward 20 years, I think the first time I was like, "Whoa, sneakers are cool" was when I saw a pair of Jordan 1s in person. They weren't that hyped at the time, people just slept on them. At the time, I can't really remember what was 'in.' I want to say it was the NMD. So around then I saw some Jordan 1s, and then I got some in 2016 – the "Bred" colourway. I queued up for them. I don't know why, I was just like, "Oh, let's just see what all the fuss is about." So I queued up. I enjoyed the process of queuing up. I went to Trafford Centre Foot Locker at stupid o'clock and I was like, okay, let's wait for these. When I got them in hand I think that the thing I remembered most was the smell of them. I opened the box and I fell in love with the silhouette and everything. After that I just fell down the rabbit hole, I haven't looked back since.
What gave you the inspiration for starting Sneaker Pharm*?
It's a funny story. You know when you're in a job and you realise that you hate your job, and you're like, "What am I doing?" It actually took a client to stop me. He called me out and he said, "You look really unhappy." And I was like, "Okay, this is odd. Thanks for the analysis." And he said "Here's some advice: if you don't change what you're doing or change something, in 10 years' time you're going to be in exactly the same situation as you are right now."
That really sunk in, and I realised that I wanted more freedom to do what I wanted to do, to break out the mould, take a risk, and do what I wanted - on my own terms. It was a huge shift in my perspective, and it was great. That's what inspired me to do this.
At the time, there were a lot of resellers, and it was getting a bit boring. I assessed the market and thought "We don't need another reseller, let's see what else I can do." I cleaned my own shoes all the time so I thought it'd be a cool thing to get into because there was a gap there, and I think people just need to slow down when it comes to how they treat their shoes. There was a trend towards throwing stuff away rather than looking after what you already have, and it's just a bit of a waste, but then, that ties us into reselling. Which funnily enough kind of promotes what I'm doing in a weird way, but we'll come onto that later.
What issues did you spot within the industry that you thought needed to be addressed with Sneaker Pharm*?
I looked at the issues within the fashion industry, where we have this throw-away culture. Let's say you buy a dress for an event and that's all, you'd wear it for that one event - it's a bit ridiculous because it compounds. If you really think about how much waste we produce yearly per person, it's insane. Just think about it. And then it's not just the waste or where it goes. It's the man hours. It's the materials. Just the logistics. It's everything involved in getting that product to you. This is the invisible cost of buying something and consuming a product that you're gonna throw away.
It just opened my eyes to "What if we just stopped doing that, or looked to increase the potential life cycle of something that we do have." So rather than wearing a dress or a pair of shoes for just one event, you keep it for life. I like to think I can help promote that process; I think that's what the market needs.
How do you think drop and resale culture has changed how we treat our sneakers?
Oh, that's a good question. I was on the fence originally, I had the point of view of "Oh, great. I'm paying resale for something that costs more because of supply and demand." It got quite annoying. But then I just sat with the idea. It's definitely not going away. I think Edison Chen from CLOT even said without scarcity of a product there might not even be demand for it. So it's bouncing off between the two.
Let's say that you pay three times the amount for a pair of shoes because you like the shoe. That happens - I've done it. If you do that, the chances of you wanting to get rid of that shoe is reduced. It's an economic thing. So, if I'm spending £300 on anything, I want to make sure that it lasts. It feeds back into that whole extending of product life cycle thing because then everyone's more conscious about how much they're spending. Honestly, I think it's changed it for good in the sense that sneakers last longer, because people care more about how much they're spending on sneakers.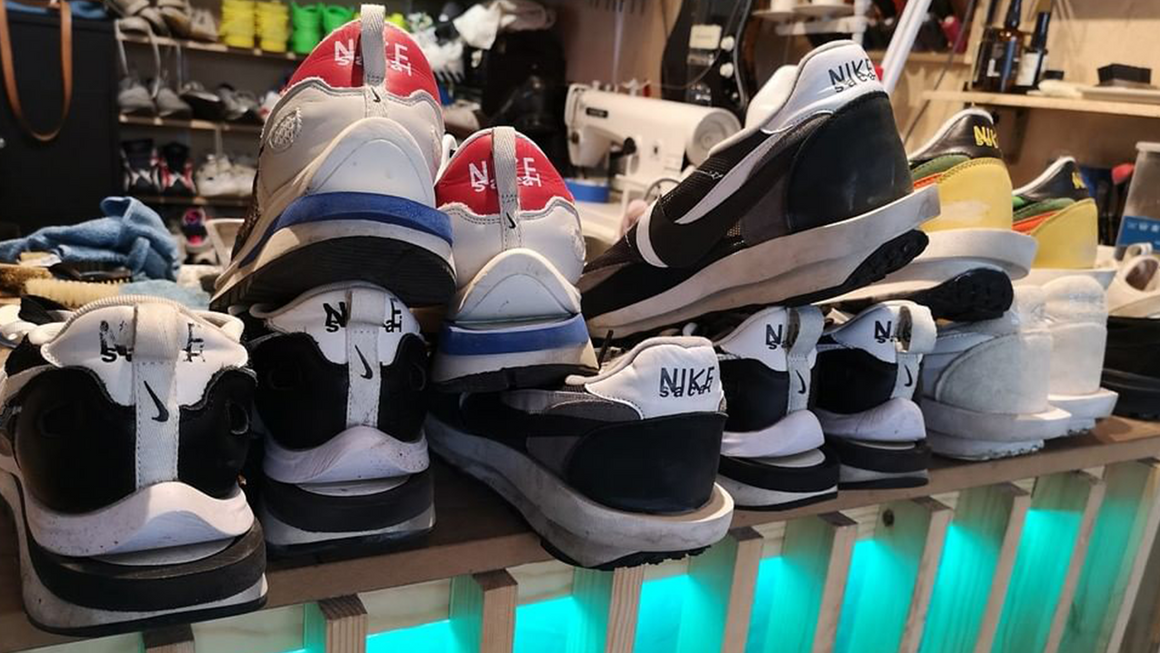 A lot of people tend to stock their pairs or panic about keeping them pristine. How do we even begin to start changing people's perceptions on why they should be wearing their shoes?
I'm of the camp of just wearing them, because they're built to be worn. I've seen a lot of videos surface lately about people who do what I do in America, but then they show people what happens if you don't wear your sneakers. I had a guy bring in some Jordan 4s from '97. He hadn't been wearing them, they had been in storage and were just crumbling.
I think that is actually a chemical process or physical change in the materials in the sense that rubber or whatever is made from polymers. They need stress, as in to be worn and pressure pushed down on it, to keep the bonds formed. Over time, if you don't wear your shoes, the polymers loosen up, and as they loosen up, they become weaker and weaker. Then because they're not being stressed, they disintegrate. So if that's not a better reason to wear your shoes, I don't know what is.
Which materials would you like to see sneaker brands using more often and why?
Personally, I want to see people use suede more. I mean, it gets used a lot and I just want people's opinions to change on it. I think there's not enough information out there to let people know how to look after their shoes. Suede is basically leather, but the backside of it and combed and treated in a different way, but it's hard-wearing in the sense that it can move around. So it's like tiny hairs, that is basically all it is.
When suede gets dirty and matted, that's what makes it look a bit flat and sometimes kind of shiny. If you just dry brush it and treat it well it restores it to the way it needs to be, so the hairs come back and it looks new again, which is cool. Suede also lasts a long time as well. You can beat it up heavily and it'll always come back to where it needs to be.
What's the hardest material to look after?
I don't like mesh or canvas. Mesh is so unpredictable. Sometimes it oxidizes, which I can't do anything about because that's just chemical reactions with sunlight and aging. Sometimes there's just not enough surface area to work against so when you're cleaning it, there's no resistance against whatever you're brushing with. Each piece of fabric is tiny so it's really hard to clean. It can be done. It just takes time.
When it comes to canvas, like light canvas, you clean it up and it always dries down weird, it always has yellow stains. So, here you go, free tip - clean it up and get white toilet roll with papier-mâché on top of it, let it dry and when it dries it wicks away all the weird stains on the canvas.
Is there room for craftsmanship within the current sneaker landscape?
Massively. There is huge room for craftsmanship. I think if more brands embraced the fact that people are willing to pay so much for resale, they'll see that the market's there. I mean, New Balance have been doing it for years. So, you know, there's no reason for brands not to embrace it, and again, it promotes sustainability. If you know something's handcrafted, that time and money was put into it, you'll look after it, and it's probably gonna last longer than machine-built stuff.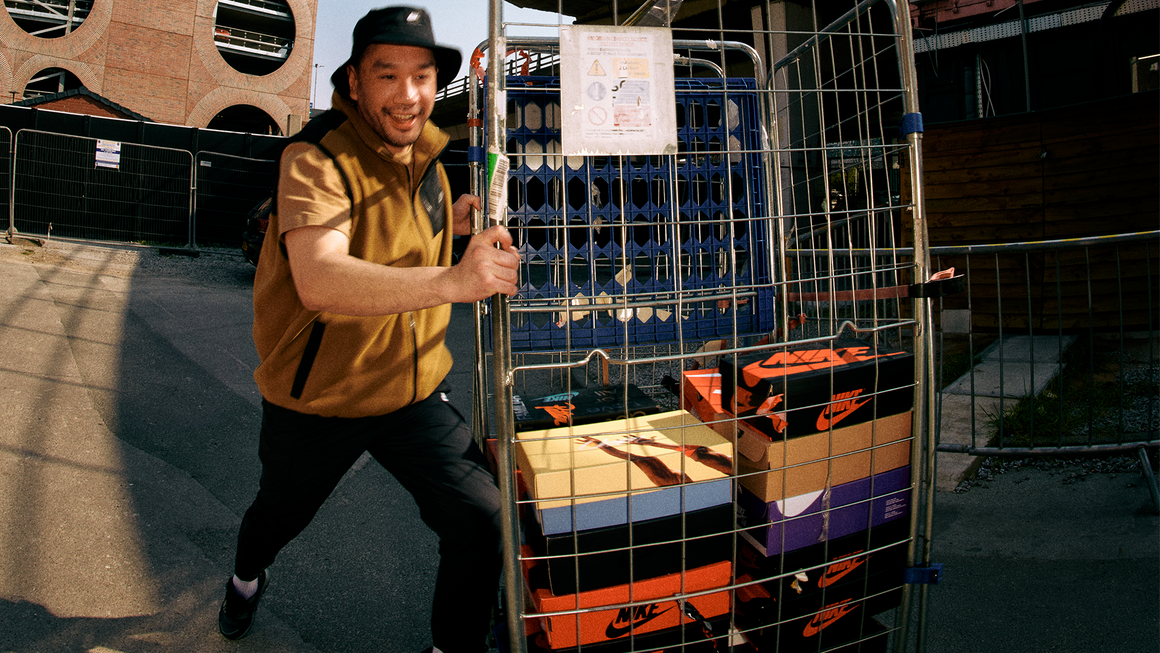 What's the one shoe from the past 50 years that you'd love to restore?
I've been trying to build a Jordan 1, just so I can understand the mechanics of it. I'm not going to say I want to do that, but I think maybe the Air Mag from Back to the Future just so I can see it, have it to hand, hold it and mess around with it.
You recently took part in a campaign for Nike's 50th anniversary celebrations. What was that like for you?
They came to my shop and they filmed and asked me to explain what I did. They were interested in my story, which is what I was talking about when I mentioned how big brands are kind of liking the idea of sustainability and giving everyone a voice within the industry. At the same time as telling my story, they gave me the opportunity to design my own shoe. They chose a silhouette, which was the Air Max 97 silhouette.
I looked at the history of it, it was originally based on a waterdrop, so for my pair, I drew similarities between that and a Zen Garden and that gave me a focus on what I wanted the colours to be. So, the bottom part is stone, and then the rest is like the sand. Then I changed the material to suede. It was cool. It's such a cool design. Doing this, I actually understood the whole process of design. You need a theme, you need a concept, and you need to be able to communicate what that is to people. My design was available to buy off the Nike website, which is insane. It's huge for me. So that's what I'm saying about motivation. They've put me on this new path of possibility, which is great. And I'm super grateful for it.
What's next for the future of Sneaker Pharm*?
It's something I'm excited about because like I said, I started off not really knowing what I wanted and I would just clean some shoes for a bit. Now I've really got the motivation to just create something that I want to create in my head that I wouldn't have thought about ever in my life until now. Ideally, the next step would be a flagship somewhere in Manchester. Like a huge shop. Well, not huge, but like a bigger shop than I'm in right now. I'd like to create an area where people can just hang out, like Dover Street Market, or something like Opening Ceremony before the stores closed. So you've got cleaning as a core, and then you've got retail, but then you've got like a lifestyle concept kind of vibe and then like potentially bespoke options as well. That'd be sick.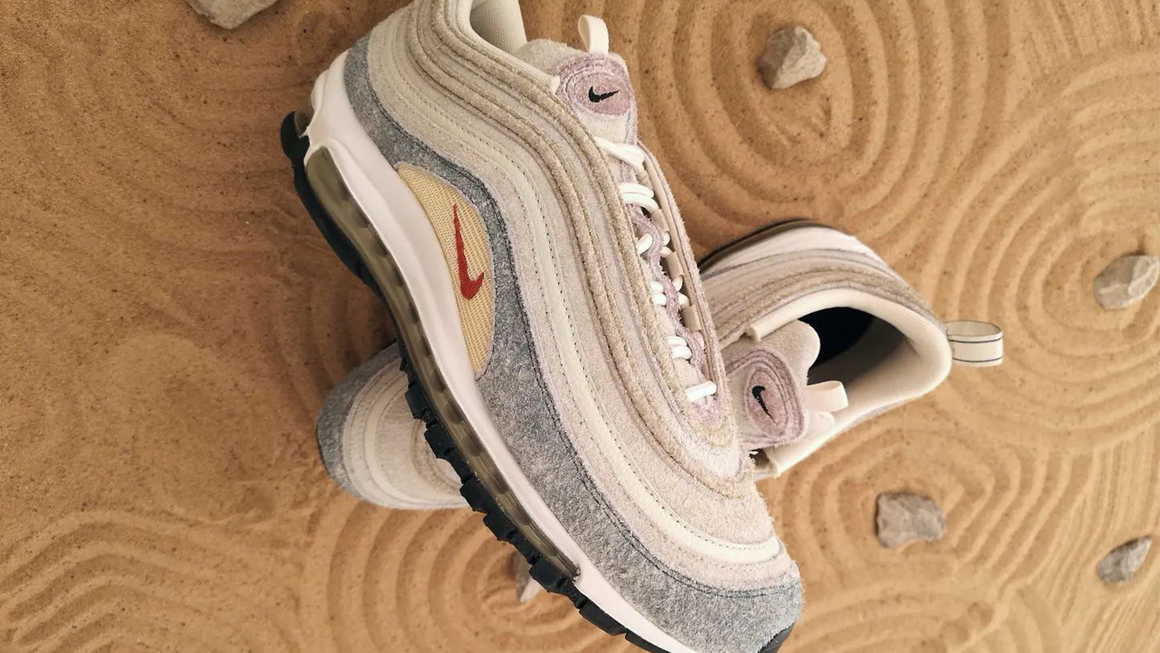 If you're still looking for more content on the ins and out of the sneaker industry, check out some of our related articles below!