Born in 1899 with the mission to create some of the finest workwear pieces available on the market, Carhartt WIP has since gone on to earn its place as one of streetwear's favourite globally adopted brands. Often characterised by its classic workwear silhouettes combined with its fresh take on contemporary style, Carhartt offers some of the best quality pieces available on the market, all for a fair price.
With the launch of its streetwear sub-brand Work In Progress in 1994, Carhartt opened its doors to the possibility of collaboration, and as a result, the link-ups just kept coming. Over the years, Carhartt WIP has produced numerous collaborations with the likes of A Bathing Ape all the way to Patta and more.
Given the sheer scope of previous collaborations, we thought we would take a trip down memory lane to bring you some of The Sole Supplier's firm favourites.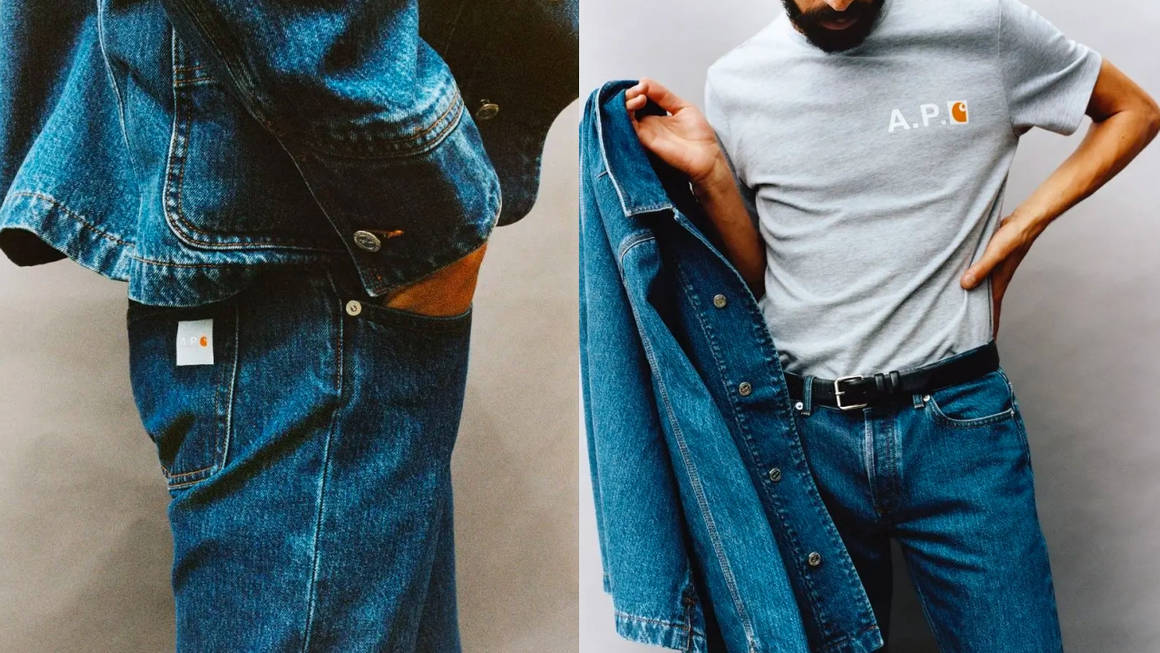 Carhartt WIP x A.P.C.
With numerous collections under their belt, it's fair to say both Carhartt WIP and A.P.C. are no strangers to each other's work. The duo first arrived on one another's radar back in 2006 as they opened neighbouring stores in Stockholm. This crossing of paths fueled the beginning of a long and prosperous relationship between the French contemporary workwear label and the workwear giant.
As of 2022, the duo has five separate iterations under their belts, with the latest arriving in 2020. Within the collections, we've seen a variety of A.P.C.'s stylish silhouettes redefined using Carhartt's signature style and workwear heritage. The duo even combined their logos with Carhartt's "Big C" replacing the regular "C" found in the A.P.C. graphic.
As far as we know, there are no current Carhartt WIP x A.P.C. collaborations in the works, but we wouldn't be surprised to see the duo join forces within the next couple of years to come.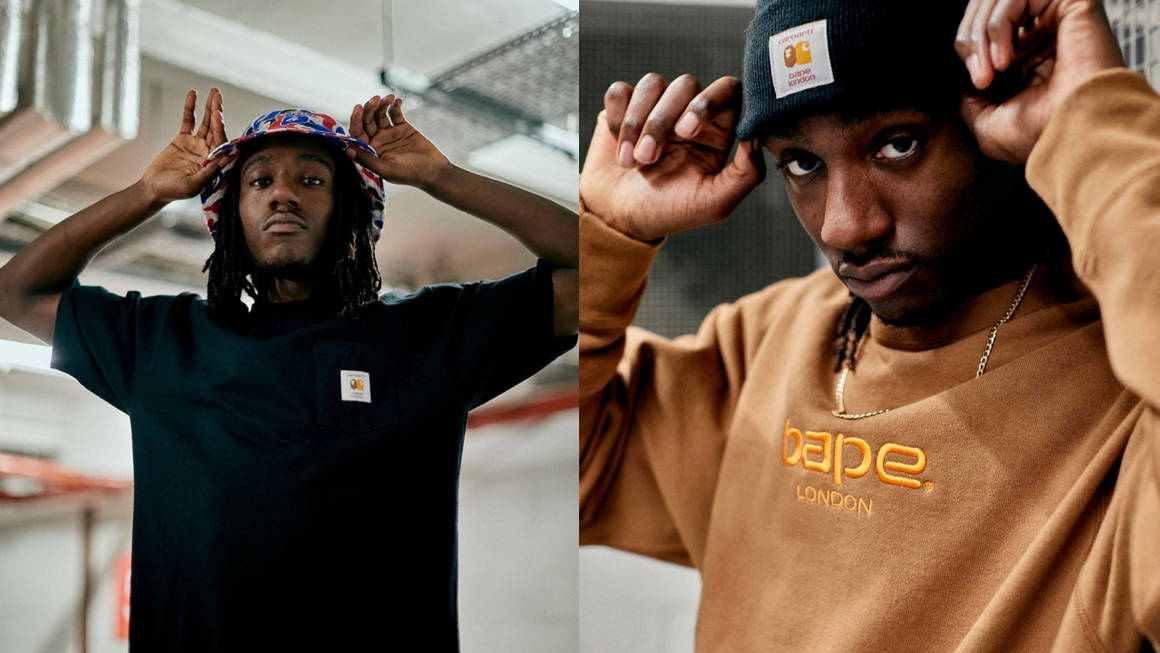 Carhartt WIP x BAPE
In 2006, Carhartt WIP x BAPE first joined forces to produce a select capsule consisting of a trio of hoodies. Combining Carhartt's classic hoodie construction with BAPE's iconic "Cloud Camo," these hoodies were a certified hit amongst fans of the Japanese streetwear imprint. While Carhartt was certainly no stranger to the limelight, this collaboration elevated its status amongst the streetwear community, further thrusting it towards its current fame.
Despite the success of the collaboration, it would take near 15 years for the duo to join forces again in 2021. To celebrate the opening of BAPE's flagship store in London, the pair released a selection of collaborative goods, including sweats, T-Shirts and bucket hats. BAPE even adopted Carhartt's classic WIP font as well as mirroring the "Big C" logo with the brand's iconic Ape Head icon.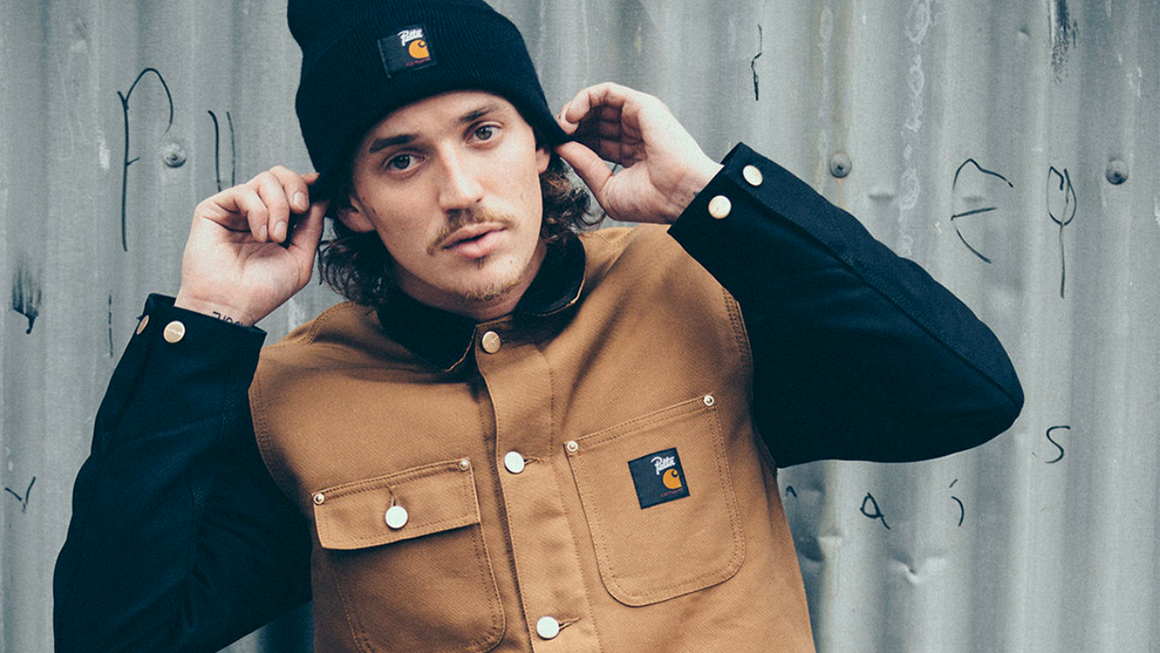 Carhartt WIP x Patta
With a decade of success under its belt, in 2014, Patta sought to collaborate with Carhartt WIP for a selection of stylish co-branded pieces. With both sharing ties to street culture sects such as graffiti, skateboarding and music, this collaboration was simply a match made in heaven.
Included within the first launch, we saw an array of hoodies, vests, gilets, T-Shirts, jeans and beanies available in various colourways. Each piece arrived with notes of Carhartt's workwear heritage while displaying Patta's knack for modern streetwear. Notably, a "Wild at Hartt" motif was seen printed boldly across the rear of pieces such as the workwear vest, echoing the collection's urban roots.
In 2016, the duo would follow up on their previous efforts and instead opt to breathe new life into Patta's sporty additions. Included in this fall/winter launch, we saw parkas, vests, bombers, pullovers, joggers, sweatshirts and much more, all inherit a '90s-Esque sportswear style.
Finally, the duo would work together once more towards the end of 2019 for a unique dyed collection. Paint splattered patterns adorned regular Carhartt mainstay pieces, including the Hooded Chase Sweatshirt, Vest, OG Arctic Coat and Bib Overall. Though nothing is in the works, we can likely guarantee these two will join forces once again in the future.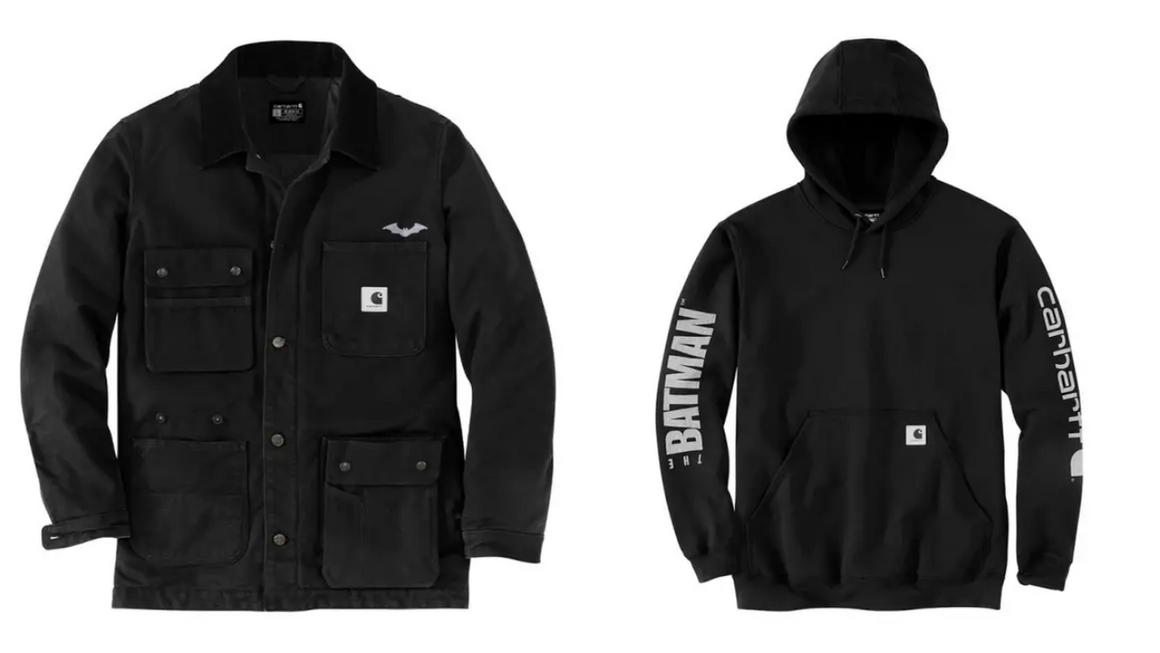 Carhartt x Warner Bros. "The Batman"
To coincide with the release of Hollywood's latest caped crusader hit, Carhartt teamed up with Warner Bros. to celebrate the release of "The Batman". Unlike the other additions on this list, this collection actually fell under the regular Carhartt banner as opposed to its WIP sub-sector, making it somewhat unique.
The collection itself featured the brand's iconic chore jacket alongside two hoodies, a T-Shirt and beanie hats, with each bearing some nod to the film. Naturally, the Batman Bat Logo made a strong appearance through, often is seen in an embroidered nature. The majority of the collection also sports a deep-black hue, which isn't actually that surprising if you're a fan of the movies.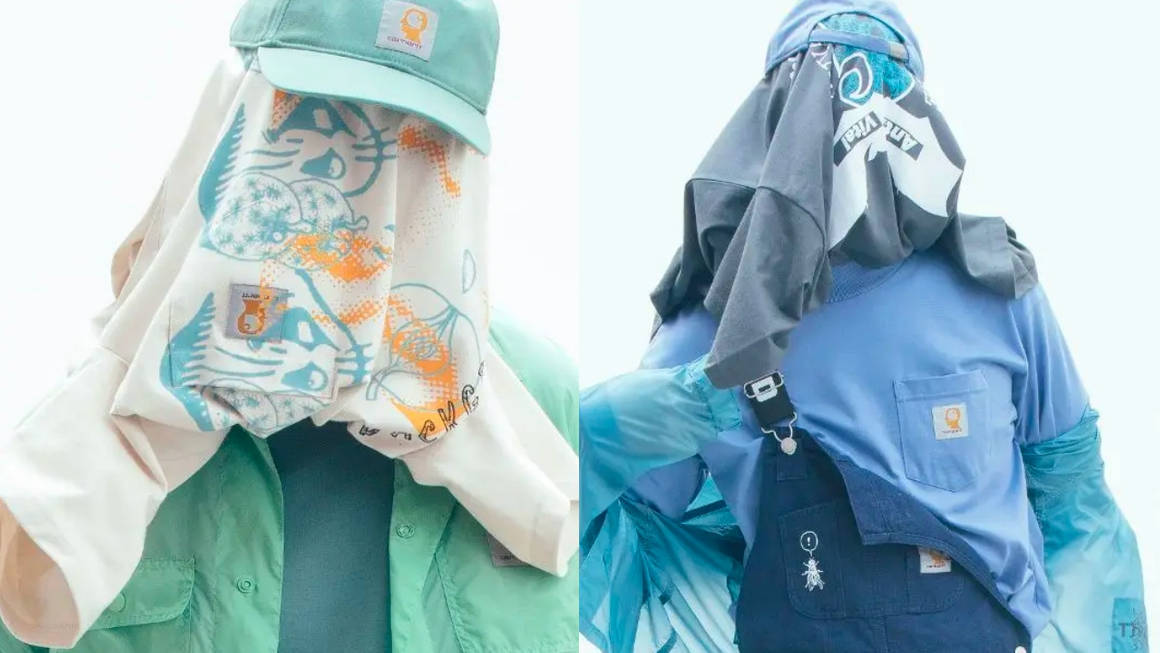 Carhartt WIP x Brain Dead
2018 saw Carhartt WIP join forces with none other than Los Angeles based creative collective Brain Dead for an extensive collection heavy on colour and expression. The collection was the first time the duo had worked together, so we Brain Dead creatives take control of some of the workwear imprint's most iconic silhouettes.
The result was a selection of pieces with a post-punk & graphic-led twist, with fresh style in abundance. Those familiar with some of Brain Dead's previous work will know the brand is no stranger to colour, and that is something evidently on display with this capsule. Vivid shades of blue, green and yellow all accompany a regular stylish selection of neutrals to create a diverse and eclectic bunch.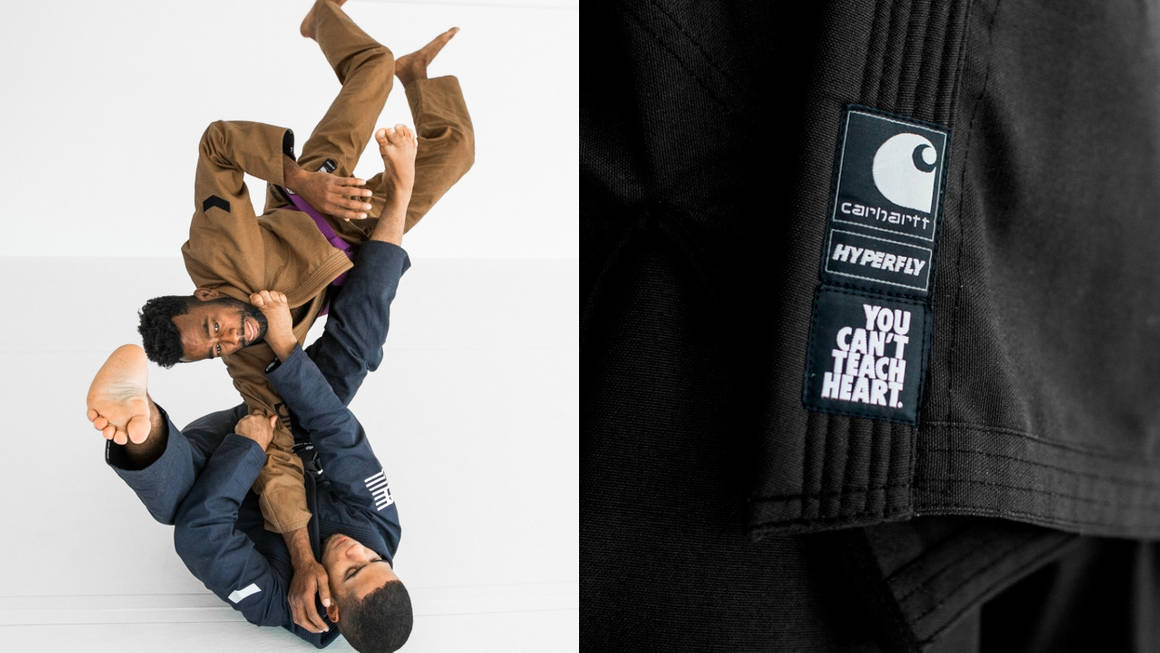 Carhartt WIP x Hyperfly
Every once in a while, Carhartt will surprise us all with a collaboration that people simply don't see coming, and if dog beds and basketballs don't tick that box for you, we're sure this collaboration with Hyperfly will. With Brazillian Jiu-Jitsu (BJJ) simply exploding in popularity over recent years, it was only a matter of time before fashion would acknowledge its existence, and this collaboration just goes to show sport can be fashionable.
Carhartt sought to rework several of Hyperfly's Gi's (a uniform of sorts) with its signature tough duck canvas and stylish prints. Naturally, it wouldn't be a Carhartt WIP collab with its "Big C" patch logo making an appearance, so that took centre-stage on the front of the Gi. On the inside, each Gi featured a "YOU CAN'T TEACH HEART" slogan, echoing the hard work ethos of both Carhartt WIP and BJJ.
While we don't forsee another Carhartt WIP x Hyperfly collaboration in the future, we welcome to idea of Carhartt offering its take on more sports in years to come.
For more similar to this article, check out our suggestions below!