Is the multiverse real? Indeed it is in the world of Marvel—encompassing alternate universes in existence. There is no denying that we have all been fascinated by superheroes and their powers while growing up. Superheroes such as Spider-Man, Captain America, the Hulk, Thor, and more, are familiar names to many. Not only has the multiverse provided unbelievable stories, like Jon Watts' Spider-Man: No Way Home, but it has also enabled the world's greatest superheroes to team up with the world's greatest footwear brands in the sneakerverse.
Whether you're a loyal Marvel fan or dedicated sneaker collector, we suggest that you suit up as I take you many years back using the Time Stone to have a closer look at some of the best Marvel sneaker collaborations of all time.
The 10 Best Marvel Shoes Of All-Time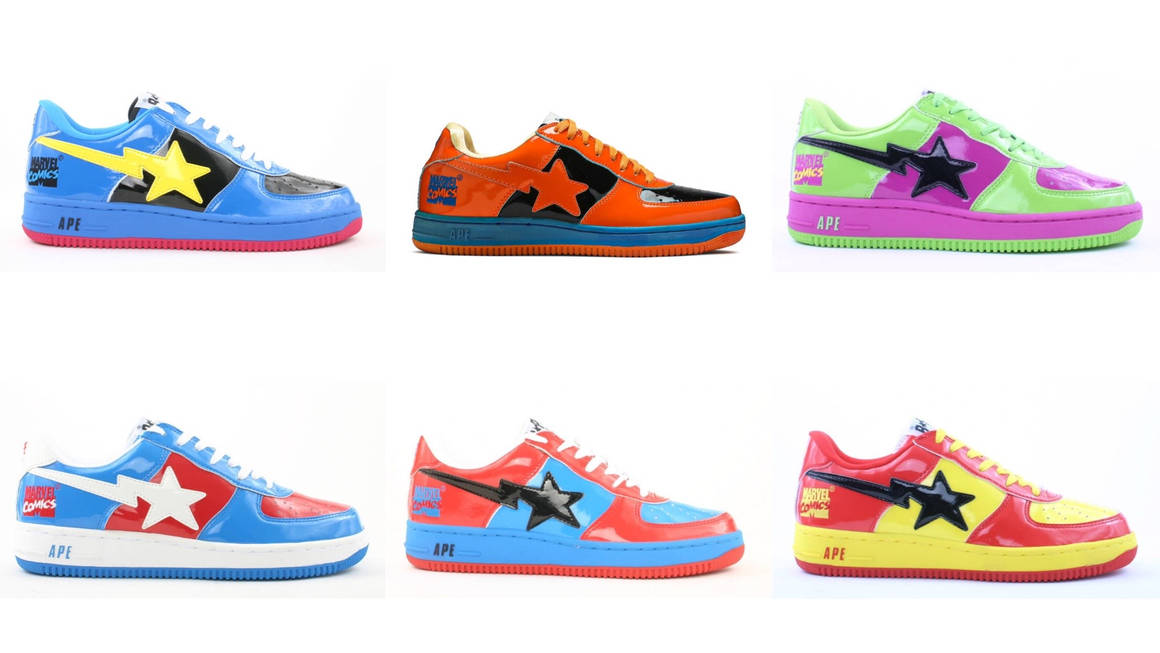 Marvel Comics x A Bathing Ape BAPESTA (2005)
In 2005, BAPE and Marvel teamed up for a series of BAPESTA sneakers geared in patent leather overlay marked with colours reminiscent of familiar characters, such as Captain America, Iron Man, the Hulk, Spider-Man, Silver Surfer, and Human Torch.
The notable element of the collaboration was the hard plastic, action figurine-like packaging the shoes were in—making it a grail-worthy addition to any sneaker and marvel collectors alike.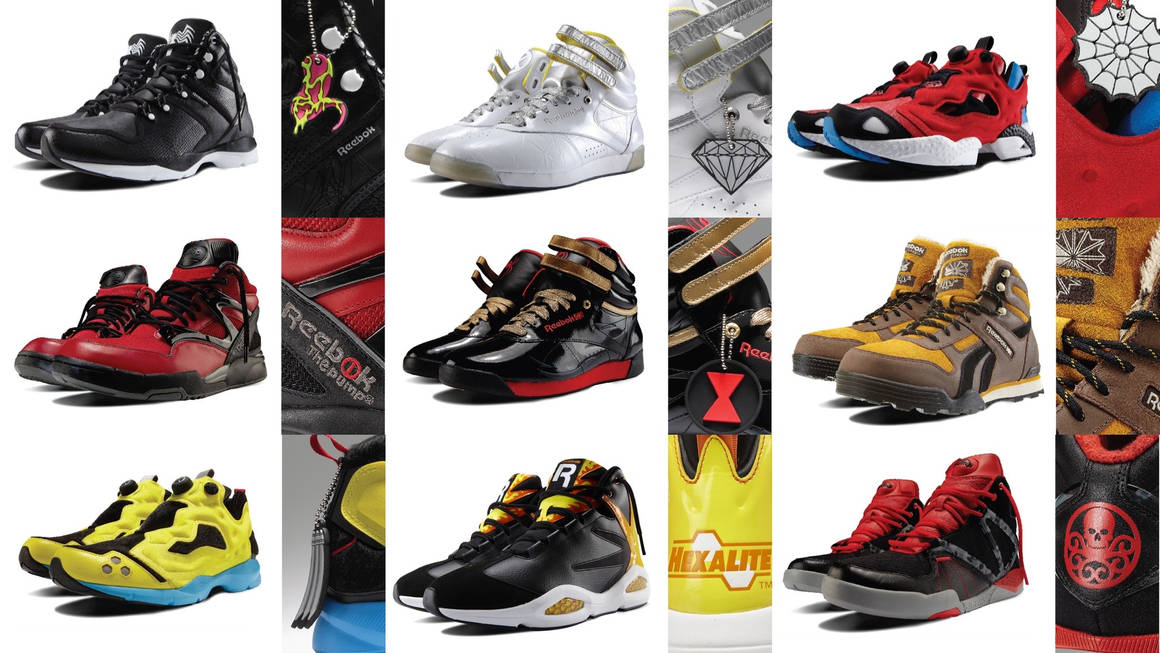 Marvel Comics x Reebok (2012)
2012 saw the release of the Marvel Comics x Reebok footwear collection. Designed by California-based, award-winning poster artist and designer Anthony Petrie, the team-up featured signature silhouettes from Reebok depicting motifs of famous Marvel superheroes: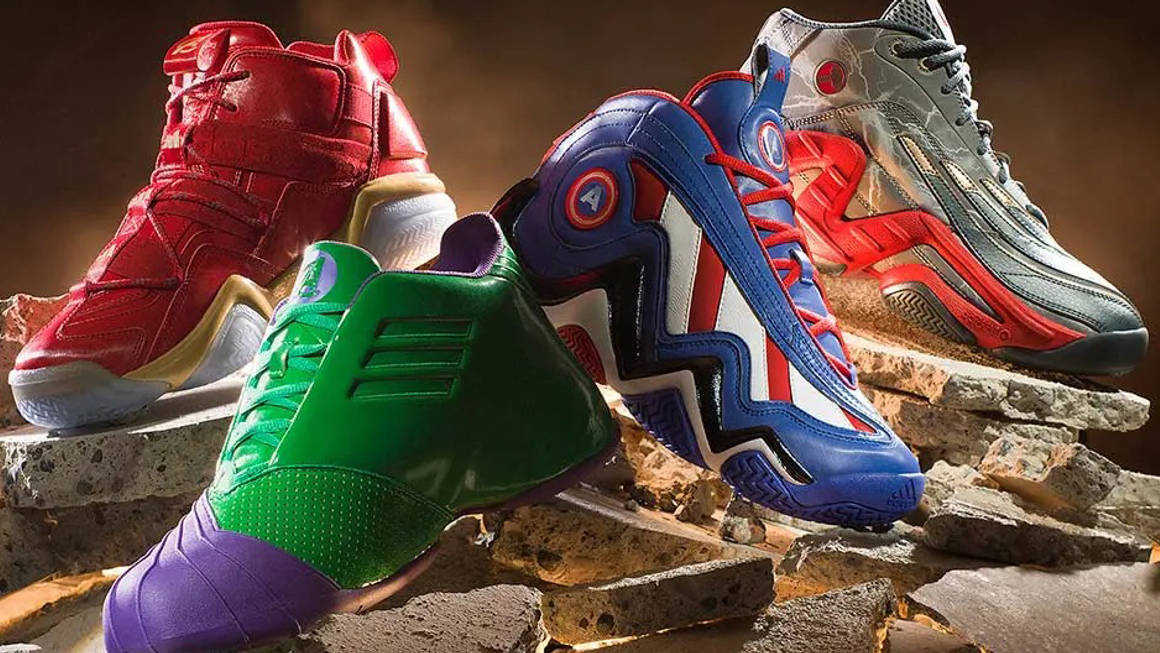 Marvel x adidas "Avengers: Age of Ultron" Basketball Collection (2015)
In 2015, Tony Stark and Bruce Banner created an AI peacekeeping program, called Ultron, from the Mind Stone infused in The Scepter. However, Ultron deemed the human race evil and required a total wipeout. Not only did the Avengers reassemble once again to save humanity from global extinction, but adidas also joined the team to deliver a four basketball shoes pack armoured in the classic superhero costumes we love.
The adidas Crazy 97 EQT came dressed as Captain America, the adidas T-Mac 1 as the Hulk, the adidas Top 10 as Iron Man, and the adidas as the god of thunder and lightning, Thor. You could say that movie-goers were excited about the premiere and the collaboration with the sportswear giant. However, it seemed that adidas forgot to include Clint Barton's Hawkeye, Natasha Romanoff's Black Widow, and two new-joiners: Pietro and Wanda Maximoff.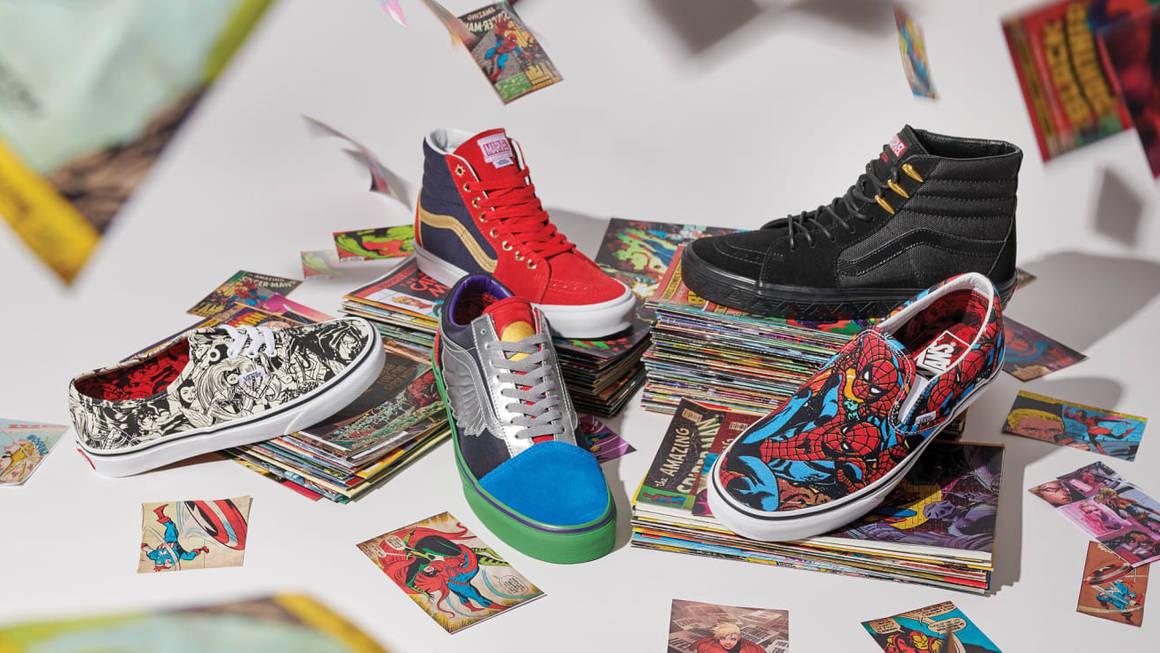 Marvel x Vans "Avengers: Infinity War" (2018)
The Marvel Cinematic Universe third phase introduced the evil purple-toned alien Thanos, who is on a mission to collect all six Infinity Stones in the Avengers: Infinity War movie. In order to prevent Thanos from destroying the planet, California-based skate label Vans teamed up with earth's mightiest heroes to deliver its legendary Old Skool, Slip-On, and Sk8-Hi outfitted as Captain America, Hulk, Iron Man, Thor, Spider-Man, and Black Panther.
One of the notable pairs from the collection is the Vans Old Skool "What The" rendition featuring a combined design that spotlights the OG four Avengers—Captain America, Thor, Hulk, and Iron Man.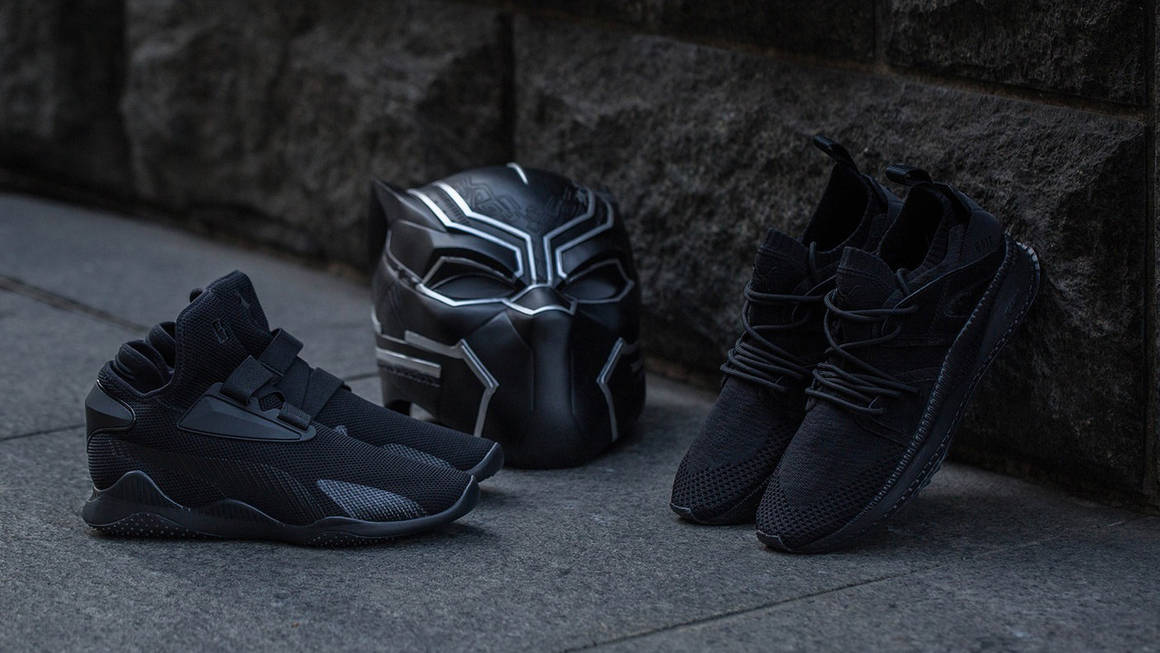 BAIT x PUMA "Black Panther" (2018)
MCU fans would agree that Black Panther is guaranteed one of the best superheroes of all time. In 2018, German sportswear label PUMA and Eric Cheng-led streetwear/sneaker label BAIT supported Marvel's Black Panther franchise with two footwear models crafted to resemble the protagonist's Vibranium-made costume: a blacked-out PUMA Mostro Mid and a full-black undefined.
The two-shoe pack were only available for purchase to those who won the online raffle. It is worth noting that the collaborative Tsugi BOG only had 300 pairs in stock, while the Mostro Mid were more limited with a total of only 100.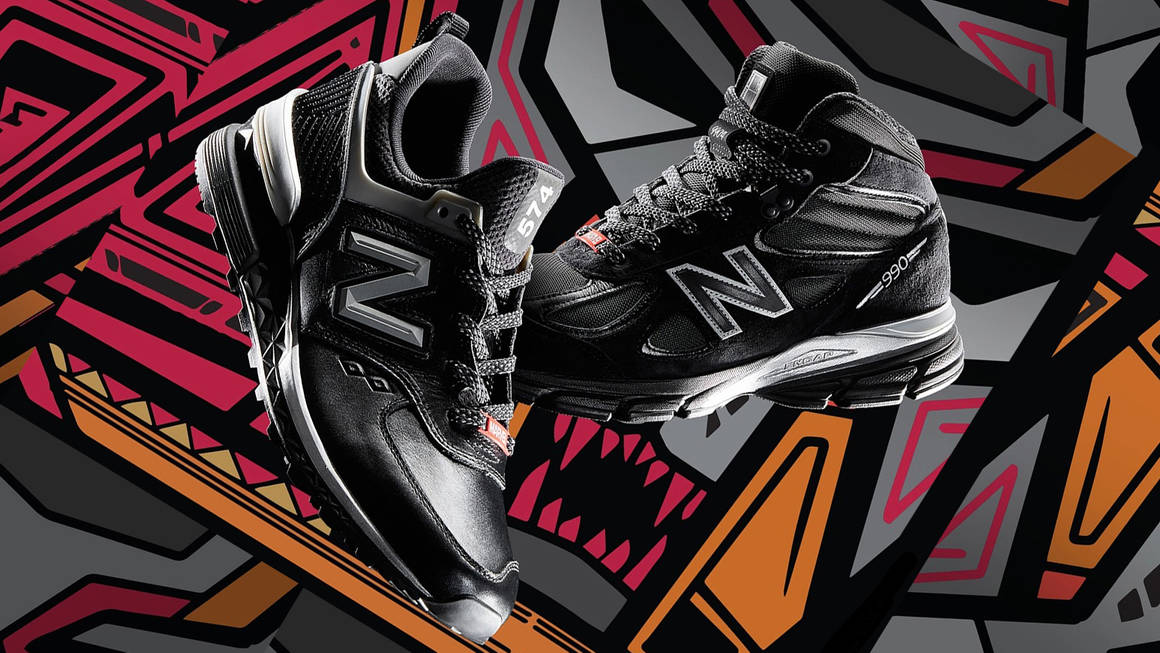 Jimmy Jazz x Marvel x New Balance "Black Panther" (2018)
It appears that New York-based retailer Jimmy Jazz and Boston footwear giant New Balance are also huge fans of late Chadwick Boseman's warrior king Black Panther. The duo joined forces with Marvel in 2018 to commemorate the premiere of the much-anticipated film, using the New Balance 574 Sport and a high-top version of the premium New Balance 990v4. Both pairs arrived on the battlefield with a stealthy Vibranium-like outfit—black throughout with contrasting hints of silver. Marvel-branded lace dubraes forefoot completed both attires.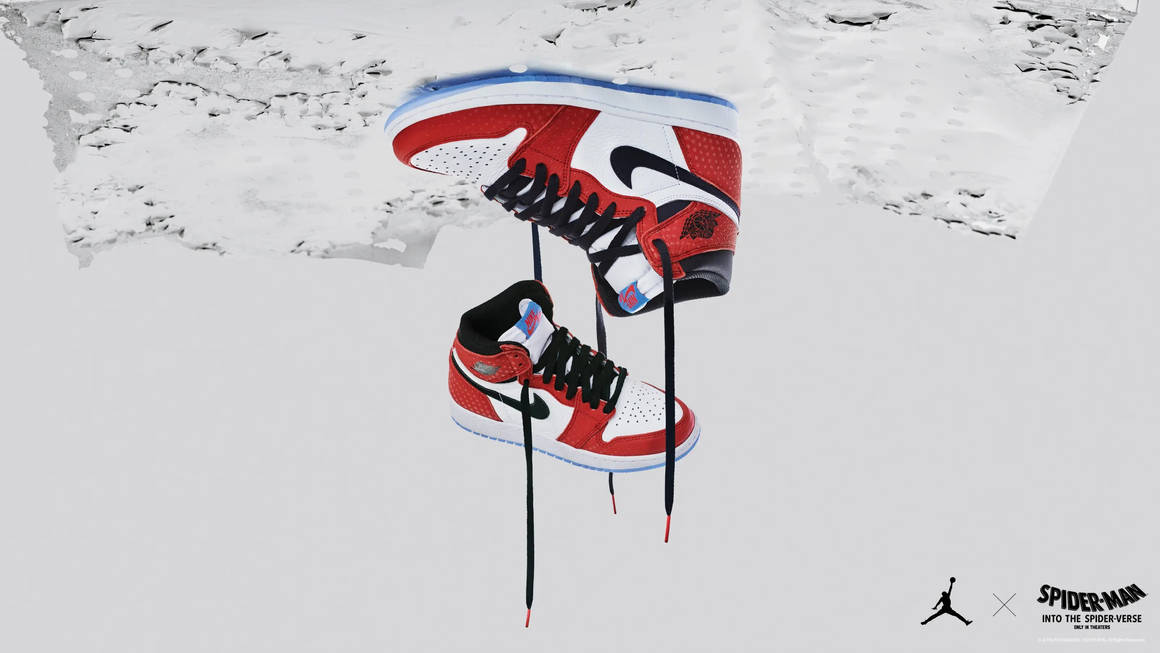 Spider-Man: Into The Spider-Verse x Air Jordan 1 High OG "Origin Story" (2018)
Loyal fans of the famous NYC web-slinger have continued to support the franchise throughout the years—from Tobey Maguire, Andrew Garfield, and now Tom Holland. Though 2018 saw Miles Morales as the newest addition to the team—except in an alternate universe where he plays as the new web-head in the animated Spider-Man: Into the Spider-Verse.
Sneakerheads instantly noticed that Morales was rocking the new Air Jordan 1 High OG "Origin Story" colourway from the official movie poster. And to celebrate the release of the movie, Jordan Brand connected its web to the Spider-Man franchise to bring the AJ1 High "Origin Story" to life, giving fans of the web-crawler a chance to rock the same pair as Morales. The ensemble maintained the same red, white, and black colour blocking as the original Jordan 1 "Chicago" but with new features: 3M reflective textile red overlays and an icy blue translucent rubber outsole.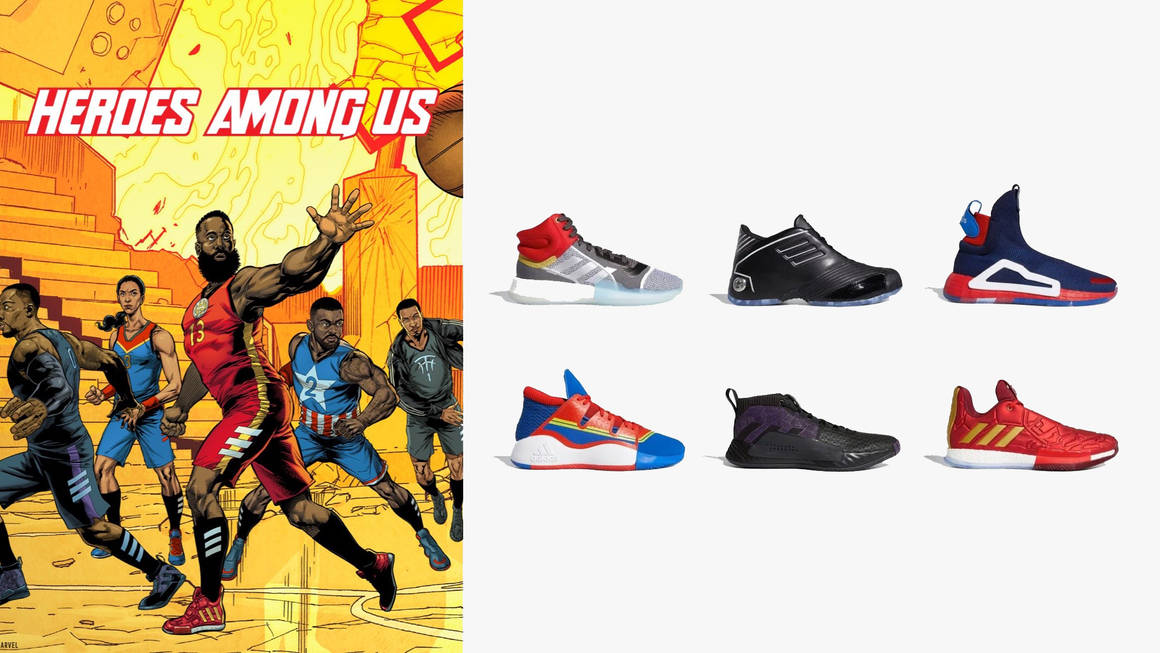 Marvel x adidas "Avengers: End Game/Heroes Among Us" Basketball Shoes (2019)
In 2019, Marvel fans witnessed what is said to be one of the best superhero battles of all time: Avengers: End Game. In order to stop Thanos from wiping out half of the universe by snapping his fingers, Marvel teams up with the Three Stripe-giant once more.
The Marvel x adidas "Heroes Among Us" collection featured five signature adidas basketball shoes: James Harden's Harden Vol. 3 as Iron Man, Damien Lillard's Dame 5 as Black Panther, Tracy McGrady's T-Mac 1 as Nick Fury, John Wall's N3XT L3V3L as Captain America, and Candace Parker's adidas D.O.N. Issue #2 as Captain Marvel.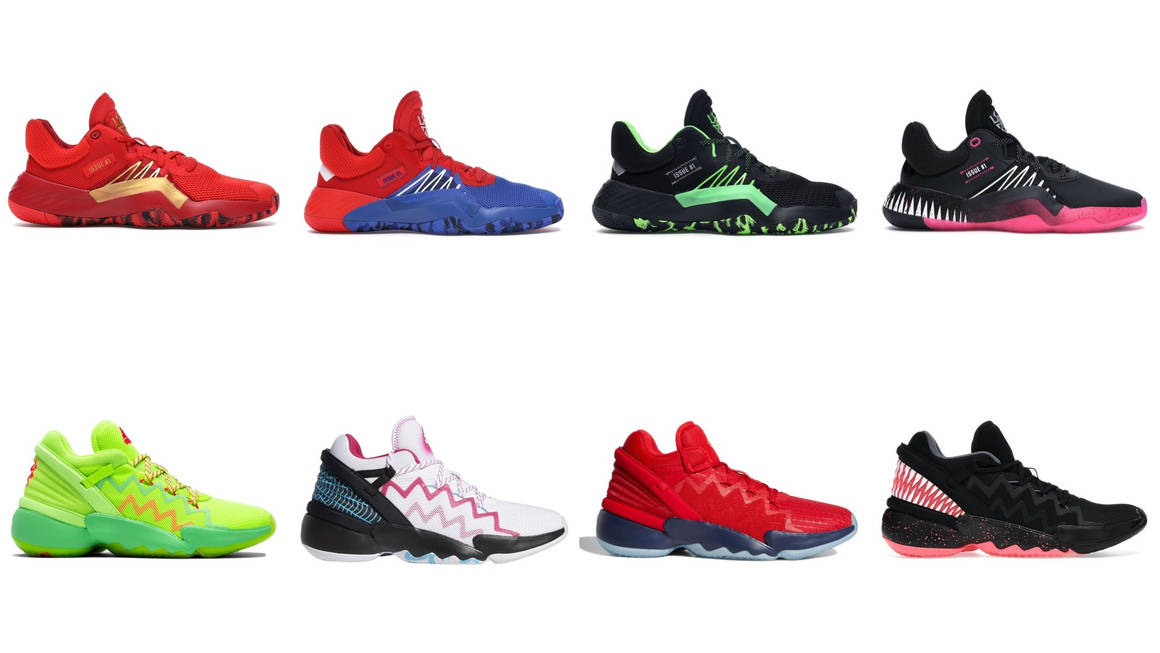 Marvel x adidas D.O.N. Issue #1 and #2 (2019-2021)
Utah Jazz's point guard/shooting guard Donovan Mitchell is known as one of the biggest fans of Spidey. In 2019, his signature adidas basketball trainers, the adidas D.O.N. Issue #1, teamed up with Marvel for four Spider-Man-inspired colourways: the Marvel x adidas D.O.N. Issue #1 "Iron Spider", Amazing Spider-Man", "Stealth Spider-Man", and "Symbiote Spider-Man.
From 2021 to 2021, fans of both parties received four new colourways, this time on the second instalment of Mitchell's adidas b-ball shoes: the Marvel x adidas D.O.N. Issue #2 "Spidey Sense", "Ghost Spider", "The Journey", and "Venom".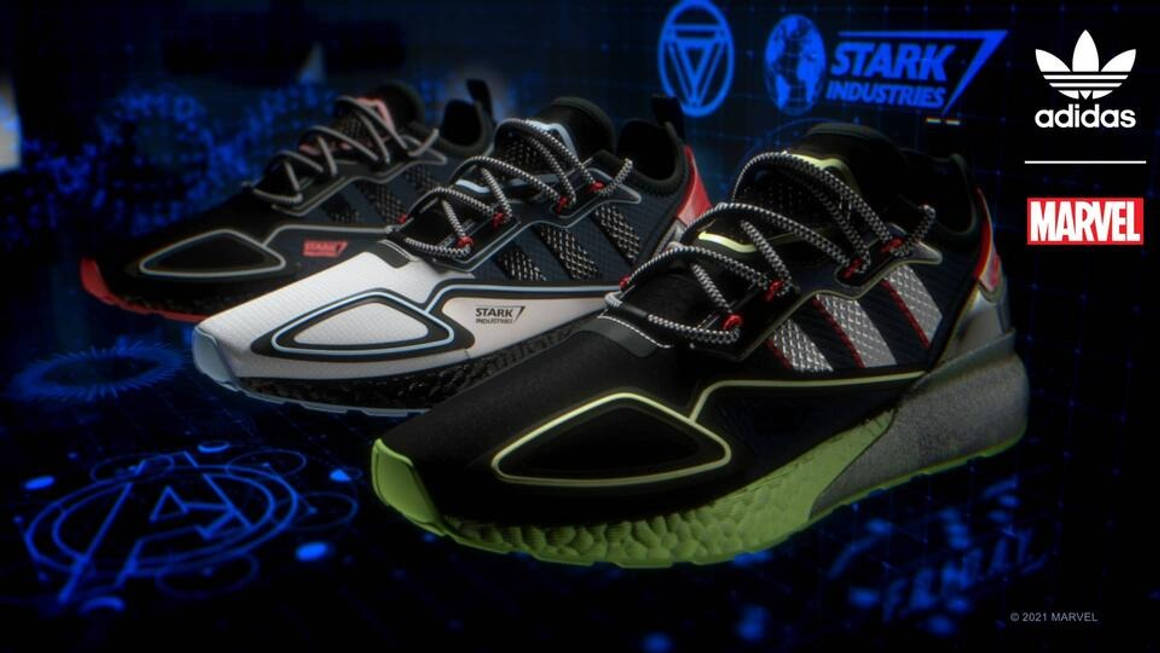 Marvel x adidas ZX 2K Boost "Iron Man/Stark Industries" (2021)
Last but not least, the Marvel x adidas ZX 2K Boost "Iron Man/Stark Industries". One of the most iconic team-ups in the history of Marvel is Germany's biggest sports equipment manufacturer, adidas, and the best weapons and technology company, Stark Industries.
The collaborative output used J.A.R.V.I.S. to generate three tech-inspired adidas ZX 2K Boost, all marked in neon glow-in-the-dark accents and branded with the Stark Industries logo. Robert Downey Jr.'s Iron Man armoured metal suit and chest Arc Reactor also influences the neon blue rugged rubber outsole underfoot. Comic book lovers who managed to purchase their pairs were also delighted to receive a special Marvel comic book-inspired shoebox.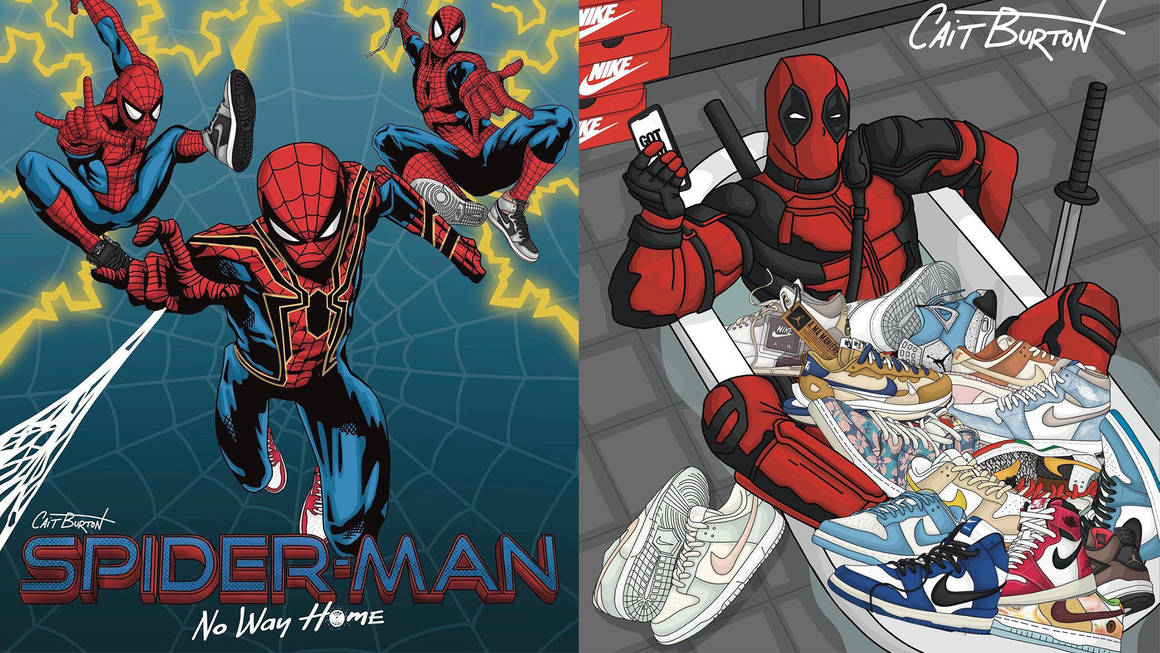 All in all, which Marvel shoes would you like to add to your rotation? What collaboration would you like to see next? If you have read up to this point, we do not doubt that you are just as excited as we are for what Marvel has in store for us in Phase 4.
If you are still not up to date with the Marvel Cinematic Universe timeline, we recommend you do as soon as possible as things are going to get a lot crazier in Benedict Cumberbatch's "Doctor Strange in the Multiverse of Madness" that will be hitting the theatres this May.
Related Articles: