This year has been an incredible success for Yeezy. With over 50 releases and restocks (and hopefully more to come), there's been a new release almost every week! In an interview, Kanye West once stated he wanted to make Yeezys available to everyone, and it seems he's well on his way to doing so.
As the brand grows bigger and bigger, Kanye's vision for the brand seems to grow alongside it. This past year has seen Yeezy enter realms which bridge streetwear with avant-garde designs associated with high fashion. But how are people reacting to this change?
We took a look into the public's reaction to various Yeezy silhouettes from the past five years online to look at what they're loving and what they're not. Want to know the most loved Yeezy silhouette of 2021? Want to know which Yeezy has caused the most controversy? Be sure to keep reading to find out!
The Most Loved Yeezy Releases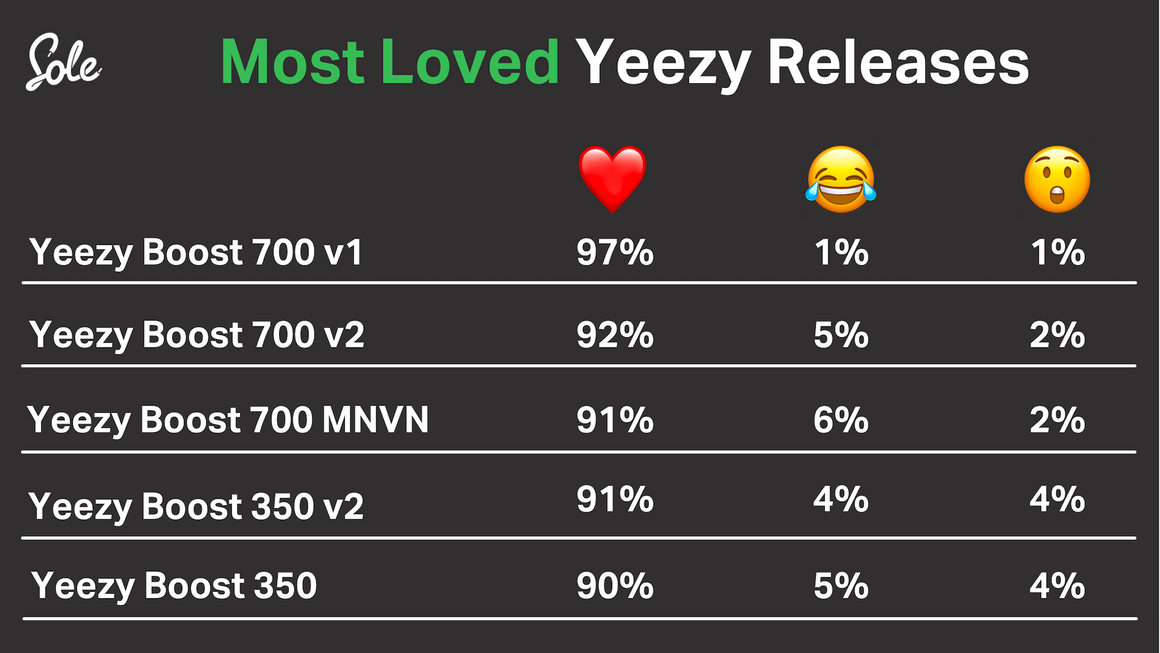 Let's kick things off with the most loved silhouette. After scouring through data from the past five years and comparing it to reactions in 2021, we've discovered some interesting insights.
The most loved Yeezy silhouette is the Yeezy Boost 700 V1, with 97% of reactions to content related to the silhouette being positive. The Boost 700 has retained this top spot for the last 5 years and is joined by the Boost 700 V2 and 700 MNVN in the top 3 spots for 2021. Taking the remaining spots in the top five most loved Yeezy releases are the Yeezy Boost 350 V2 and the original Boost 350. It seems you really can't top the originals!
These older silhouettes were first released in 2015 and 2017 respectively and have been the most popular Yeezy releases since then. In 2021 we saw many releases of newer colourways mixed in with retros of original colourways, it's no wonder that the Boost 700 and 350 are topping out this list. With so many releases of the 700 in all of its variations (V1, V2, V3, MNVN), will we see a re-release of the OG Yeezy Boost 350 anytime soon?
Many of the newer Yeezy releases are taking a more fashion-forward approach, with designs which are innovative and on the cutting edge of fashion. But how are they being received?
The Most Controversial Yeezy Releases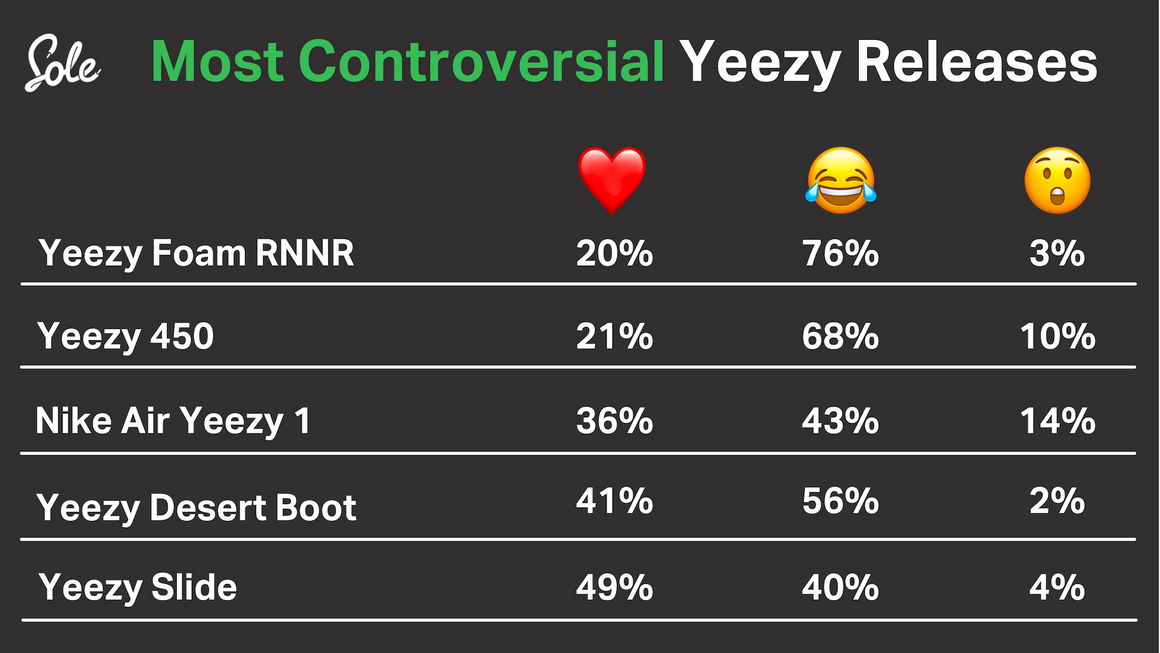 Not every Yeezy release is as welcomed by the community as the 350s and 700s. This year we saw a new release in the Yeezy 450, but we also saw a number of new Foam Runner colourways after the silhouette made its debut in 2020. Both share similar design cues, taking a futuristic take on footwear and featuring an exaggerated sole.
These sneakers do everything that Ye and Yeezy are known for. They push boundaries, make statements and bring a new level of innovation. So why are they so controversial?
It seemed like everyone was ready to hate these silhouettes before they dropped. However, come drop day, the 450 and Foam RNNR both continuously sell out within minutes. It seems despite the controversy and unorthodox designs, people still couldn't wait to get their hands on a new pair.
Something Yeezy does better than any other brand is knowing how to be divisive in the right way. The brand teeters a fine line constantly between what everyone loves about the brand and what they don't.
The Most Divisive Yeezy Releases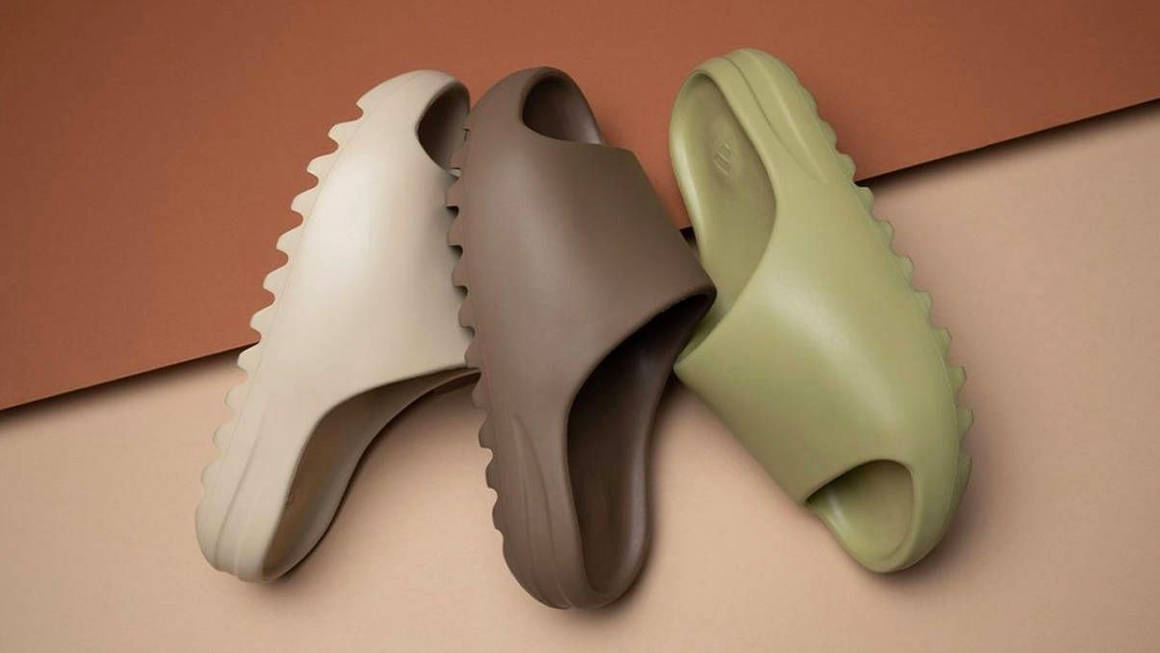 If we look at the data from 5 years ago, the Yeezy Slide would have been one of the silhouettes which was causing controversy. People did not seem to be loving the very minimal design, however in 2021 the Slide has been one of the biggest successes for Yeezy ever!
It has almost a 50/50 split between those who love it and those who aren't feeling it, but has still been one of the most popular releases of the year. Looking at the most viewed Yeezy silhouette pages, the "Pure", "Core" and "Resin" colourways of the slide take all three of the top spots easily. So is being divisive the key to success?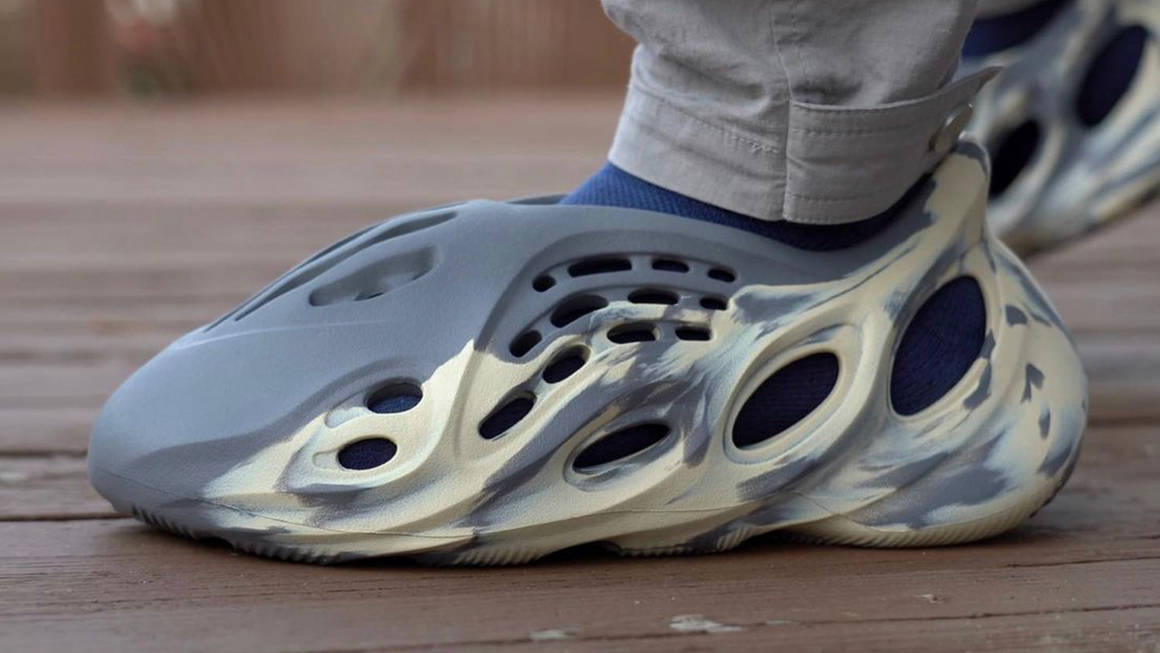 With releases which push the boundaries and aim to make a statement, maybe causing a bit of controversy is a good tactic. Everyone was very quick to criticise the Yeezy Slide back when they first dropped, but now we're willing to bet most of us have a pair in our shoedrobes (or wish we did).
Creating virality through unique and outlandish designs isn't an entirely unique tactic, just look at brands such as Balenciaga. But Yeezy is a unique case, they seem to do this in a way which gets people talking and builds unbelievable levels of hype. Who knows, maybe by this time in 2022 we'll all be wearing Foam RNNRs.
One thing we do know is that 2022 is going to be a great year for releases. So be sure to keep locked into The Sole Supplier and turn on notifications to keep up with the latest sneaker releases!