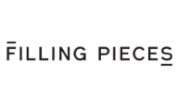 Filling Pieces Trainers
Latest Filling Pieces trainer news
Founded in 2009 by Guillaume Philibert, Filling Pieces is one of the best kept secrets in the sneaker community. Boasting premium materials, some truly exceptional silhouettes and everyday wearability, the Amsterdam natives know how to create the perfect pair of sneakers.
Now 10 years old, FP have always been renowned for their exceptional craftsmanship. With every pair being lovingly handmade in Portugal and all materials sourced from Italy's finest suppliers, it is easy to see why the Dutch label has become so popular.
Continually producing minimal silhouettes such as the Mondo, Angelica and Low Top, a Filling Piece should be at the heart of every sneaker rotation. Sitting at a mid price-point, these shoes are at the pinnacle of minimalist design and exceptional materials. Shop all of the latest Filling Piece's below and check back so you never miss any news from the exceptional brand.