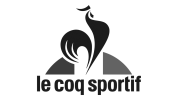 Le Coq Sportif Trainers
When Emile Camuset founded a small sporting goods shop in Romilly-sur-Seine in 1882, little did he know that it would flourish into one of the most respected sportswear brands in the world, Le Coq Sportif. Famed for producing some of the most innovative sports attire of all time, this label is one that you need to take notice of.
Known for creating the first sweat suit or tracksuit in 1939, this French label was truly at the forefront of design at the time. The history did not stop there with their DNA engrained into football and tennis, Le Coq has been there for some of these games greatest moments.
With a penchant for clean and minimalistic silhouettes, the R800, LCS R800 and Blazon all combine amazing craftsmanship with exceptional shape and colour blocking to offer the wear a stylish and comfortable sneaker.
Check out all of the latest Le Coq Sportif news and releases by hitting the links below.