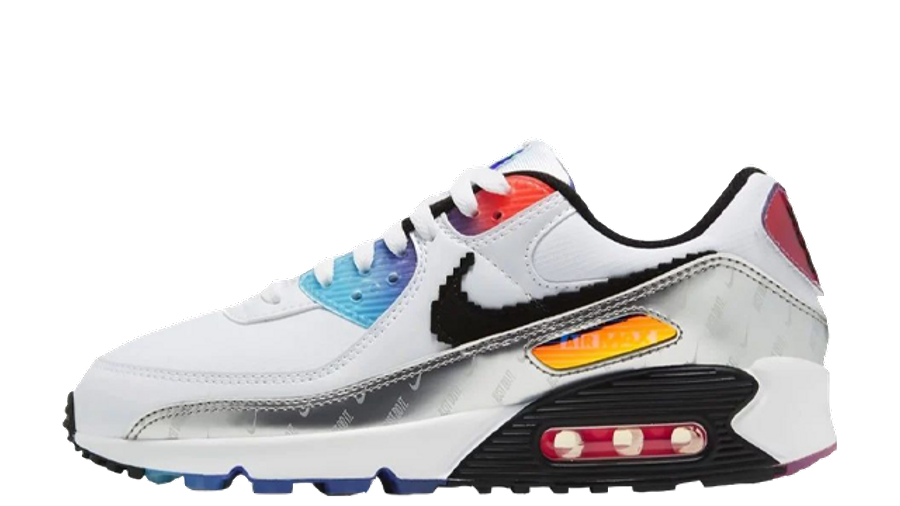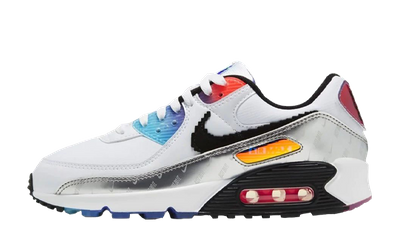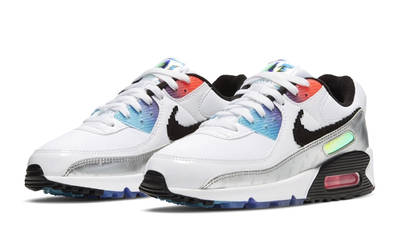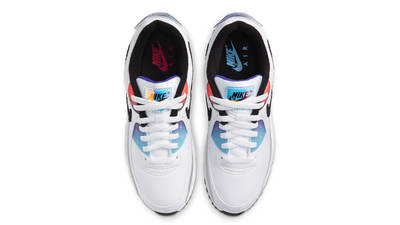 Nike Air Max 90 Have a Good Game White
This Nike Air Max 90 Have a Good Game White will be a showstopper with the sneakerheads but is aimed directly at the gamers competing with their rivals! Here we take a closer look at the multi-coloured pixelated design that makes us feel like we really are inside a video game.
Looking at the upper, crafted with a smooth bright white leather, the blue, red and holographic accents decorate its body. The tongue is accessorised with a shiny logo complementing the design of the Air-bubble on this AM 90 silhouette. A reflective print is presented over most of the shoe with coloured gradients and pixelated imagery. This is continued along the eyelets, with bold red, purple and blue hues gracing the throat area. The striking black Swoosh is presented with a glitch, adding to that video game feel. Below the Swoosh boasts a silver panel, created with a smooth reflective leather printed with the Nike logo. In the centre of this silver we can see a metallic Air unit in true Air Max fashion. The heel of this show is slightly elevated heel with an air bubble to generate comfort and stability within the design. On the inner, the logo is presented in blue on the left shoe and red on the right, illustrating the mismatched, glitchy nature of this design. This colourful game-oriented sneak is sure to get the crowd talking. Here at The Sole Supplier, we will be copping this showstopping Nike Air Max 90 Gamer White to wear with our flashy tracksuits for the chilly upcoming season. Be sure to follow us on socials, @thesolewomens, for the latest releases and news to come.
For sizing information check out our Nike Air Max 90 size guide.
Read more