If there's one thing all of us sneakerheads hate, it's getting your brand new pair of sneakers dirty. Sure, it shows you actually wear your shoes as intended, but deep down we all know the pain of getting grime and dirt - or even worse stains - on those fresh kicks. In the past, many of us have turned to kitchen roll and a toothbrush to fix our errors, but nowadays we're lucky enough to have a selection of shoe cleaners and specialised products right at our fingertips to help keep our shoes looking their freshest.
With a number of solutions available on the market, it can be difficult to pinpoint just exactly which sneaker cleaning kit will be best to keep your trainers looking their best, so we've decided to highlight some of our favourites to give you the best advice when it comes to shoe cleaning. From well-known companies such as Crep Protect and Jason Markk to the lesser-known Sneakers ER, we're examining all the best brands and products available on the market.
So whether your favourite shoes are leather, suede, nubuck or synthetic, give our guide below a read to take your shoe care game to the next level!
Jason Markk
First up on the list, we have a name many sneakerheads will be familiar with. Jason Markk started back in 2007 and has since grown to be one of the biggest forces within the sneaker cleaning community due to its extensive range of quality products. Often recognised by its clean-cut white and silver packaging, Jason Markk is a must-cop for anyone looking for a quality shoe cleaning kit.
Our Favourite Jason Markk Sneaker Cleaning Products
Jason Markk's most popular product is likely the Jason Markk premium shoe cleaner kit. This affordable kit comes complete with a 4oz bottle of cleaning solution as well as a bristle brush. While the solution can be used for everything from leather to suede to synthetic, the brush might be too harsh for selective leathers, suede and nubuck. As an alternative, the brand offers a premium shoe cleaning brush made from hog bristles which are softer and more suited to delicate materials.
The Jason Markk selection doesn't stop there though. The brand also offers a scope of other products including textured quick cleaning wipes for one the move, a repellent spray for repelling liquid and stains, an RTU foam cleaning foam and even shoe insoles to keep your favourite pair of Nikes, Jordans or adidas fresh.
You can find Jason Markk products at many places online including Amazon, Size?, and Hip Store to name a few! Alternatively, if you're London based, you can visit the Jason Markk London Flagship on Carnaby Street to get your shoes cleaned by a professional.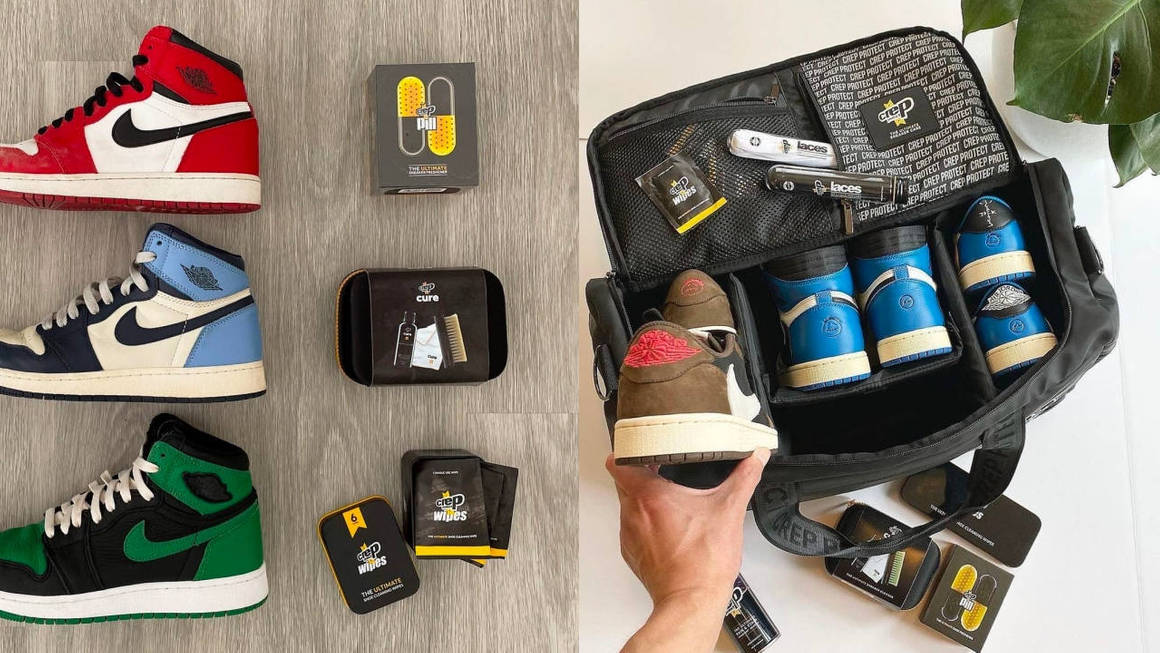 Crep Protect
After launching in 2012, Crep Protect quickly found itself to be one of the largest premium sneaker care brands in the world due to its passion and knowledge for the shoe game. You've likely seen Crep Protect kicking about in sneaker stores, but if you haven't it's easily spotted by its distinct black, purple and yellow packaging.
Our Favourite Crep Protect Sneaker Cleaning Products
The brand's most popular product is likely its ultimate rain and stain-resistant barrier spray, a repellent aerosol that is used to protect your shoes from any liquid spills or damage. At only £10 per can, this spray is a smart investment for any shoe collector looking to keep their kicks looking their finest.
In addition to the spray, Crep Protect also offers disposable shoe wipes for quick cleaning, a unique Crep Protect Pill which works as a shoe deodorizer, a Suede and Nubuck Eraser and a sneaker cleaning solution amongst an extensive range of accessories.
Crep Protect is available at many UK based retailers including ASOS, Size?, Footasylum, JD Sports and many more, so you'll be able to pick up this product with ease if you're looking for it. London sneakerheads can also find a Crep Protect shoe cleaning available at the consignment store, Presented By.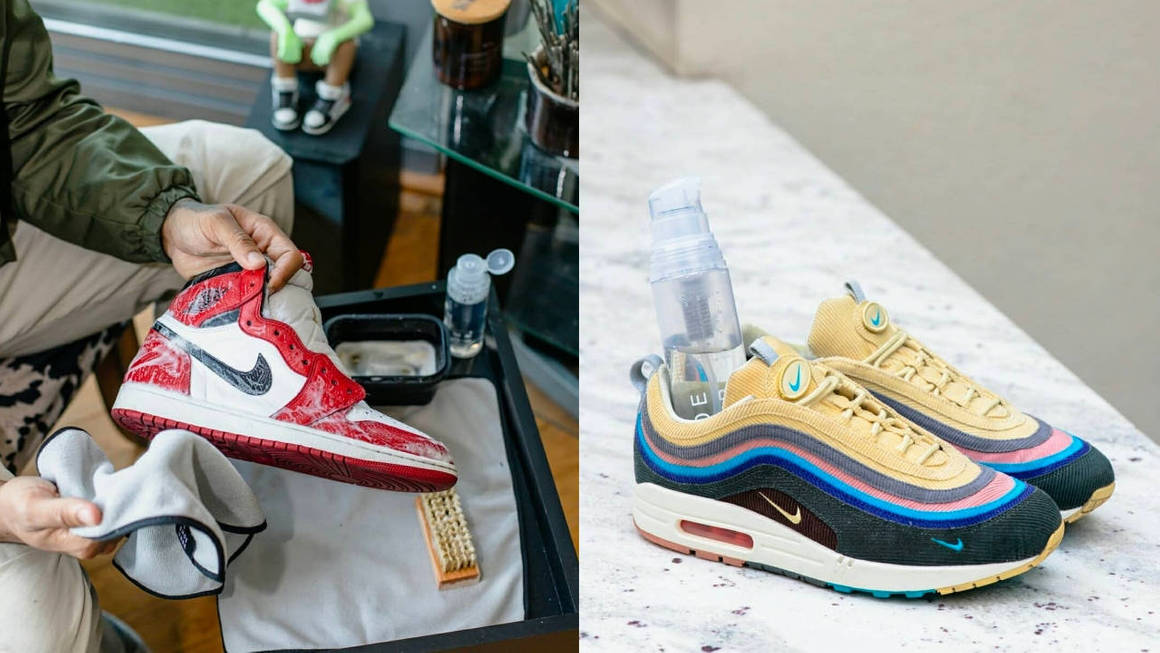 Reshoevn8r
Third on the list, we have Arizona-born Reshoevn8r, an innovative and storied brand offering one of the best shoe cleaners on the market. It doesn't take a genius to figure out this brand's name plays off the word "rejuvenator", which by chance is exactly what it will do for your kicks.
Our Favourite Reshoevn8r Sneaker Cleaning Products
Reshoevn8r is most known for its essential shoe cleaning kits that offer you the tools to clean everything from suede shoes to leather sneakers. Contained within these kits, you will find a 4oz all-in-one sneaker cleaning solution, a soft bristle brush for delicate materials, a medium bristle brush for general cleaning and a stiff bristle brush to remove dirt and other tough stains. Alongside this, you'll also receive a microfiber towel to dry your fresh kicks after cleaning.
It's also worth noting that Reshoevn8r is an eco-conscious company, meaning 100% of its packaging is both reusable and recyclable. On top of this, you're less likely to see harsh chemicals within the sneaker cleaner, which might make things a little bit less stressful for when you're cleaning your grail pair.
While Reshoevn8r might not be as well-stocked as some of the other products on this list, it is still available for purchase from Amazon or alternatively directly from the brand itself. So, if you're looking for an eco-conscious shoe care kit, Reshoevn8r might just be the brand for you!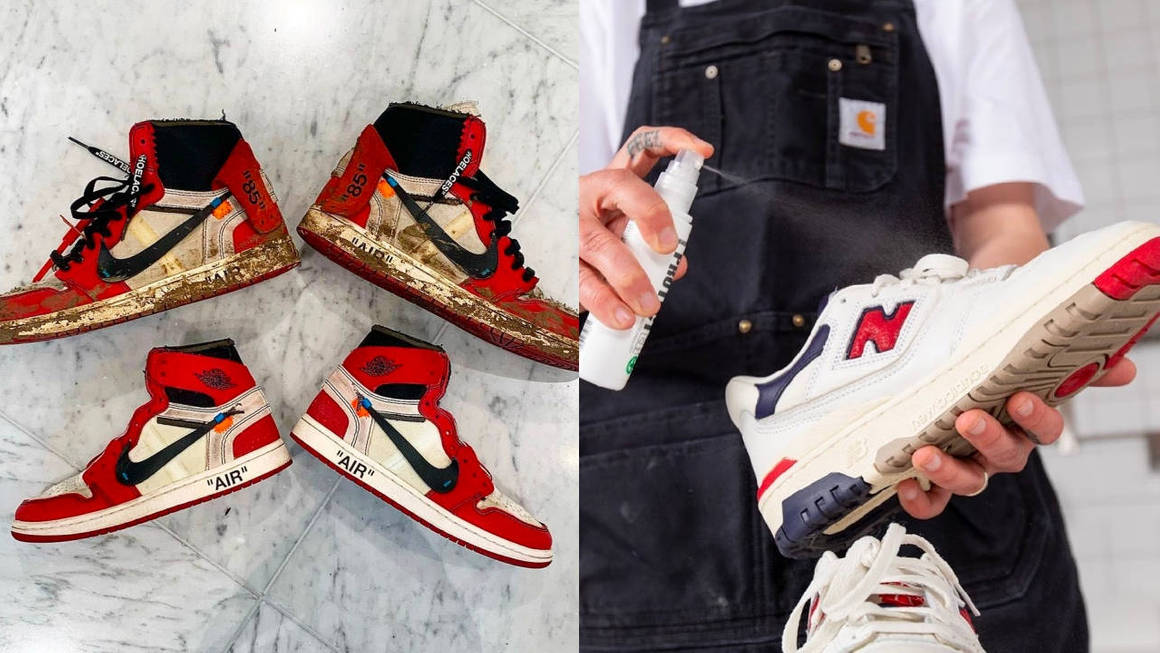 Sneakers ER
Established back in 2015 by two sneaker enthusiasts, Sneakers ER has built quite the reputable following so far due to its extensive range of sneaker cleaners, protectors, dyes and even glues. You can spot Sneakers ER products out in the wild by its distinctive white and green packaging that comes complete with a medical cross logo.
Our Favourite Sneakers ER Sneaker Cleaning Products
Similar to the other brands on this list, Sneakers ER is well known for its marshmallow scented Premium Sneaker Cleaning solution. This solution is ideal for most pairs of shoes and acts well as a stain remover. In addition to this cleaning kit, Sneakers ER is also well known for its long-lasting superhydrophobic sneaker protector, a conditioner designed to protect your sneakers from liquid and stain damage.
Sneakers ER is unique in the fact that it offers everything from sneaker paints to glues to laces to restore your sneakers to their former glory. In addition, the brand also operates a postal laundry service where your shoes can be cleaned, protected and even restored.
You can buy Sneakers ER directly from the brand or alternatively you can find it online at stores such as Amazon and Hip. For London-based sneakerheads, the brand also has a pop-up inside Selfridges on Oxford Street.
If you enjoyed this, be sure to check out some of our other content below...