You could write a dissertation on the endless amount of men who have collaborated with the Swoosh Brand. However, when it comes to how many women have had the pleasure of designing, collaborating and releasing their own sneaker with the industry leader, then the choice is much more limited. In light of International Women's Day 2022, we wanted to #breakthebias and highlight females in the field that have paved the way in showing that women are 'in' to sneakers too, yet lack the opportunity to show off their passion and commitment due to an industry bias.
Highlighting that there is a distinct lack of focus surrounding female sneakerheads is nothing new or groundbreaking, but we're hoping that every post, article, image or video that shouts out the amazing women who have created these sick sneakers takes us one step closer to brands realising that 'damn, these girls really know their stuff'. There's no doubt that this male-dominated field is tearing at the seams and opening up to being a more inclusive space for those that felt they didn't belong before, but there's definitely more work to be done.
Melody Ehsani x Jordan
As the first ever creative director for Footlocker's Womenswear department, Melody Ehsani is making moves and injecting her passion for sneakers and design from a female perspective into the space. Having been an avid sneaker collector from a young age, Ehsani made a point of expressing that she wanted complete creative control over her role, resulting in her hiring a bunch of other women that share the same interests and dedication. Starting her career by uprooting her life and moving to China to oversee her sneaker production shows a commitment to trainers that can't be faulted due to her gender.
Air Jordan 1 Mid "Fearless"
Melody Ehsani's Jordan 1 Mid "Fearless" was part of a 2019 collection from the Jordan Brand that aimed to make a statement about female empowerment and put the focus on cultural leaders from around the world. Dressed in mismatched colour-blocking on each shoe, and swapping the lace lock for watch faces to remain true to her brand, whilst the quote "If you knew what you had was rare, you would never waste it" as said by Julie Burns-Walker wraps around the midsole, reflects that we have to think bigger than what we believe we are capable of.
Air Jordan OG "Cherry"
Her second collaboration with the Jordan Brand, Melody Ehsani's OG Jordan from 1998 celebrated the first J that was made for women specifically. The cherry accents signify abundance, fertility and protection, whilst not obviously being a sneaker that is made by a woman, for women.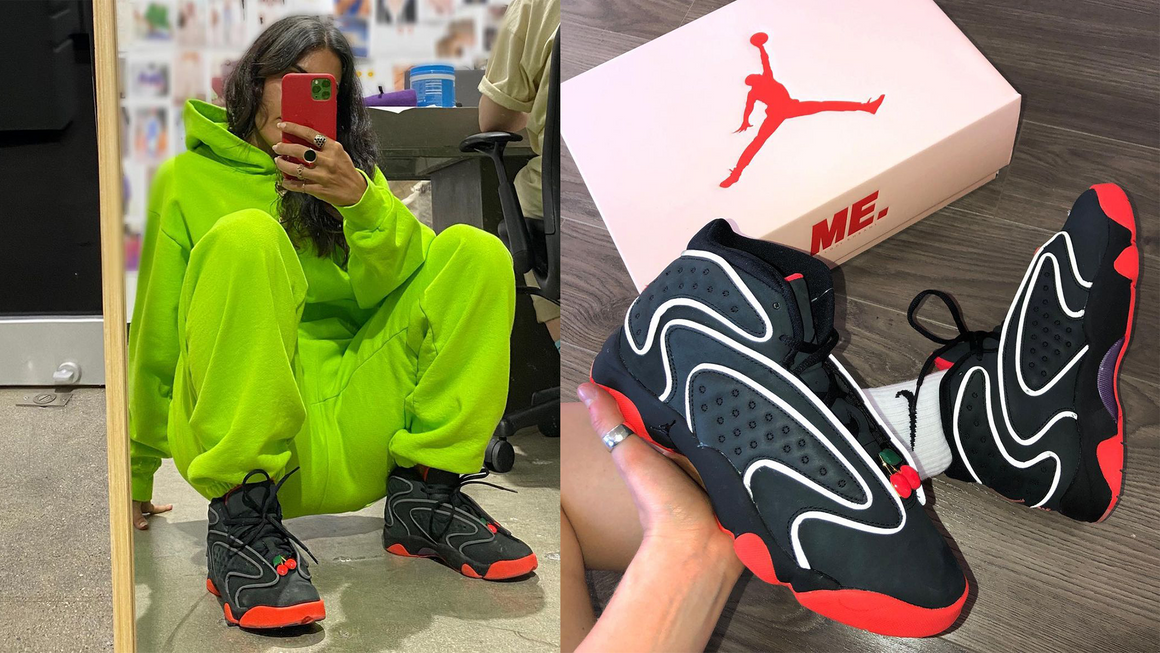 Aleali May x Jordan
Californian-born Aleali (Uh-Lay-Lee) is one dedicated sneakerhead with over 300 pairs in her collection. Growing up in LA, Aleali has stated in interviews that sneakers showed off your personality: you were what your sneakers were. Since then, having worked for the likes of Louis Vuitton and with Virgil himself, Aleali cemented herself as a force to be reckoned with in the sneaker, streetwear and fashion industries. Often blending sportswear and luxury brands, Aleali has a distinct style that's been translated onto her Jordan designs. The first woman to ever design a unisex AJ, Aleali hasn't slowed down when it comes to collaborating with Nike, and now boasts six pairs in her roster.
Jordan 1 Retro High "Shadow"
Instead of focusing on how girls fit into the sneaker industry, May's unisex Jordan from 2017 combined everything she loved and fused it with an ode to her father. Her "Shadow" Jordan 1 used cord across the upper, like her father's slippers, and satin to represent his vintage Starter jackets. Her dad influenced her style considerably and used to spend his days queuing up for the latest Jordan with her; no wonder this Jordan 1 dedicated to him.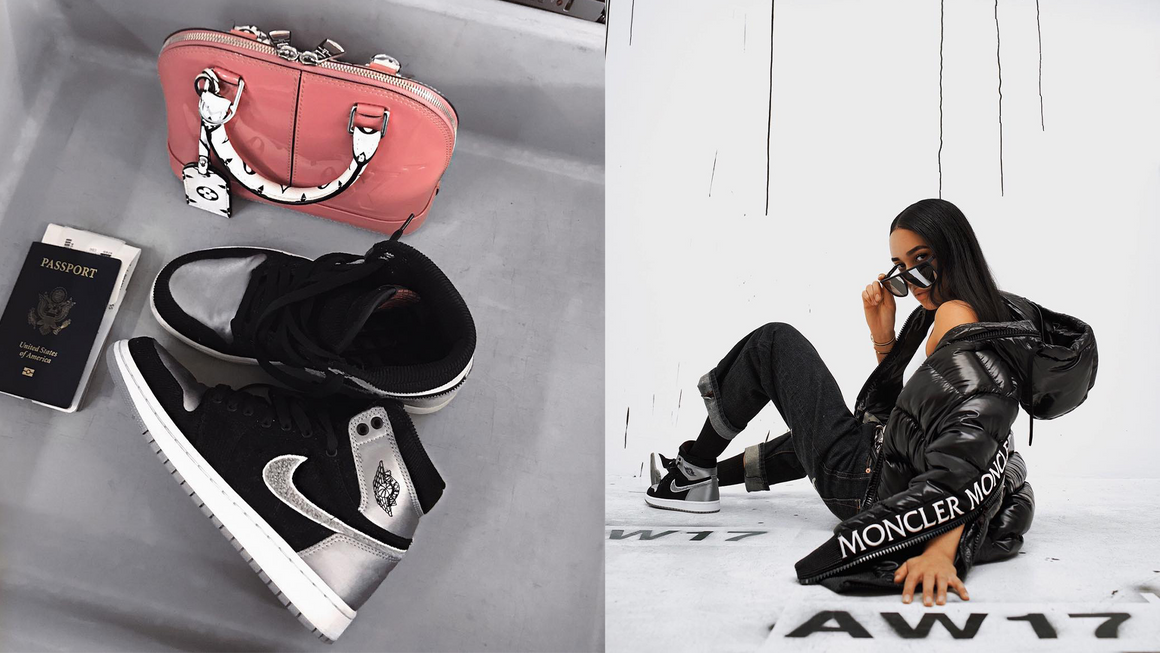 Air Jordan 1 & Air Jordan 10 "Court Lux"
In 2018, Aleali teamed up with Maya Moore (the first ever female basketball player to collaborate with the Jordan Brand, FYI) to release the "Court Lux" collection, which included the legendary "Viotech" Jordan 1; fur and all. Maya released her Jordan X in the same colour scheme, and reflected that she loved that the collection had been made with women in mind.
Air Jordan 6 "Rust Pink"
Whilst a lot of female sneakerheads are afraid to fall in love with pink sneakers for fear of moulding into what we're expected to wear, Aleali May made a completely pink sneaker that was actually inspired by men's clothing which was trending at the time. A sign to look to the future and dream of a day when women's-exclusives are no longer celebrated as being 'game-changing', but inclusive drops are the norm, this pink Jordan 6 was a step towards colour no longer being associated with gender.
Jordan 1 Zoom CMFT "Califia"
For her fourth collaboration with the Jordan Brand (not many people can say that!), Aleali May dedicated the sneaker to her time in school when she fell in love with streetwear and varsity. Titled after the fictional Black queen in which California is thought to be named after, this release was particularly personal to Aleali, as she wanted to align those women who she grew up with to being warrior queens.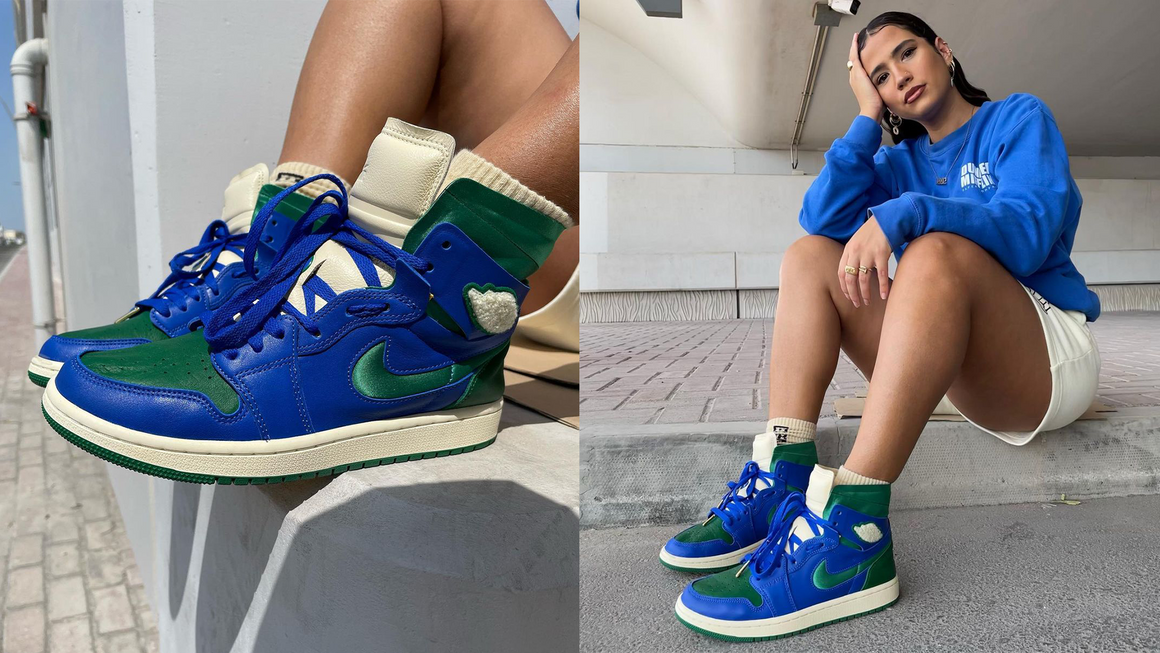 Air Jordan 14 "Fortune"
Finally, the Aleali May x Air Jordan 14 was inspired by the first piece of jewellery she was gifted as a child by her two grandmothers. This jade-inspired design was said to bring fortune, good energy and protection, as well as celebrating the two women in her life who have done the same for her.
AMBUSH x Nike - Yoon Ahn
As co-creative director for her brand AMBUSH, Yoon Ahn has overcome many barriers and has managed to break through the male-dominated industry. The first woman to collaborate with both Nike and the NBA - the basketball scene is definitely male-oriented - Yoon was making big moves to ensure that it was highlighted that a woman's place was also on the court. By taking traditionally male clothing pieces and designing them for women meant that the baton was officially passed on and women were able to own these types of clothes proudly, without it feeling borrowed.
Nike Dunk High in "Black/White", "Royal Fuchsia", "Deep Royal" & "Flash Lime"
Released in four different colourways, AMBUSH's Dunk High collaboration made waves in the sneaker industry, and rightly so! Inspired by Japanese motorbikes, Yoon extended the Nike Swoosh further than the rest of the sneaker like the pipes you'd find on the bike.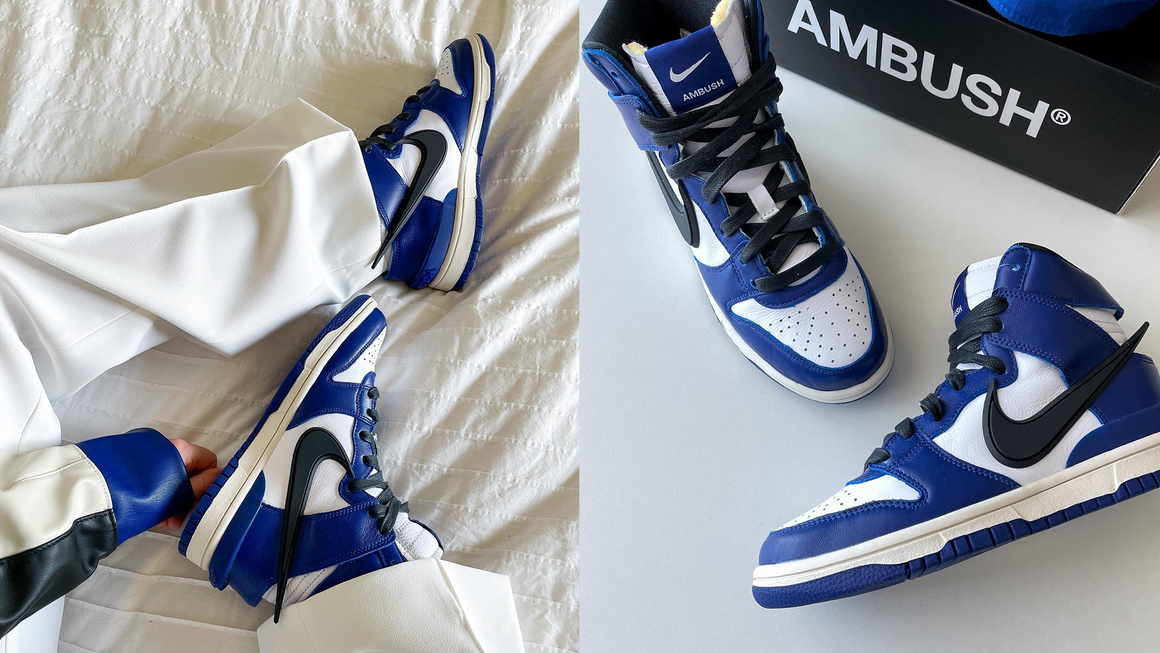 Cactus Plant Flea Market x Nike - Cynthia Lu
One of the biggest names in streetwear, the elusive and mysterious Cynthia Lu's brand has been seen on some of the biggest names on the planet. Having designed merchandise for Kanye and collaborated with Stüssy on a limited apparel drop, CPFM's biggest venture has to be with Nike. Known for their outlandish designs, take a look at our favourite CPFM x Nike sneakers below.
Nike Air VaporMax 2019 "Multi"
The first collaboration between the two brands saw the release of an Air VaporMax in 2019 that took on Cactus Plant Flea Market's signature yellow smiley faces and a Swoosh made out of wire.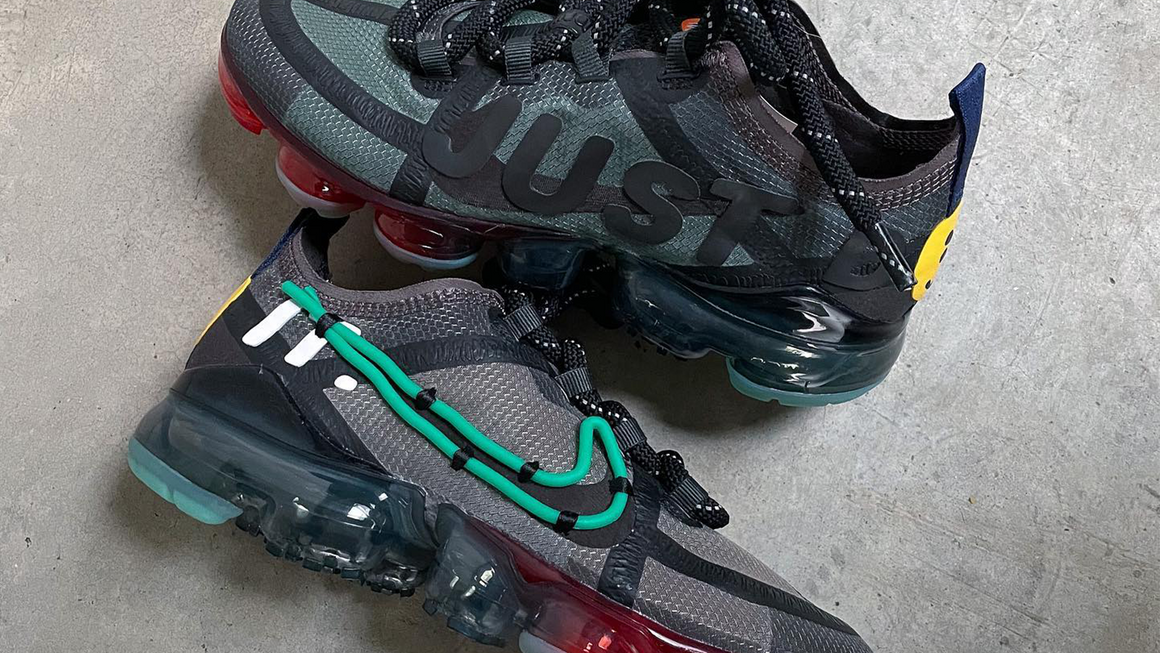 Nike Dunk Low "Swarovski Crystals"
A release that couldn't be much different to the previous collaboration, this blinged-up Dunk Low came in "Pure Platinum" and "Spiral Sage" colourways - and yes - was completely covered in Swarovski crystals from top to toe.
Nike Air Force 1 "White/Light Bone"
It's no surprise that the hottest streetwear brand of the moment (it's been a long moment) made their mark on the classic Bruce Kilgore silhouette. Taking the "Triple White" colouring and upgrading it with swollen type across the sidewalls reading 'SUNSHINE' on one and 'AIR' on the other, made a real big impact.
sacai x Nike - Chitose Abe
Not one to shy away from a new Nike silhouette, Chitose Abe is the brains behind the highly sought-after Nike LDWaffle and VaporWaffle silhouettes. Having caught the eye of fragment Design, KAWS, CLOT and UNDERCOVER, Abe has plenty of collaborations with the Swoosh Brand under her belt. Debuting back in 2015 with women-exclusive Air Max 90s and Dunks, there's no way we couldn't not give a shout out to the famous sacai x Nike partnership. With a Nike Cortez on the way soon, you'll need to keep locked in to find out more about what's to come from the collaboration over the next year.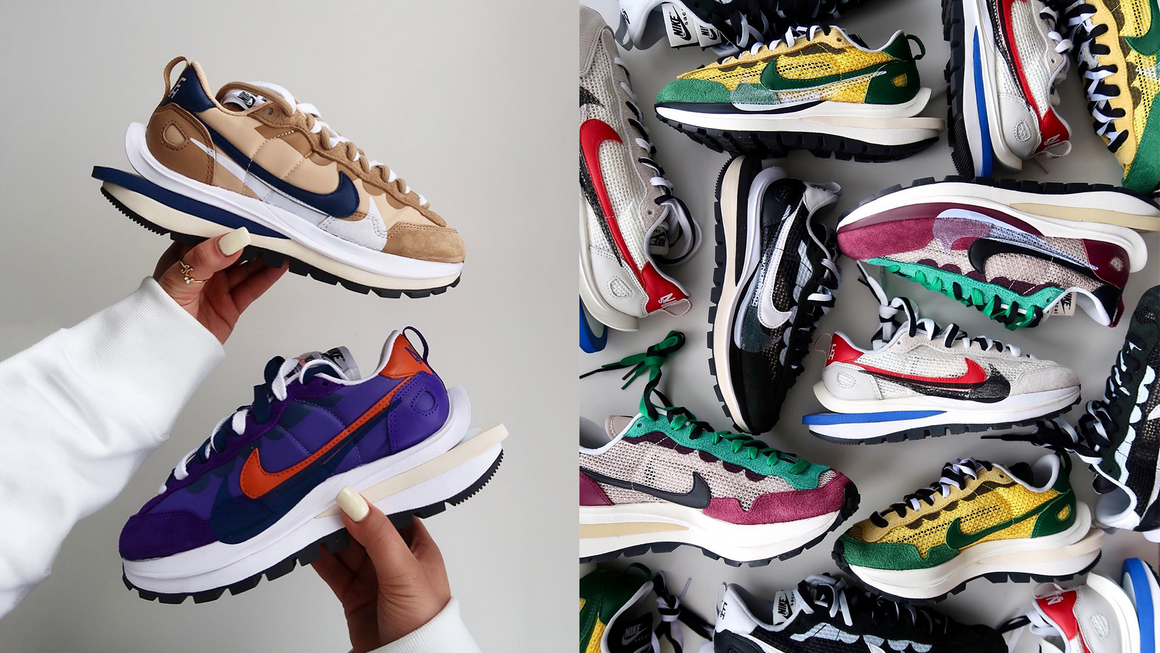 Vashtie Kola x Jordan
The first ever woman to collaborate with the Jordan Brand, Vashtie Kola's Air Jordan 2 definitely broke boundaries and paved the way for the likes of Aleali May and Melody Ehsani who came afterwards. A self-titled tomboy, Vashtie made her mark in the sneaker industry after working at Stüssy whilst studying. As a kid, Vashtie said that having the best sneakers possible was the aim of the game, so couldn't believe it when she was the first woman to collaborate with the Jordan Brand.
Air Jordan 2 "Lavender"
The shade of "Lavender" used on the AJ2 was inspired by Violette - Vashtie's brand at the time. Speaking to Hypebeast, Vashtie said that she wanted to feminise the traditional men's silhouette, as it was the first time it was being made for a female audience. That being said, she settled for a gender-neutral tone that suits everyone, showing that sneakers don't have to be for one group of people only.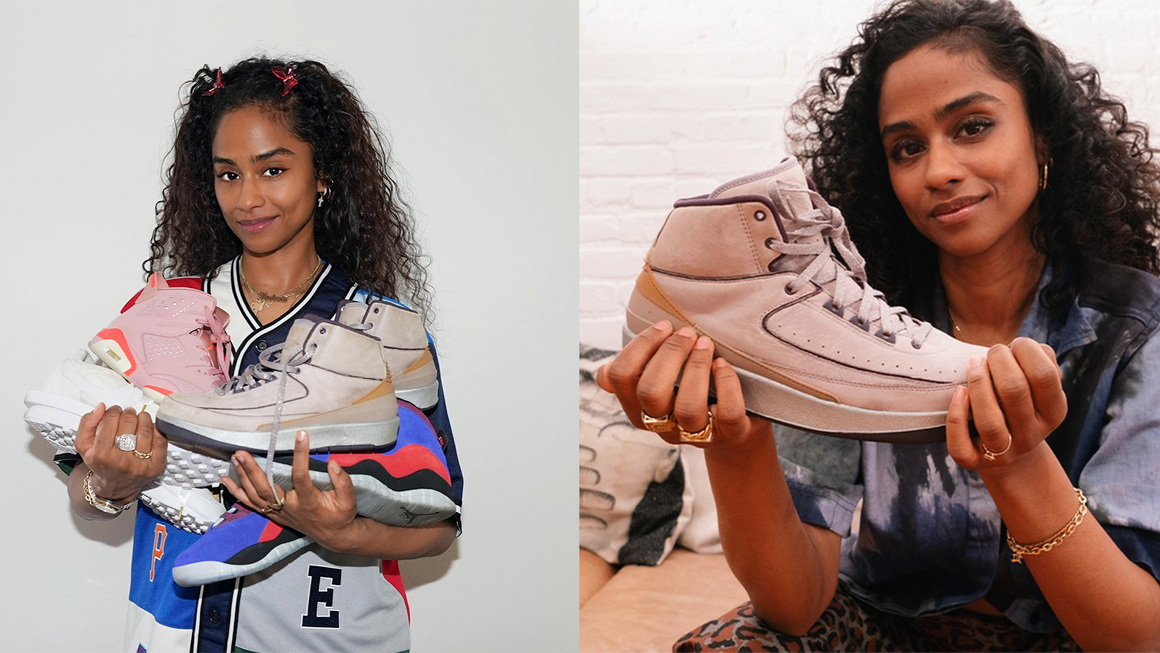 Serena Williams x Nike
With close ties to the Beaverton-based brand, the Grand Slam champion now has her own apprenticeship team at Nike for young creatives and designers from low-income backgrounds and underrepresented communities. However in the past, Serena collaborated with the late Virgil Abloh on the 'QUEEN' collection.
Off-White "The Ten" x Serena Williams
The three-way collaboration, which was released as part of Off-White's "The Ten" series, included a Blazer Mid, Air Max 97 and Court Flare 2, each equipped with gradient purple detailing, enlarged Swooshes and 'Queen of Queens, NY' written on the instantly recognisable zip-tie. Neon accents across the shoe add vibrancy, whilst the Off-White Helvetica type sits across the upper. It was so nice to see a female design be a part of the game-changing and revolutionary "The Ten".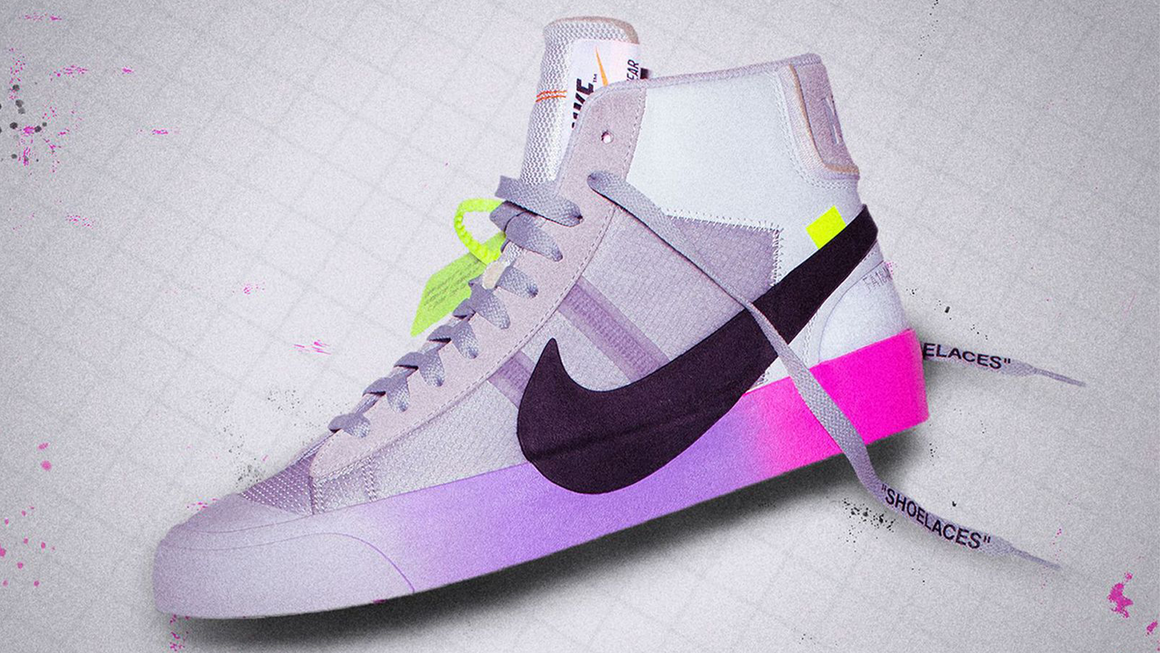 Olivia Kim x Nike
No Cover Collection
Vice president of creative projects at Nordstrom, Olivia Kim's 'No Cover' collection took inspiration from her teen years in New York. Combining styles from hip-hop and rave culture, as well as taking on a DIY approach, Kim's collection sees all her favourite silhouettes (including the coveted Air Jordan 4; a collection essential for lots of sneakerheads) designed in an eclectic array of patterns. The Air Jordan 4 was constructed with a ponyhair upper, whilst the zebra-print Footscape added an alternative animal element. Snakeskin took over the cord electric-blue Air Force 1, whilst the Air Max 98 and Air Mowabb came dressed in a plethora of rainbow hues. The Mowabb and Air Force 1 also included a Betty Boop hangtag to celebrate all things '90s and unapologetic women.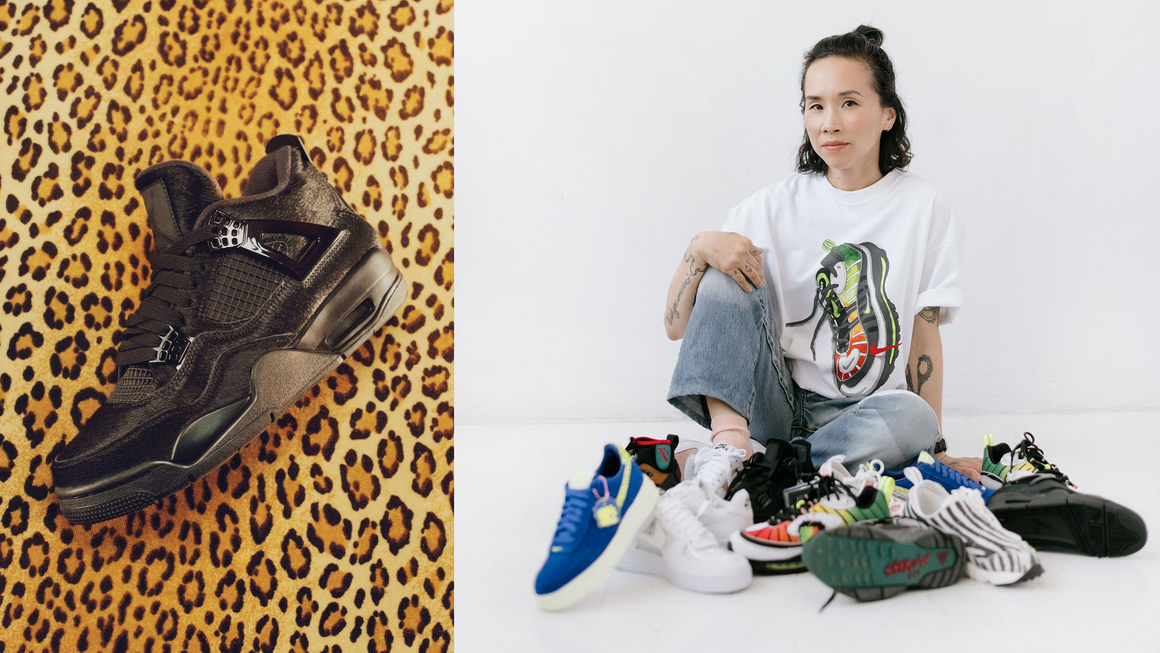 Sheila Rashid x Nike
Jordan 1 Mid "Unite"
Known for her androgynous designs, the Chicago-based creative took inspiration from the purple line on the Chicago transit. Split into purple tumbled leather and grey suede across the middle, this AJ1 was a continuation of the Jordan Brand's "UNITE" campaign that brought together and shone a light on a number of creatives from across the US. Sheila Rashid has always been one to fuse bold prints with urban, gritty streetwear design, so we were pleased to see her own unique take suit the Jordan silhouette so well.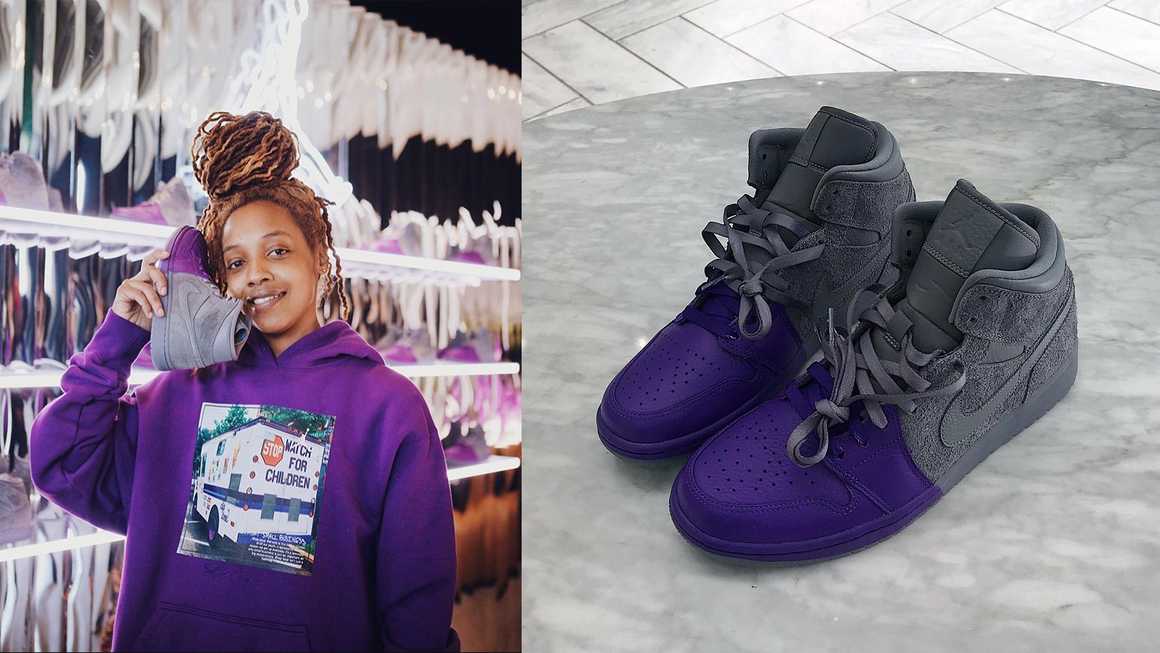 Read more about sneakers, streetwear & women below...