If any brand has surpassed our expectations over the last couple of years, it has to be New Balance. The New England-based brand dominated 2020 and 2021 thanks to its consistent stream of new styles, high-heat colourways, and must-cop collabs. But how did they go from Dad's dog walking sneakers to a model must-have?
Well, New Balance are a brand that have nailed tapping into nostalgia to appeal to the masses. The past couple of years have seen their vintage-inspired styles quickly gain traction with the fashion elite, and we're now used to seeing Bella Hadid and co backing the dad shoe on many occasions.
Throughout 2020 and 2021, the reign of New Balance has continued with the launch of successful sports luxe styles, like the New Balance 327, which has been spotted on the foot of every supermodel and fashion editor going. In this time we've also seen continued releases of their most popular silhouettes, like the 990, 992 and 574 across strong general release colourways and limited-edition collaborations. As we've seen from other brands; combine timeless styles, a few celebrity co-signs and some cool collabs and you can be sure to hype your sneakers up for some time in the spotlight.
And, as it turns out, the brand credited with bringing the dad shoe back have got some of the best sneaker collaborations going. From teaming up with designer giants, to cult favourite studios, to normcore outfitters, we look at some of the best New Balance collabs to have hit the market.
The Best New Balance Collaborations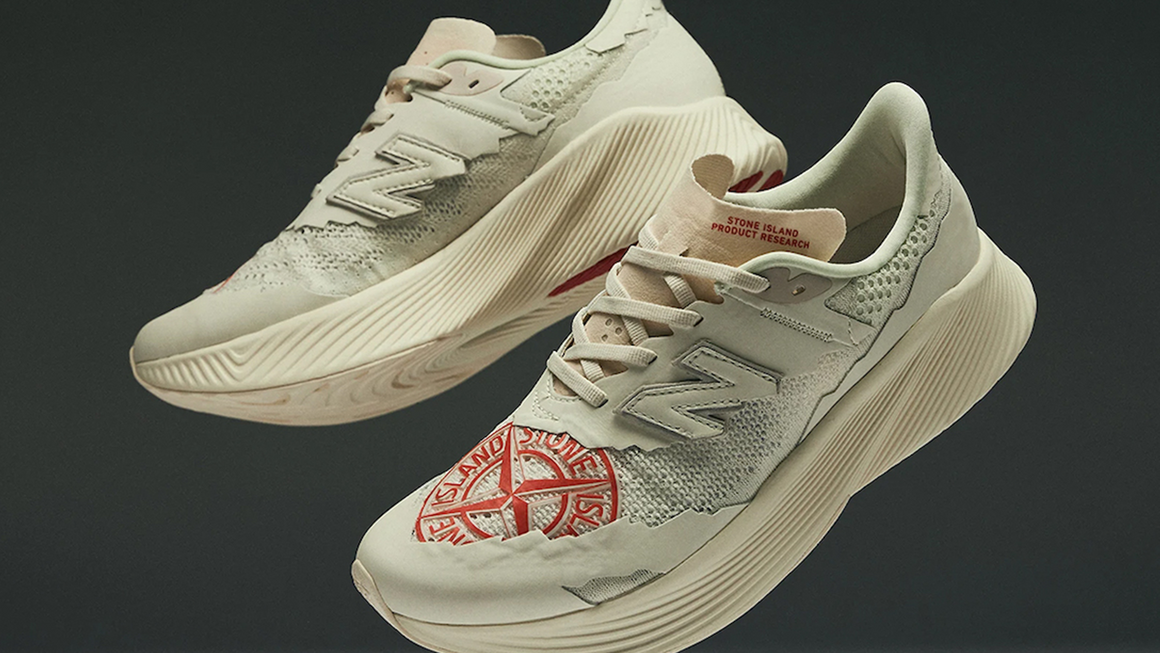 New Balance x Stone Island RC_Elite V2
2021 saw New Balance team up with Stone Island for the release of the RC_Elite. The sneaker was a reworked version of the brand's original RC_Elite racing and training shoe, reimagined to give the effect of a technical Stone Island upper bursting through a more heritage-based design. The mesh and logo were constructed using 3D technology, in a nod to Stone Island's penchant for innovative and technical materials. The midsole used Fuel-Cell technology and featured a carbon fibre plate, which was specially designed to help the wearer run faster.
The actual release was nothing short of technical either. It was originally available to purchase via an iPad in selected Stone Island stores, where buyers were guided through an interactive experience before being taken to Stone Island's webstore.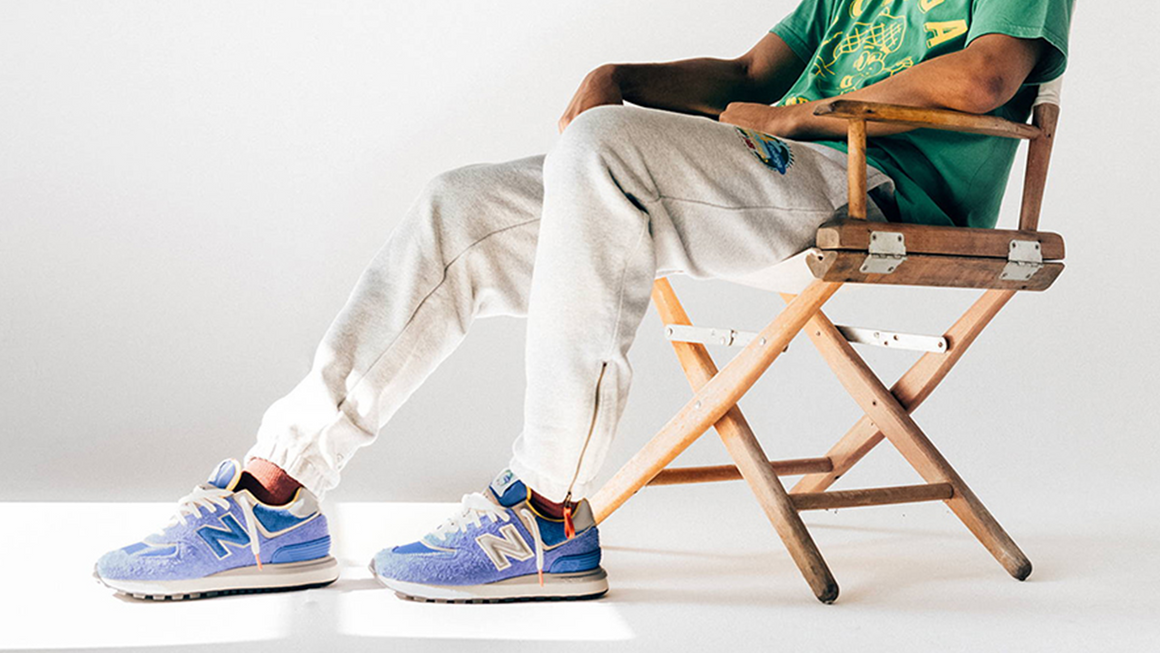 New Balance x Bodega 574
NB have teamed up with retailer, Bodega, on a couple of collabs, and their latest pairs have just been teased in the brand's newest lookbook. Their last release, the New Balance x Bodega 990v3 "Here to Stay" sold out almost instantly, so make sure you keep it locked to The Sole Supplier to find out when these drop.
The duo are set to treat us to two pairs of 574s this Autumn/Winter season. Making use of luxurious materials and textures, this latest release is expected to drop in beautiful colourways, one in blue and one yellow.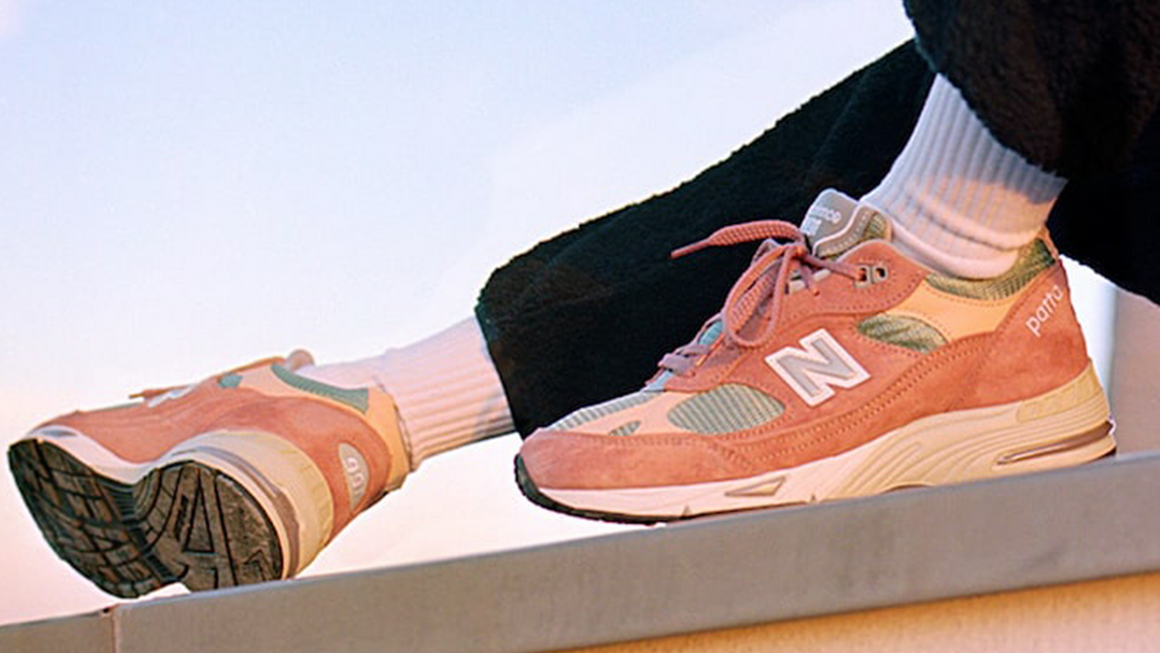 New Balance x Patta 991 "Peach Grey"
Patta are veterans of the sneaker game, having previously collaborated with Nike and Asics on some stand-out pairs. However, it's their work with New Balance which really sets them apart.
2021's New Balance and Patta link-up saw the brands collaborate on a "Peach Grey" 991 for the 20th anniversary of the silhouette. The retro-inspired running shoe featured a breathable grey mesh and burnt pink suede upper, with cream leather accents and Patta embroidery to the ankle.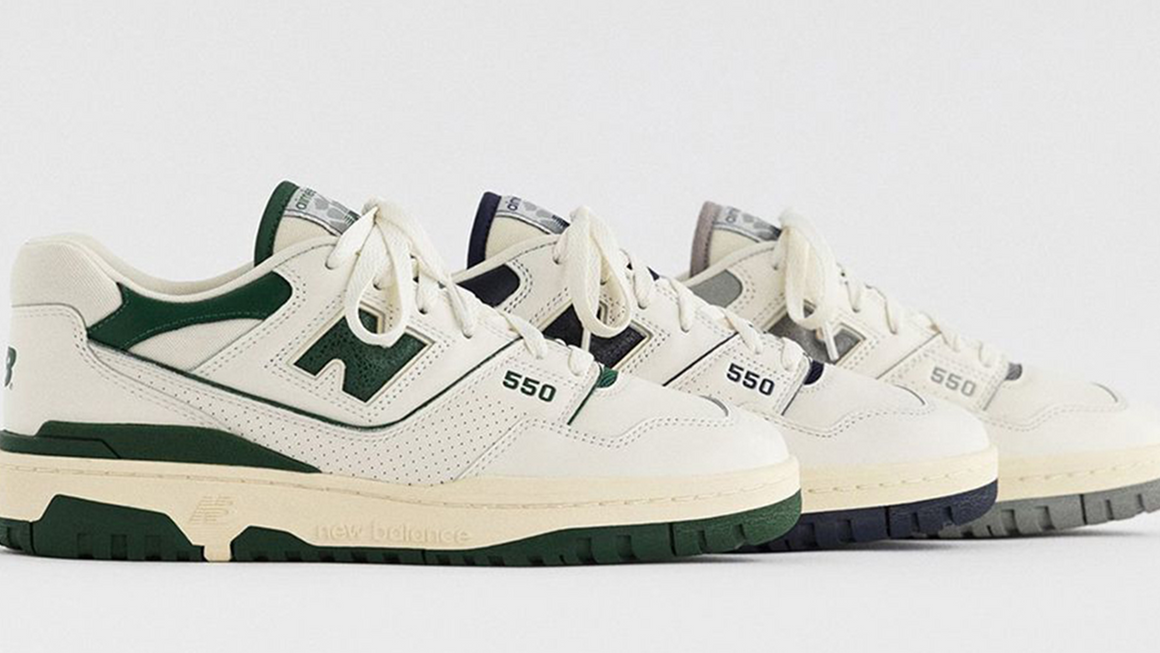 New Balance x Aime Leon Dore 550s
Possibly the collab of the moment, the Aime Leon Dore 550s are the latest style to take Instagram by storm. Stores are struggling to keep the general release 550s in stock thanks to them being a favourite with fashion editors, so add a cult brand like ALD into the mix and you've got a recipe for a sell-out. In fact, the duos collabs have been so popular, that ALD's Teddy Santis was recently appointed as New Balance's Creative Director.
The basketball-inspired sneakers saw a premium, vintage-looking upper, accented in either grey, green, navy or red. Pre-yellowing gave vintage vibes to the midsole, and the pairs also featured a co-branding to the tongue.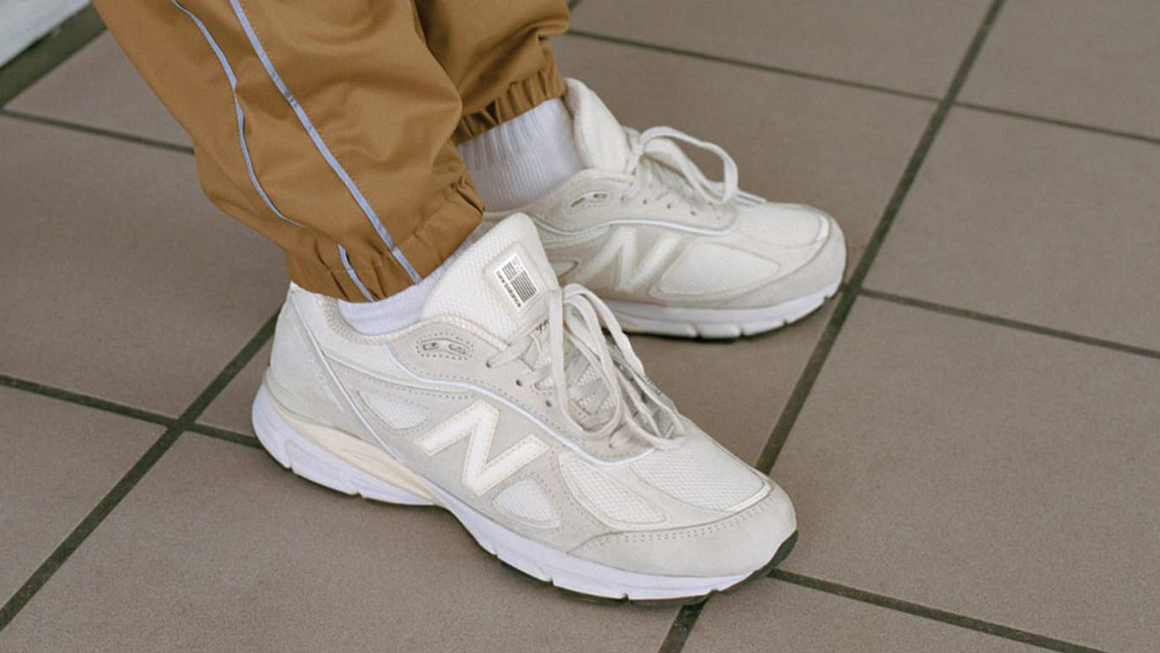 New Balance x Stüssy 990 "Cream"
One of the cleanest New Balance collabs on the list and definitely one of the most sought after, the Stüssy x New Balance saw the 990v4 decked out in cream-coloured mesh and suede. A streamlined N logo sat on the side of the sneaker, whilst Stüssy's intertwined S was featured on the footbed. If the grey 990 wasn't minimalist enough for you, this definitely would have been.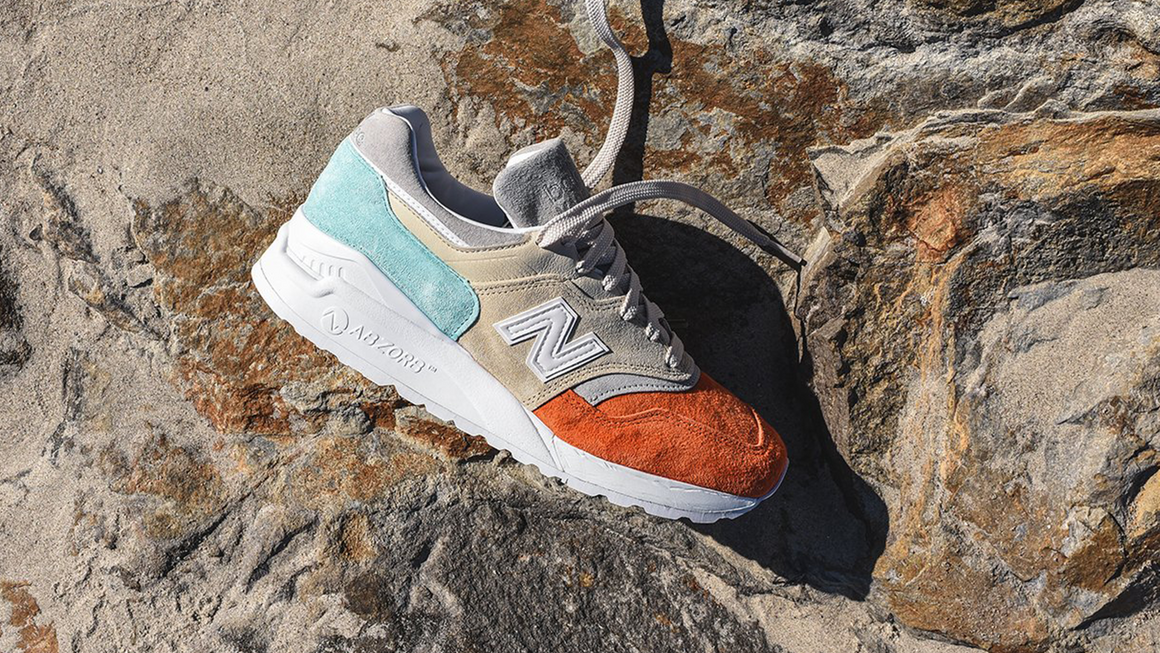 New Balance x Ronnie Fieg 997.5 "Mykonos Cyclades"
King of collabs, Ronnie Fieg of KITH has teamed up with the Boston brand for a couple of projects, from his 10th anniversary collection of NB RC1300s to his take on the 990sv2, but one of the best has got to be the 997.5 "Mykonos Cyclades." A hybrid build, made up of a 997 upper and 998 sole unit was dressed in colourful beige, bright blue and orange.
Inspired by a trip Fieg took to the Greek island, the colourway of this sneaker was inspired by the sun, sea and sand of the beautiful region.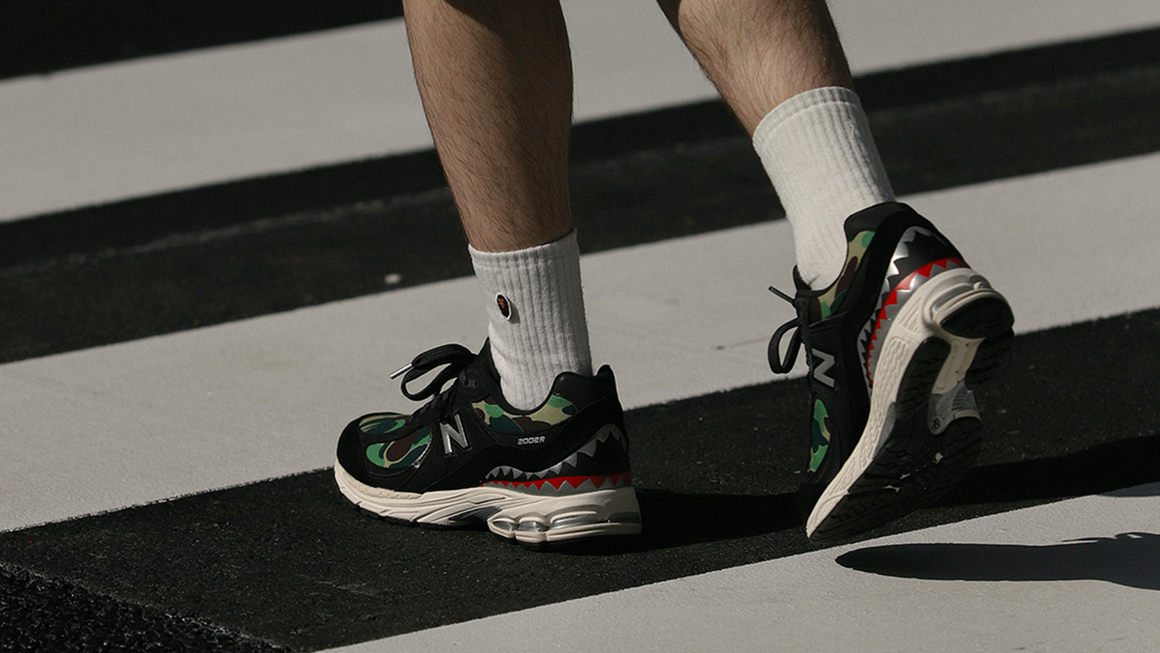 New Balance x BAPE 2002R
One of the hottest new silhouettes to be pulled from New Balance's archive, the 2002R has been the face for a number of high-profile collabs, but none of them compare to this.
The BAPE x New Balance collab saw the Japanese streetwear giant take on the 2002R silhouette, giving it BAPE's signature camo treatment. The two pairs were decked out colourways paying homage to each brand - the grey paying tribute to New Balance but with a camo twist, and the green in BAPE's signature black and green camo. Of course, both pairs also featured BAPE's signature shark print across the back heel.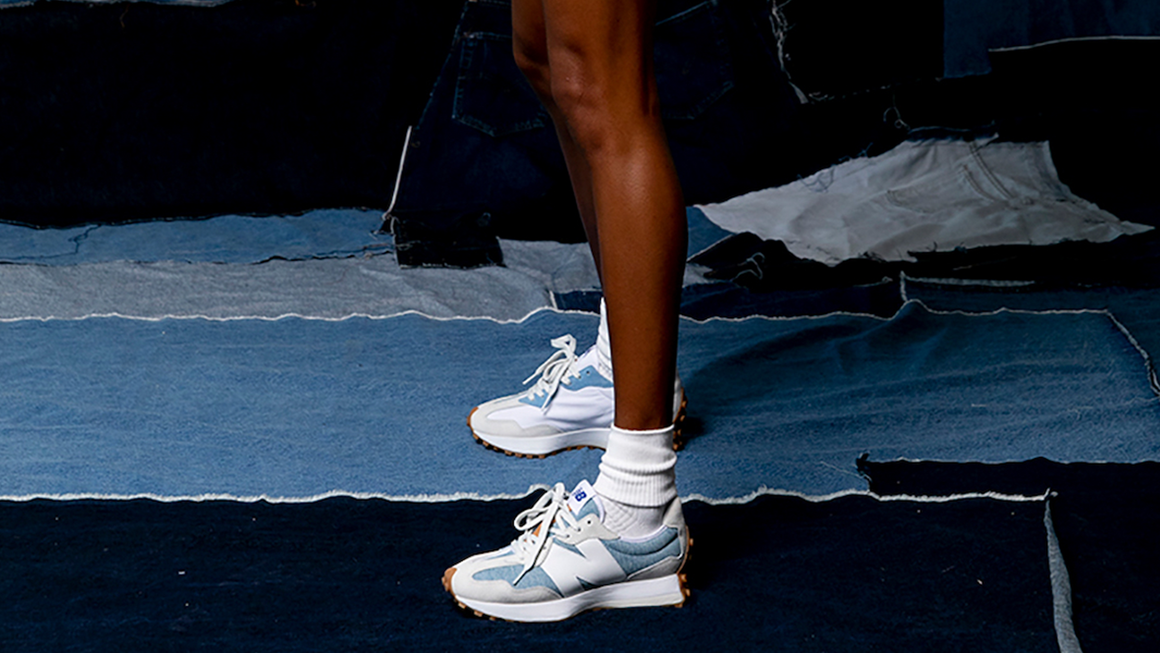 New Balance x Levi's 327
Levi's and New Balance have teamed up for a couple of styles, including the recent Levi's x New Balance 990v3 Elephant Skin and an upcoming 372. For the latter, suede overlays sit atop denim panels in a couple of Levi's signature washes, complete with signature red Levi's tab on the side. The pairs were finished with a hint of brown leather on the tongue.
New Balance x STAUD 327
2021 was definitely the year of the 327, with the sneaker really finding its feet with general release and collab colourways. One of the best 327 collabs saw New Balance team up with STAUD for a super clean white, grey, and burgundy take on the sneaker that went straight on our must-cop list.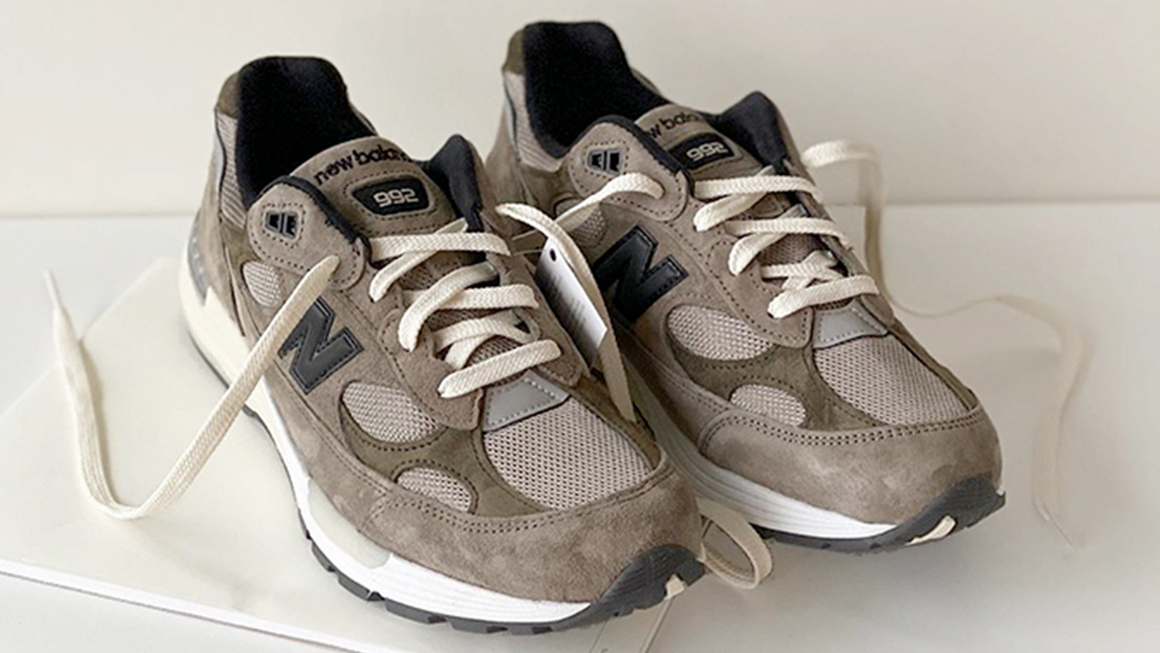 New Balance x JJJJound 992
Perhaps one of the most sought-after New Balance collabs ever, the JJJJound New Balance 992 is a minimalist dream. Digital-moodboard-turned-design-studio, JJJJound kept it classic in premium suedes and understated colourways, with minimal JJJJound branding on the heel.
JJJJound always bring a unique quality and aesthetic to their collaborations which hits the mark every time.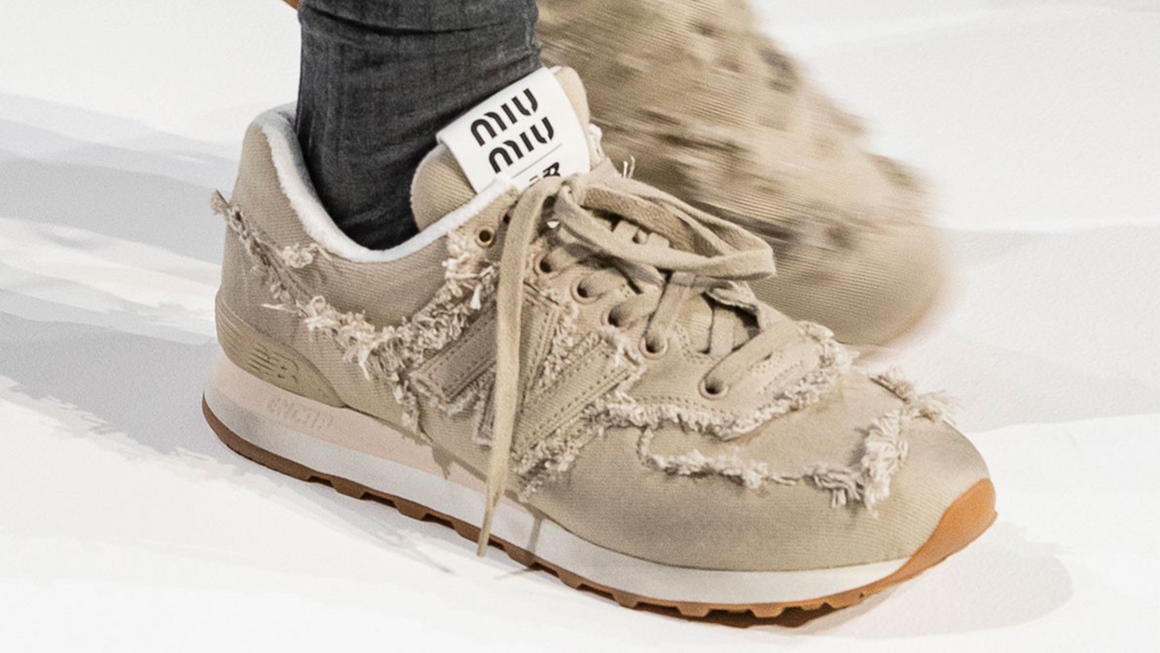 New Balance x Miu Miu 574
Miu Miu's Spring 2022 RTW show saw them follow in the footsteps of Muiccia's Prada by debuting a high fashion collab trainer. The Miu Miu x New Balance 574 collab was spotted on the runway and saw a cream-coloured 574 get an edgy high-fashion makeover thanks to raw-edged panelling, and a co-branded label on the tongue.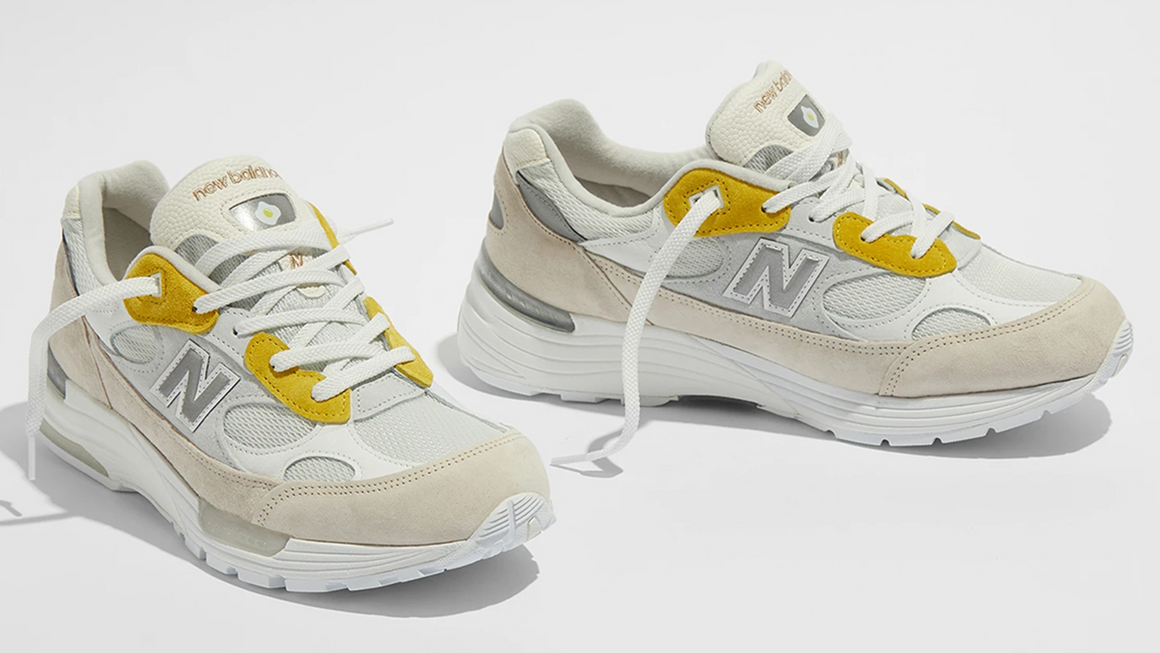 New Balance x Paperboy Paris 992 "Egg"
Another fire 992 collab, New Balance x Paperboy Paris Egg was one of several colourways that continued the 992s momentum into 2021. The Parisian restaurant reimagined the silhouette to create a white, cream and beige colourway with yellow accents - a nod to the restaurant's poultry dishes.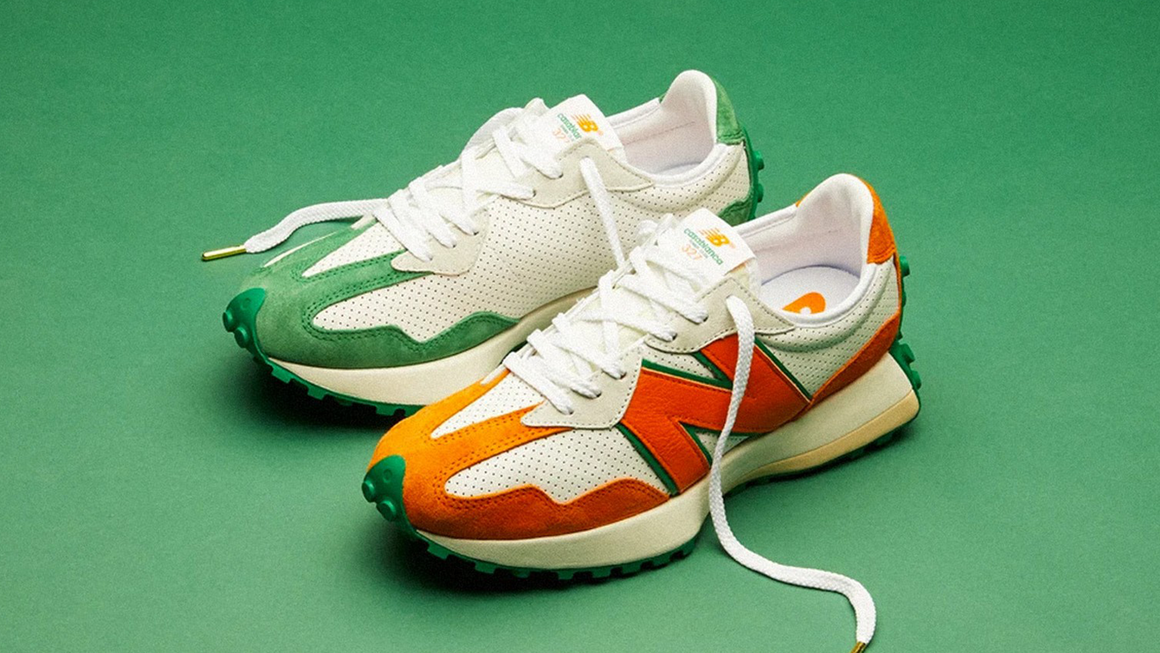 New Balance x Casablanca 327 "Idealisté"
French-Moroccan brand Casablanca is another long-term New Balance collaborator, and their fashion-forward take on the sporty 327 saw them capture the imagination of the Insta elite. For our list, we've picked the retro-inspired "Idealisté," made from premium materials in eye-catching, summer-ready colourways that fit that sports-luxe vibe.
The 327 silhouette was first seen in this collaboration with Casablanca which the sneaker's designer, Charlotte Lee, believes is one of the reasons why this new silhouette has been such a success.
New Balance x Salehe Bembury 574 "Yurt"
Salehe Bembury's New Balance collabs are some of the best in the game, but for now, we're going to focus on 2021's 574 "Yurt." Decked out in some of the most premium materials going, the 574 is dressed in rugged mesh and buttery suede in a muted grey shade and features a chunky ABZORB SPS midsole to set it apart from other 574s. The shoe even features a whistle to the heel, should you ever need it whilst out hiking. Sure, it's different, and one of Bembury's less colourful collabs, but it's a clean iteration worthy of making our list.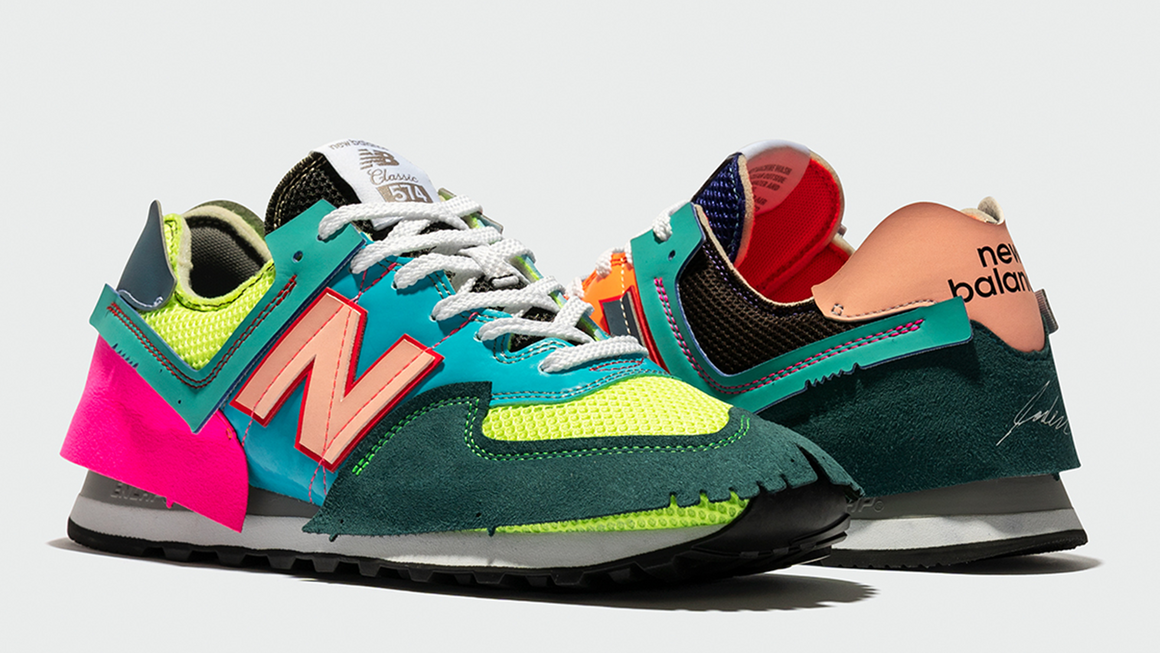 New Balance x Jaden Smith 574
Jaden Smith's original collab with New Balance culminated in the invention of the controversial Vision Racer, but we think his 574 collab is something special. The SYRE singer teamed up with NB to create the first-ever surplus material 574, staying true to the sustainable ethos the pair kicked off with their earlier collaborative efforts.
Each pair is made up of a mix of colourful suede and mesh pieces, and the surplus material make-up of the Jaden 574 means that no two pairs will ever be the same. Complete with imperfectly oversized overlays, mudguards, foam collars and more, the Jaden 574s are a unique shoe that deserves a place on the list.
So, there we are. With a lot to owe to their collab strategy, New Balance has once again proven that they're on top of their game and really do offer something for everyone- whether you're a sneaker enthusiast in your hometown, a supermodel in London, or a dad in Ohio.
Whilst you're here, why not check out: