Every now and then, a trend that is quintessentially British makes its way over to the States where they treat it as the best thing since sliced bread. Once upon a time, it was Drake's new-found Stoney obsession that came with a hearty helping of Skepta features, 'Gyalchester' references and a logo-shaped chain. Now, the very 'fit your dad would wear to the football is trending on TikTok, and it's racking up views faster than you can say 'Fackin Millwall.' Coined 'Blokecore' by fashionistas, here's why the internet is obsessed with all-things football fashion.
We know what you're thinking – Blokecore can't be real, right? There's no way teens on TikTok are parading round in Newcastle United shirts and thinking it's some kind of edgy fashion statement. Well, we hate to be the ones to tell you this, but – they are. In fact, the term 'Blokecore' has over 94.2 million views on TikTok, and they pretty much all consist of kids showing off how they style themselves in retro football kits whilst listening to The Jam or The Streets. Some of them have tongue-in-cheek captions about it being considered 'cultural appropriation', some of them have travelled to football stadiums 'purely to dress like a bloke.' In separate news, fashion killa A$AP Rocky even donned a '96-'97 Man Utd shirt in his latest music video. Even more interesting is that searches for the ultimate casual's shoe, the adidas Samba have gone up 52% YoY – suggesting that the trend takes itself far more seriously than just classic football shirts.
In reality, the relationship between football and fashion is nothing new, it's just enjoying a bit of a renaissance right now. Sam Nicklin is Head of Visuals at Art of Football, and says that it's a trend that football fans have actually seen coming for a long time. "With 90's and Y2K fashion trends coming back left right and centre, everyday football shirts were guaranteed to kick in eventually. Football is a part of British culture, and the whole 'bloke' stereotype went from irony to a legit fashion trend. It's like junior school non-uniform, but with beer included."
However, the crossover between football and fashion hasn't always been entirely 'blokeish,' in fact, designers and brands have been taking inspiration from the beautiful game for a while, and you only have to scroll Instagram for a couple of seconds to see Bellerin and co flashing their designer 'fits. But if typical lad culture isn't really your thing, here are some of our favourite times football and fashion have come together...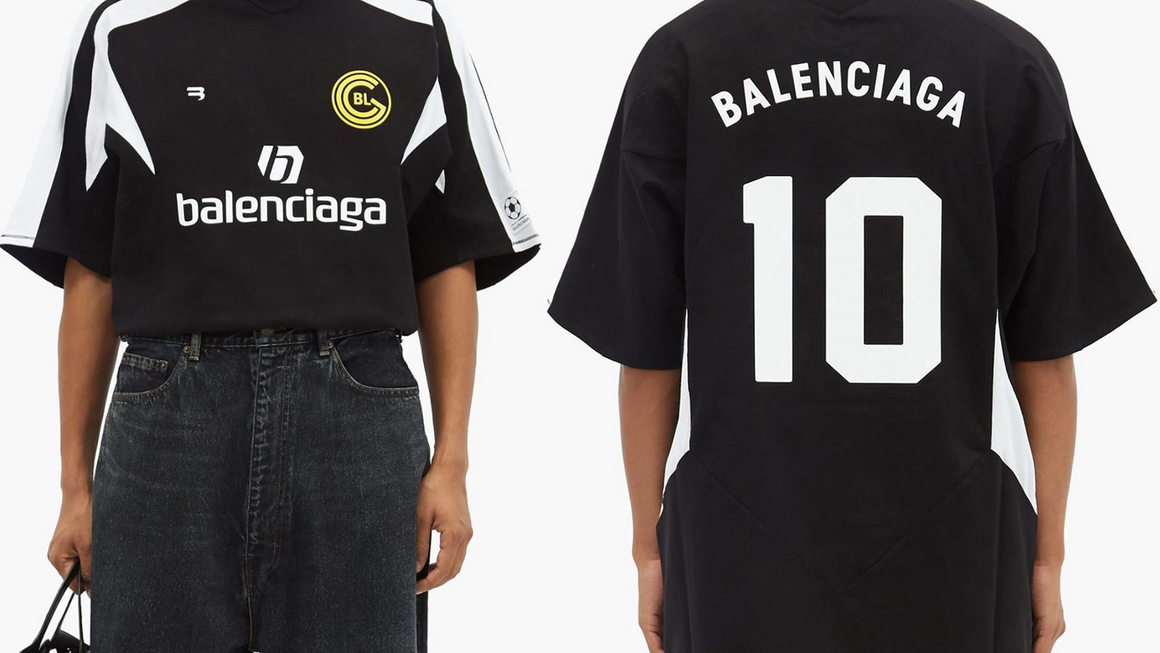 Balenciaga FC Football Jersey
Now Demna Gvasalia is far from the only Soviet-born designer to reference football culture in his designs – the disgraced Gosha Rubchinskiy was a frequent adidas collaborator – but bringing the aesthetic to a high fashion house like Balenciaga was quite a statement. When the French fashion house sent its interpretation of a football jersey down the runway at its FW20 show, it caused a bit of a storm on Twitter. The shirt seemed to riff on a 2002 Manchester United goalkeeper jersey, although this time it retailed for over £700. That wasn't all though, the luxury brand also dropped a £540 pair of football boots, which were criticised for not being functional – as if you'd play in them anyway.
But whilst the public cried out cultural appropriation, Demna spoke out about the inspiration in his show notes. "Footballers and priests were what I grew up with in Georgia," he said, speaking to British Vogue after the show.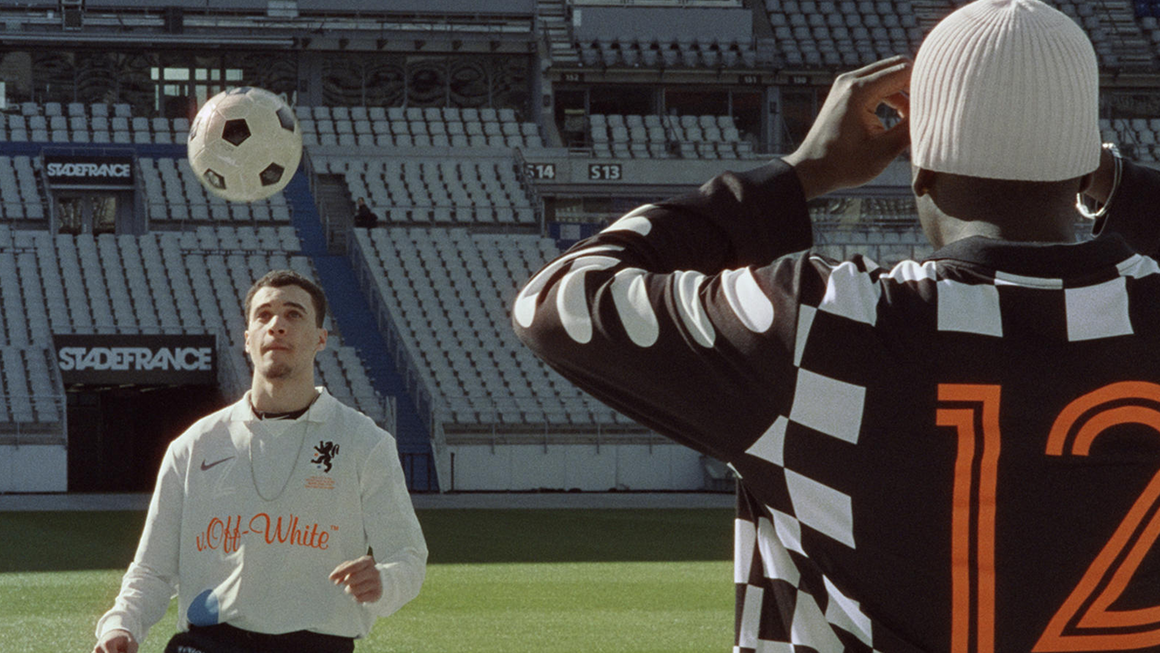 Off–White x Nike "Football, Mon Amour"
The late Virgil Abloh packed a lot into his time on earth, but did you know that he used to be a high school soccer player? The fashion designer and DJ used to play in midfield back in his school days, but eventually, it was his creative pursuits that piqued his interest. That didn't mean that football was completely forgotten though – Abloh's Off-White teamed up with Nike for a capsule collection of football-inspired styles ahead of the 2018 World Cup. Adorned with bold graphic elements (this is an Abloh collection, after all) and motifs that represent his old school team, Virgil worked on the collection from the boots up. Unlike Balenciaga's collab, Abloh's take on football boots was fully functional. The designer worked on Nike's Mercurial silhouette, and to flex his football knowledge he added dots where he believed was the best place to hit the ball. One pair was even worn by Mbappé in a PSG v Monaco game, the moment marking the pair's launch the same day.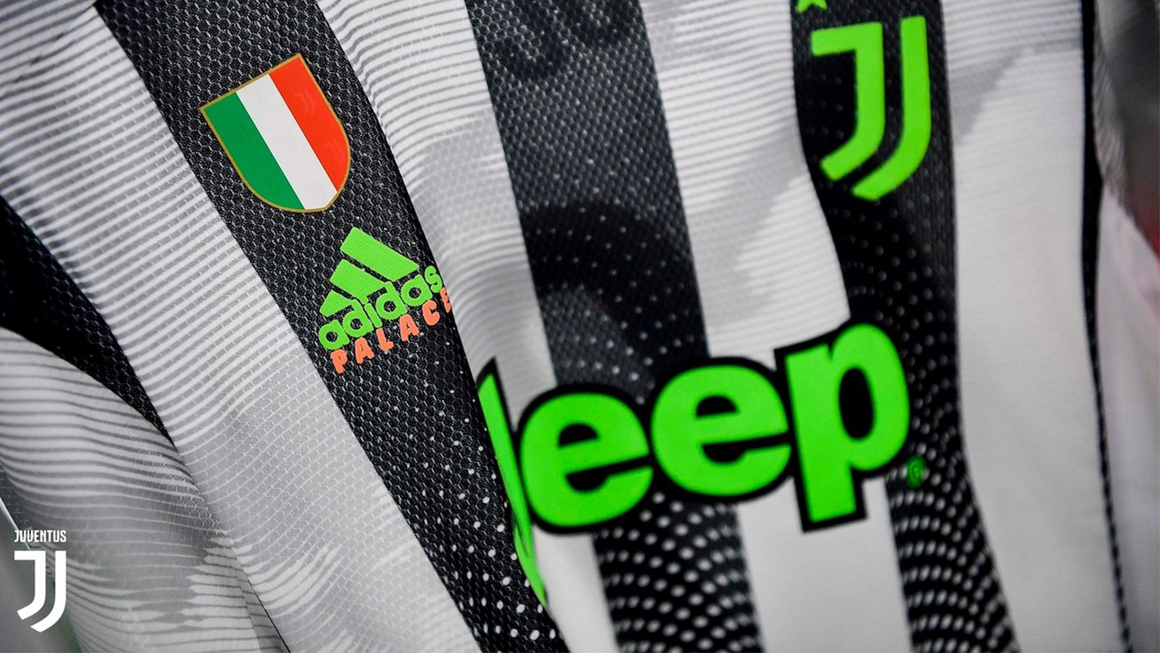 Palace x Umbro and Palace x adidas
London-based Palace Skateboards is no stranger to capitalising on British culture, and the brand has celebrated the country's football scene on a couple of occasions. Way back in 2012, Palace joined forces with Umbro for their first ever collab, a shirt that was heavily inspired by the shirts worn by England at Italia '90. Speaking to Dazed at the time, Palace's Lev Tanju said: "It's just completely mental that Umbro let us rework a properly iconic bit of English football history, and put a big Palace triangle on the front of it."
But if the Umbro collab was quintessentially British, Palace's foray into football would only get bigger as the brand grew. Joining forces with adidas, the London legends produced a football kit for none other than Italian club Juventus, which was worn by the team for a Serie A fixture against Genoa. The shirt featured saw Juventus' signature stripes get made over with a gradient effect and neon accents called out the logos for an extra eye-catching touch.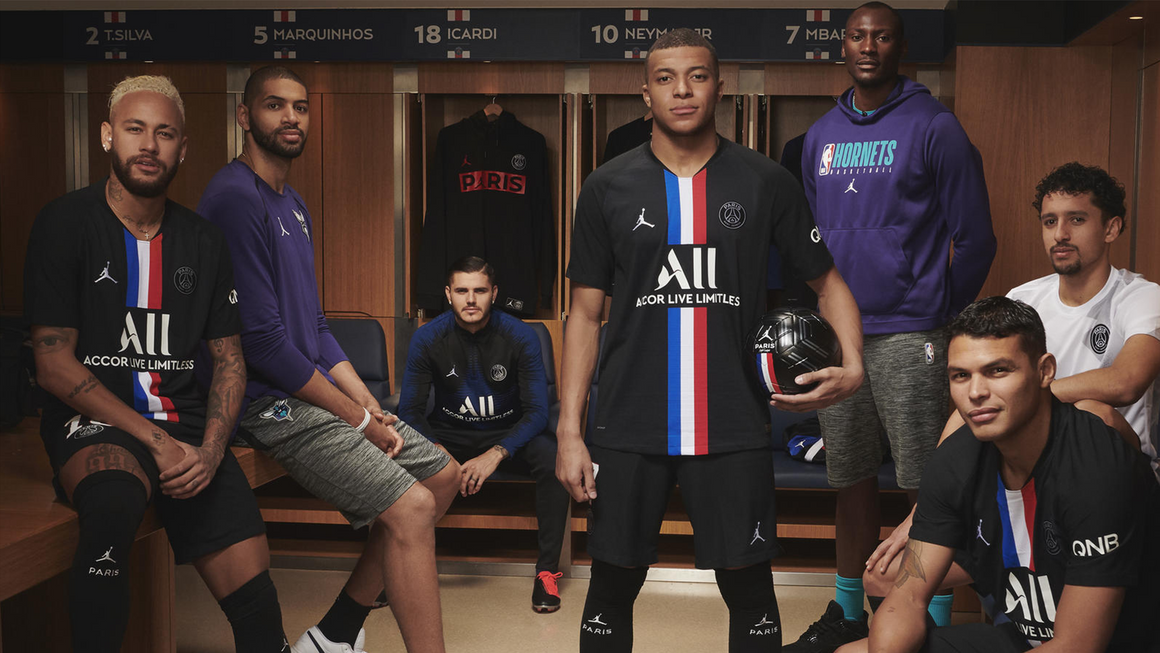 PSG x Jordan
Palace isn't the only brand that's tried its hand at making a kit. Jordan and Paris Saint-German also linked up for a collaboration, too. With sport at the core of the Jordan Brand, venturing further into sportswear comes to less of a surprise, but that doesn't mean the effort should be overlooked. Allowing PSG to break away from Nike and Jordan to venture beyond American sports, this collab received a mixed response from football fans who felt that the sport had started to lose its soul in favour of commercial gain. Nevertheless, the collaboration made sense for both brands. Jordan had previously worked with Neymar on an Air Jordan 5, the same silhouette that the brands released as part of the initial capsule collection. Since then, they have also released collaborative AJ4s and AJ6s. They're not quite the Gazelles and Sambas we're used to seeing on the feet of football fans, but they still have a place at the intersection of football and fashion history.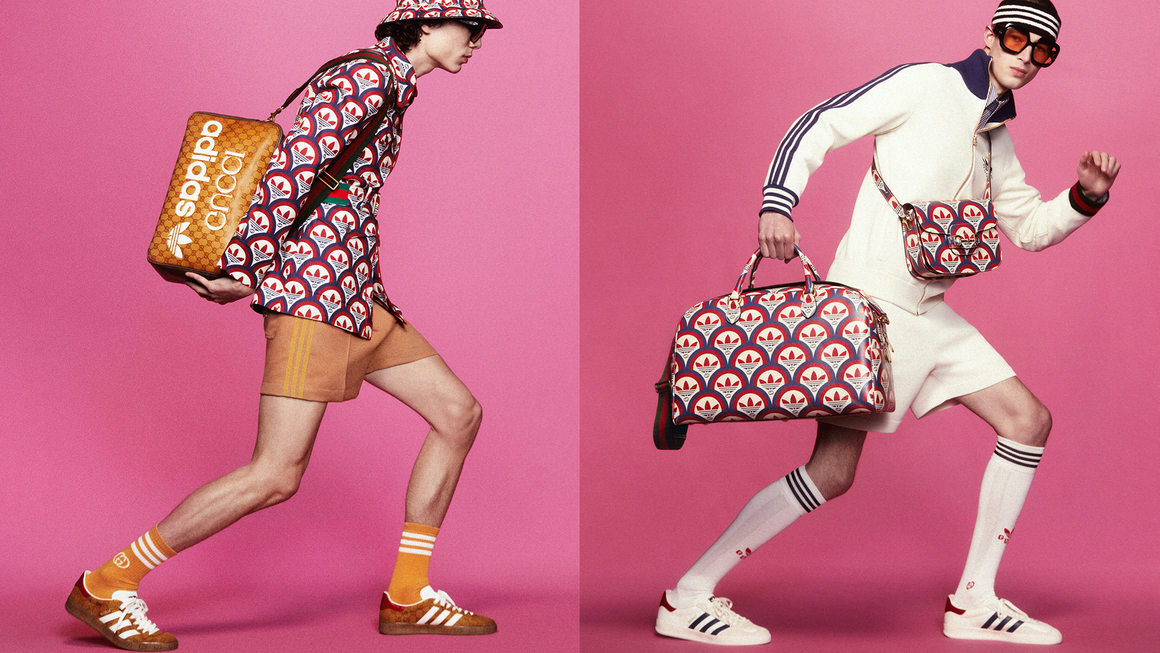 adidas x Gucci
Whilst many other sports brands are trying to get involved in the lucrative world of sponsored and replica kits, the Three Stripes will always be synonymous with football, on and off the pitch. As mentioned previously, adidas silhouettes tend to be the top choices for football casuals and 'Blokecore' fans alike, but adidas clothing has always featured heavily within the aesthetic too. Although it's not typically sportswear, the German giant's upcoming collaboration with Gucci leans heavily into the vintage sportswear aesthetic. Featured in the collection are a couple of pairs of Gazelles, as well as more tailored clothing options that provide a much more elevated take on 'bloke' culture.
If you're still looking for more content on your favourite streetwear brands, check out some of our related articles below!