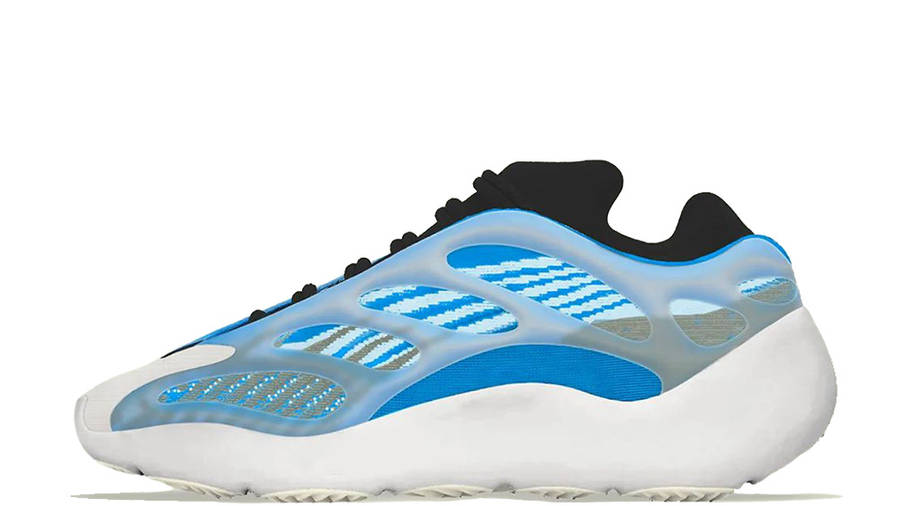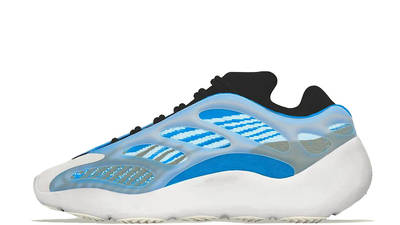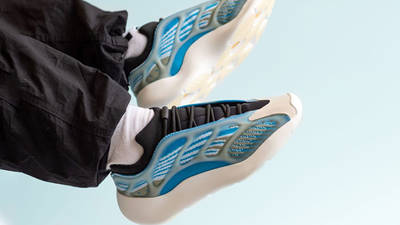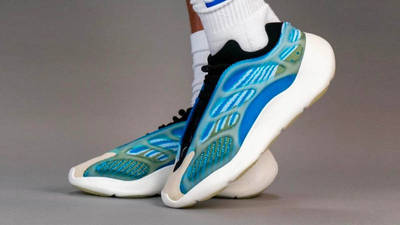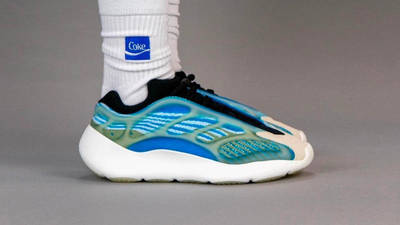 Reseller Only
• Release Date : 29 Aug 2020 7am • 
G54850
£276.00
Are you ready for the brand new Yeezy 700 V3 Arzareth? Set to be the third colourway to hit the latest generation of Yeezy 700s, it gets its name from the land in the Bible in which tribes were brought to - a reference to Kanye West's religious beliefs. One of the most unique colour schemes to not only hit this silhouette but all Yeezys in general, these definitely should not be missed, we've got a first look right here at The Sole Supplier. Many publications and retailers have actually misspelled the name for this adidas Yeezy Boost, instead wrongly naming the sneaker Azareth.
Featuring a stretchy Primeknit base for the ultimate breathing experience, it's done up in a blue and white stripe pattern and is contrasted with dark olive accents towards the front and back. This is then overlaid with a semi transparent rubber cage that's crafted from RPU, allowing it to glow vibrantly in the dark, meaning you can flex even in low light conditions. Along the front you'll find a single U-shaped panel that's borrowed from previous 700s, and the liner itself is taken straight from the Yeezy QNTM series.
Moving downwards, you'll find an ultra sleek and streamlined midsole that's seemed to be inspired by the Yeezy Boost 380. With that said, this particular unit does away with the usual adidas Boost tech and instead opts for EVA foam instead. While we're not entirely sure why Ye decided to do this, it has results in a pretty big price reduction that sneakerheads will definitely be able to appreciate.
One of the craziest YZYs ever made, the adidas Yeezy 700 V3 Arzareth is rumoured to be launching this August so make sure you smash the bell icon up above if you need these in your personal collection!
UPDATE: The adidas Yeezy 700 V3 Arzareth now has a confirmed release date of the 29th August and will come with a price tag of £170. The new colorway will have an official release at adidas and select retailers, so stay locked in if you're looking to cop. Many other news outlets and retailers have misspelled the name of the shoes as AZARETH, it's worth noting that the correct name for the pair is Arzareth, which is indeed a biblical term, following on from Kanye's recent religious influences.